Sunday, December 28, 2008
This cocktail recipe appeared NST on 26 July 2008. It was created for the Republic bar in Kuala Lumpur.
Take:
a measure of rum
half a measure of Creme de Cassis
a slice of purple dragon fruit
2 measures of cranberry juice
You can either muddle the dragon fruit or simply shake it all up with the rest of the ingredients. Then strain it and serve in a tall glass.
Comment! (1) | Recommend!
Saturday, December 27, 2008
kneeling down
I scoop the water
of my fading reflection ...
Note: I'm now crying because I got no bonus this year so that poem is conveying my emotions.
Comment! (6) | Recommend!
Thursday, December 25, 2008
twirl, twirl, twirl,
the red ribbon
around the sleeping kitten
under the Christmas trees
Comment!
(12) |
Recommend!
Wednesday, December 24, 2008
Merry Xmas to everyone who drops by at my blog!

Renaye will be spending her holidays spring cleaning the house and her cluttered room. Hopefully she could find her way back to the laptop for updates!
Comment! (14) | Recommend!
Sunday, December 21, 2008
My radar for earrings is on again. I'm now hunting for unique earrings online and I have spotted a very cute one from a co-op in South America.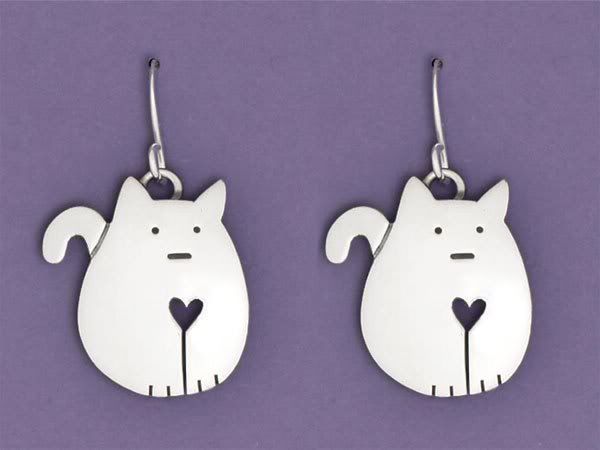 And personally I like cats so sometimes I would buy any jewelries that have cat design. I would like to buy this pair but they don't deliver to Malaysia. *sob*
But do check out their store called
Wedge Worldwide
They have other unique designs too. And it's also a green business!
Comment! (20) | Recommend!
Saturday, December 20, 2008
I was doing some searching for environmental-friendly products and I found this site that has custom made rings for all occassions. The rings are so pretty!
And the best thing is the trees are not purposely harvested for the rings!
Take a look at the blog!
Wooden Rings from Touch Wood Rings
And it's so romantic to know the meaning of the ring's wood!!! Oh read up on that site if you want to know.
I have also added another green business link that sells organic tees from Africa. Their site is cool!
EDUN LIVE
:
Blank t-shirts
that help create jobs in Africa.
Check it out!
Comment! (7) | Recommend!