Friday, January 10, 2014
Following up with my post on my colleagues disliking my gift (read below with the picture of a colourful plate), one of the colleagues who was in the room during the exchange of words came to apologise to me on the third day.
On the third day, I thought I would be able to release the anger and the whole event in my head and foremost my heart. But I was at work with my face drooping even further. I could not open my beautiful eyes widely. In fact, I sagged so much. The eye bags were so visible. I aged overnight.
And I thought I have released the anger from myself...
That morning, my colleague rung me up to meet her at her office room. I was not sure if I was ready to meet her. I neither want to anticipate what she is gonna say to me. Is she gonna tell me it was my fault afterall?
I know she is different from the rest because of her spiritual works.. but I was too exhausted to think.
I was in her room a few minutes later with my container. She offered me some home-made food. I wanted to return to my room to eat because I'm just tired of seeing my colleagues but my heart tugged me to sit which I finally did.
As I was digging into the food silently and glumly, she apologised to me and that she has nothing against me. It wasn't her say that she didn't like the present. In fact, she didn't know the discussion was about my gift. I don't know whether to believe it or not, but I was already bending my silverspoon on my lap as she said it.
I could not hold any longer and I just buried into my palms and cried. And I thought I have already released the anger inside me... She came over and patted me on the shoulder and gave me words of wisdom.
One thing I absorbed is such violation happens to us is because we may owe that to the person in our past live and since it already happened to me... I have already paid her back. That is why people say things happened for a reason.
After crying out, my heart felt so much lighter. It seems my heart was just waiting for an apology regardless of who said it.
On the third day... none of my colleagues were still speaking to me. A colleague who sits in front of me posted on FB that she is sick of someone's attitude. I hope she wasn't talking to me because I'm gonna sit in front of her for many more months to come. Good luck to her.
Life at work is gonna be interesting. Bring it on!
Comment! (2) | Recommend!
Wednesday. 1.8.14 9:08 am
I am spending my new year holiday in a foreign land, and I am quite looking forward to it because I am also meeting up with my friends whom I have not seen for over 2 years particularly one person. I thought he and I will be having some quality time together but he invited someone else to come along.
Sigh.
I thought the ice cream is just reserverd for you and me only? Three is a crowd, hun.
I guess things happen for a reason. I still love him. I think that's why I just wanna spend time alone with him, but he thinks differently.
Don't tell me to confess because he knows and I am just thinking as friends.
What turns me down most is I cannot travel alone when I am in the country because it is not safe for foreigners. In fact, so many friends told me to just burn the ticket. Gosh. As if Kuala Lumpur is that safe either.
You know what? Might as well as I don't see him to prevent my head from spinning. I have already taken up a lot of energy to forget him. I don't need to see his face just to check if the wounds will be open. It will definitely open because it is still hurt to think that someone left the whole thing dangling in mid-sentences.
I am not like my girlfriends who actually flew from their respective countries to see him to seek an explanation over their relationship. Maybe that will give peace to my heart for good.
But sometimes it may just be best to leave where the person once love us in our memories...
Holiday here I come.
Comment! (0) | Recommend!
Tuesday, January 7, 2014
Tell me what do you guys think of this plate. Is it too ugly to be given as gift?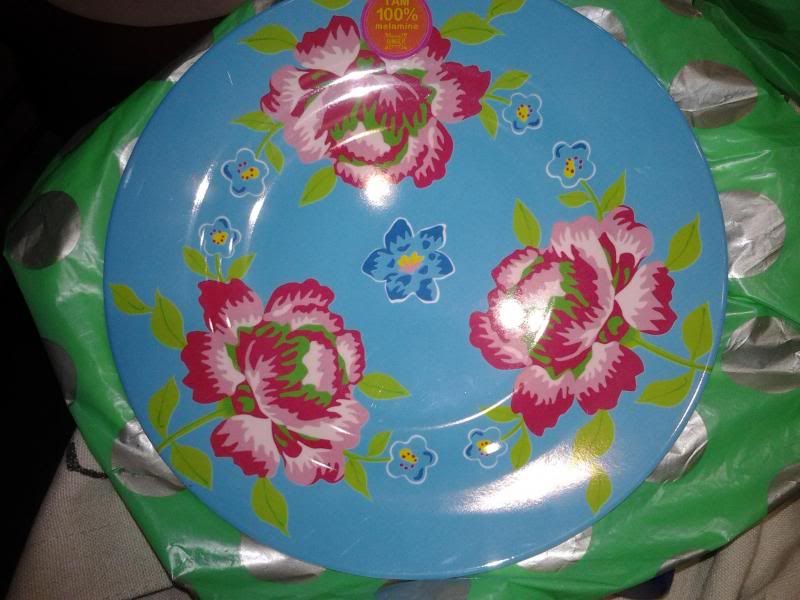 My department organised a potluck cum gift exchange today, and yesterday was a devastating day for me.
The budget for the gift is USD 7.50 and we were supposed to buy in group in a nearby shopping mall but I know I could do better so I asked the chairperson if I could just buy elsewhere and she said it's not a problem as long as the gift is within the budget, and I just have to declare what my gift is and its price before wrapping.
And so I passed my gift to my colleague who took it to the chairperson, and then the ladies in my department gathered hush-hush in the chair's room. I could see the manager holding my gift with a serious look from outside the door window. As I was passing by, she called me in.
Majority of the staff were in the room. Wow. This is so happening.
She neared me and said "Hey, this plate doesn't look like worth RM22. Can you buy a new gift?" with a mild disgusted expression.
I crinkled. "There's a price tag down there ma..."
"I don't like your gift. Please buy a new one." Suddenly the chairperson said from her chair with her blackened face. (I think she even lifted her finger to accompany that gesture. I was just suddenly thrown into confusion.)
"But I bought this from Bangsar and it's from a Germany brand. I think it's practical because you can use it as a plate and decorative item."
"But we don't like your gift. Please buy a new one." She echoed.
"I don't have budget."
Then one of the colleagues showed two items that they were looking for. One huge photoframe and the other is a salt holder. They wanted something BIG and NICE.
Ah.
Being hurt (very raw), I hurled back "What? I don't want a photoframe? Is that practical in the digital age?"
The colleague who showed me the items then replied "Then you don't join the gift exchange la."
The manager beside me was kinda torn but she surrendered to the situation.
"OK. I don't join. I don't join tomorrow's eating session also!"
The chair "Like this ah? Then we don't have any gathering anymore" with a disgusted face.
The manager "Don't be like that la. Let's settle it now... So you are ok not to join the gift exchange?"
I studied her expression and decided to give her face. "Yea."
I was so hurt and I really wanted to talk to someone about it... Imagine containing the sadness in the heart and I was able to be myself during a meeting after we exchange those hurtful words.
I did pour my heart content to someone and the first word came out was 'rude' followed by 'ungrateful.' I'm not trying to get people's sympathy. I was just trying to pour out my sadness and reflect what went wrong... I just simply need a non-judgmental listener.
I kept playing the reel the whole day even during the supermarket shopping for the potluck...
When I came home, the hurt didn't decrease a bit even. So I told my family about it, and decided to make the salad without presenting myself. But mum shot back "What's the point?"
Yea. What's the point in that?
I called up the manager in the evening to withdrawal and she sent me a text. First glance was enough to make my heart further plunge. I'm very traumatised with the word 'team.' Don't go telling me about 'my team'.
So the next morning which is today... she asked to see me. The damage further plunged and I was teary. My voice cracked. The first thing she said to me was the same thing she wrote in the sms. Again and Again.
Before that, she showed who's the boss. God. I just said openly "Why some people don't use their brain before talking." And I wasn't even referring to any colleagues just general people.
And she shot me? "How dare you use such harsh words? You are talking to a manager!"
Oh how lovely. You are squirming in front of someone who hits bulleyes?
She kept repeating the same sms message. And I was cringing. Are we not in the team to begin with? So why kept mentioning 'my team'? Just because I don't report to you? But in the same department? Oh come on. Be more open minded.
There were lot of exchanges and then the best part was "You hurt them by saying their gifts are not practical."
So.. I hurt them. So who the hell hurt me?
Another best part of all, no one is talking to me since yesterday. Oh great. Speaking of professionalism.
I'm moving on.
Comment! (0) | Recommend!
Sunday. 12.29.13 11:29 am
It's game over, Mr Gingerbread. You are powerless against my teeth strength.
Sigh. How fast Xmas flew...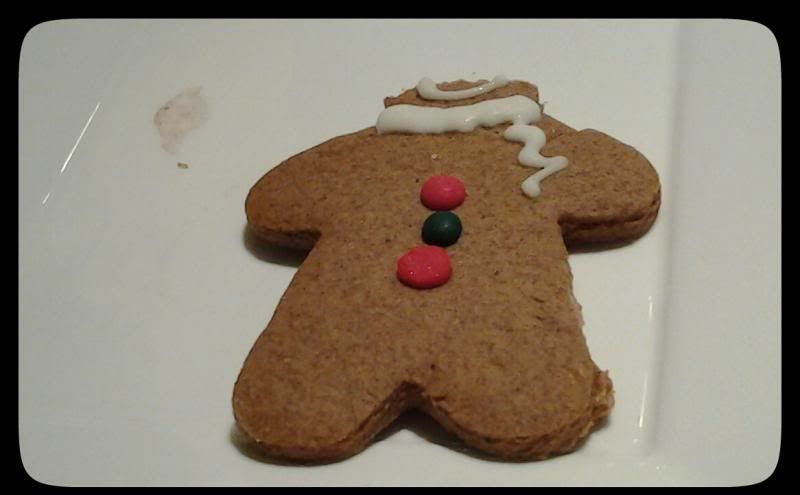 Comment! (1) | Recommend!
Saturday, December 21, 2013
Definitely not me!
My foreign friends came to Malaysia for the festive holidays and we exchanged lots of interesting gossips and updates and one of them is on arranged marriage.
Apparently one of my friends is trying to avoid that by plunging himself into studies. I was listening to with great curiosity but at the same time I have a pang of pity for him. How does it feel to be marrying someone you don't love at the beginning? I know some people found love through marriage but what if luck is not on your side?
I once dreamed myself in an arranged marriage and apparently I was upset that the deal didn't go through. HAHA. But it was just a dream...
For my friend, it's death do him apart. My heart goes out to him...
Comment! (0) | Recommend!
Tuesday. 12.17.13 2:52 am
It has been ages since I hang out at a cafe not mentioning hunting for good food or cafe, which I used to do in the past with friends. I guess I grew out of it when my circle of friends shrink to myself... And also not mentioning the medication I am on does not allow me to eat such food.
Anyways, taking advantage of my friend's presence for the weekend, I did some homework and brought him to one of the cafes recommended by bloggers in the Chinatown area. This cafe is so hidden well!
Can you find the cafe when you are on this street?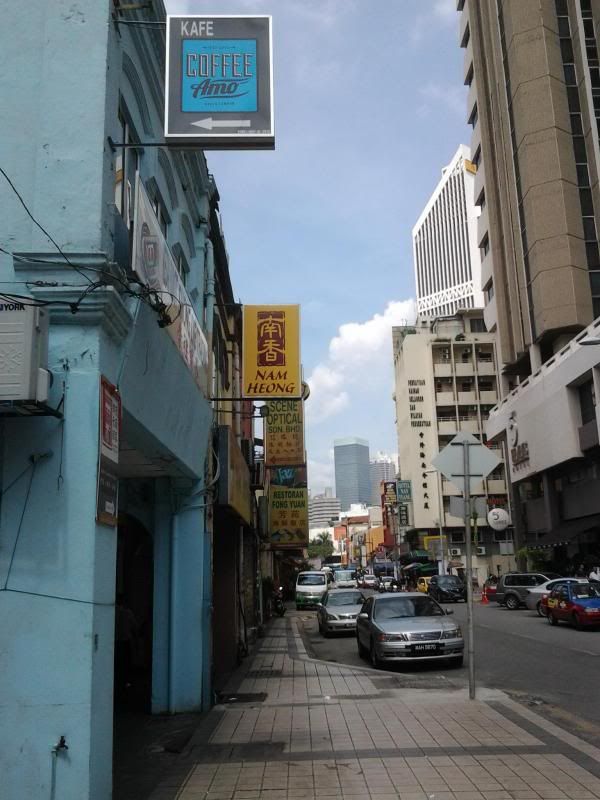 I was with my GPS and I was so dumbstruck that me and the destination is so close and yet could not locate.
I love Cafe Amo's interior and it will be something I would bring friends to support because it is tugged in a historical building and the frontal is to support the heritage of the stre"et. It is very aligned with my personal cause for support.
And...the hot choclate is so yum... So is the oreo cheesecake. They used milk from Australia... No wonder so yum!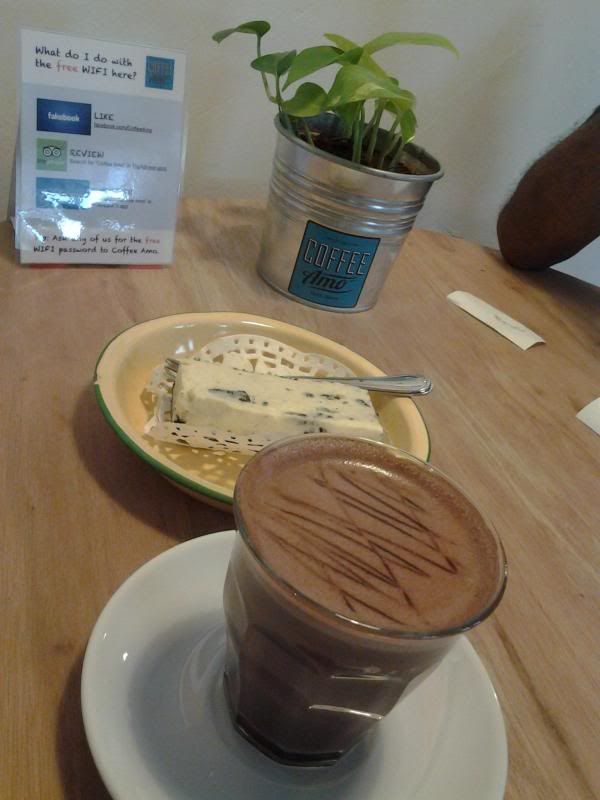 I really enjoyed my time in the cafe and it was like a family outing for the owner as his family members were helping too. His staff played the guitar casually too... So it's pretty cool. :-)
Later for dinner, I took my friend to an award winning (by populist vote) cafe located nearby to KLCC here. It was a new building and the name is so Russian... Troika.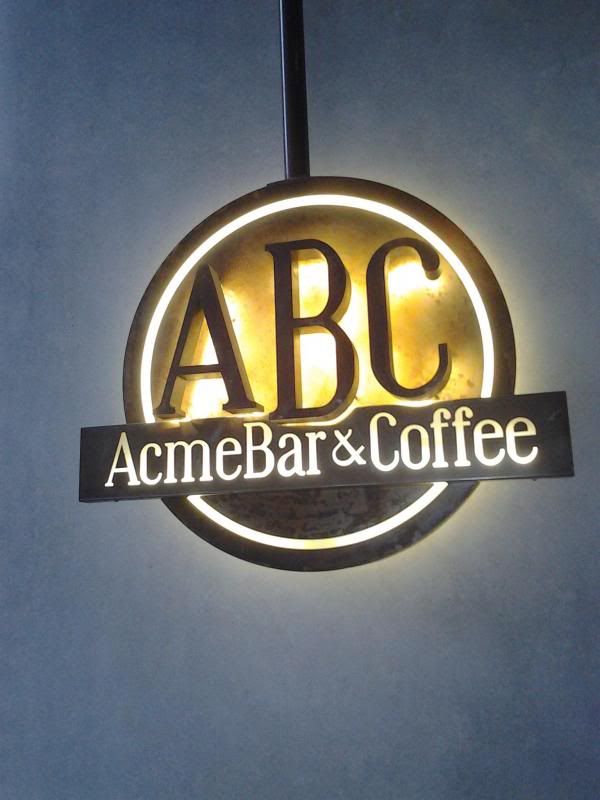 They have nice ambience but the service was quite poor. The first thing a server needs to do is to provide drinking water... And I lose patience by helping out myself fishing a bottle of water from their counter.
The food is pretty so-so and nothing to shout about. I guess people frequent there purely for the ambience... But I don't really like the sitting arrangement. It is small and kinda cramped. We were wedged between two other individual tables and both sides can hear our conversation... No privacy...
I ordered the brownie which was memorable!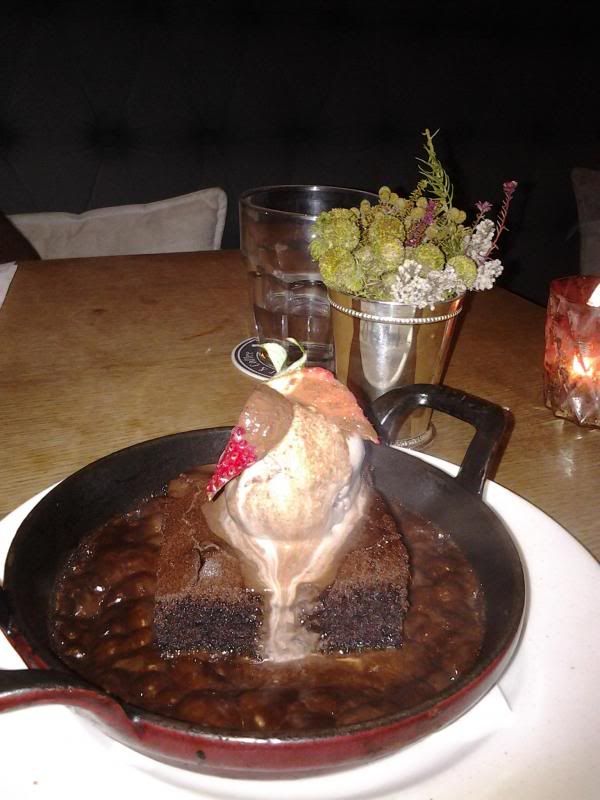 Anyways, I yed my outing to Cafe Amo in Petaling street area and Acme Bar n Coffee in Troika despite a few setbacks. What was there not to enjoy when all the food were paid by my friend? :-)
As the saying goes, I will always be a tourist in my own homeland...
Comment! (0) | Recommend!