Tuesday. 1.27.15 7:04 am
Well, I remember I have posted here about a dream on sharks. And recently I dreamed of them again. This time they are more sinister as in they jumped out of the shark and grabbed the person back to the sea. And then I was climbing the cliff as high as I could just to avoid some dumb shark from swallowing the whole cliff! Wow.. that sounds like a megalodon! Thank god it's just a dream.
But this dream is a little weird because as I head back to land, I walked on a bridge where below was a transparent dome. There, I could see tigers with their cubs. They don't look ferocious except minding their own business because many of them were asleep. And yet I remember telling myself to walk quietly so they won't be woken up.
Scary dream. I am not sure what is the message behind it.
Comment! (0) | Recommend!
Sunday. 1.18.15 4:34 pm
I saw a local publisher calling for horror stories. I used to have lots of ideas but for now it is zero because I now don't want to think of such thing because it attracts negative energy. Actually, it is been a long time I have not thought of eerie scenes.
Suddenly when I want to think, I can't think of any. Argh! I am rusty now!
Just wondering what setting and what kind of horror stories do you wanna read?
Comment! (0) | Recommend!
Sunday. 1.11.15 7:55 pm
Ah. It's been a long time I have written lyrics. There is one lyric that I channeled.. I didn't even know it.
Usually I like looking up to the Japanese lyrics because they are written with meanings and very poetic.
For example: Ayumi Hamasaki's Voyage (translation)
We travel this road to find happiness.
See? You look good with a smile on your face.
These beautiful, fragile days are reborn, unfaded.
In the season of dazzling burned seas
and in the season of dancing snowflakes
whenever I turned around, you were there.
We travel this road to find happiness.
Everyone is a traveler, carrying his own never-healing wounds.
See? You look good with a smile on your face.
How many times have I gotten lost?
Every time, the one who extended his
warm helping hand was you.
*At the end of this long path, what will we think?
Everyone is a traveler, wandering about in search of love.
Let's go together until we tire of it.
Nice, right?
That's why I like haiku too.
Time to go back to writing lyrics. Inspiration, bring it on!
Comment! (0) | Recommend!
Tuesday. 1.6.15 2:08 am
I was listening to the kids singing. Woah. They are prowess. I envy but it makes me motivated!
But you know what I noticed from the video? The grandpa told her to follow her heart. Yes, the kid follows her heart. So young at age, she is taught to trust her instinct. No wonder some kids are more independent than others. This is what we should be teaching our kids. Not to make all decisions for them. Ask them what they want. Not what the adults want.
Comment! (0) | Recommend!
Sunday. 1.4.15 8:39 pm
Yes! Finally!
It's not about getting hitched.
It's about the cat not running away from me!!! OMG. What an achievement!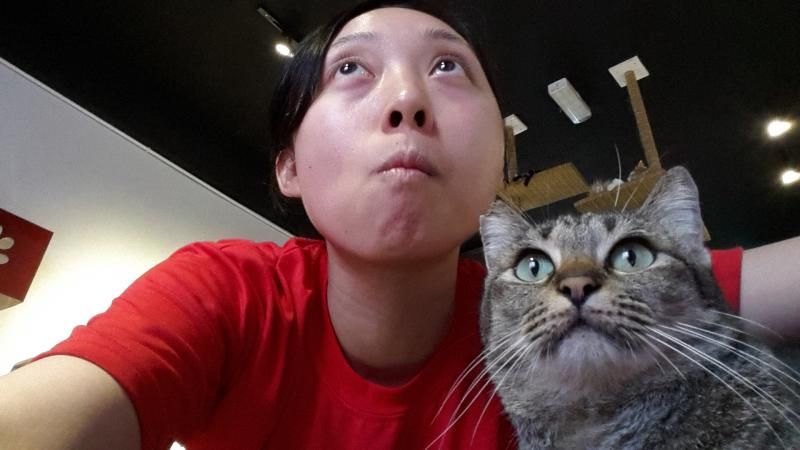 See what I meant?
Usually cats dislike my energy as opposed to dogs. They run away whenever I come near. And this just stayed and took photo with me!
Loving it!
Oh, I took this photo at a cat cafe near my office.
Comment! (1) | Recommend!
Thursday. 1.1.15 8:47 am
Happy New Year everyone!
I spent my day sleeping and playing board game with my friend and his cousins. How nice to be able to spend time with cousins. Unlike mine... I don't even know who my cousins are... I have met some and they are real snubs. How sad. All politically played by their parents.
Nevertheless, I will try my best to live everyday to the fullest!
Comment! (2) | Recommend!