Saturday, October 3, 2009
I was surprised to receive dividends from my shares twice a year. Actually I could say three times. I bought KPJ shares when it was RM2.66 per unit a few months ago. In August 2009, KPJ didn't give dividends in money form but in shares form from their another share company called ALAQAR Reits. I thought it was pretty smart of them to channel back the dividends money into their share company and award shares unit to investors instead of money. I was not quite ecstatic because I want divindends in money form. If I'm awarded with REITs, then I'm at disadvantage because I bought very few units of KPJ shares. From this amount of units, my REITs form of dividend will be incredibly small. It was a total disadvantage for me. I have two options for this REITs: a) sell the REITs or b) top up the REITs shares.
I became very undecided because I would like to buy more shares but I could not due to my current financial circumstances. So I leave this matter as it is. And I started to wonder if I have bought the right shares. If KPJ is going to give REITs in the future, then I won't have dividends?!
Surprisingly, I received dividends from the ALAQAR REITs last month. Though it's not much, but I just deposited the cheque happily. At least I don't have to use my own money to buy the REITs and can get dividends from something not really free...
And the most surprising thing was ... I received dividends from KPJ yesterday! Woohoo!! never expected it. But extreme elated!!!
Oh well, I now have no doubt of buying the right shares. But unfortunately KPJ is now too expensive to buy even though I would like to top up my units.
Speaking of KPJ, I'm not too sure if I should be angry with my remisier. I actually had no intention to buy KPJ shares. I wanted to buy another share in the IPO stage and it is on the second board of KLSE. The remisier strongly advised me to buy from main board due to stability, and I listened to him and switched to KPJ.
But somehow I'm feeling a little torn in two parts. If I didn't buy KPJ, then I won't get REITs and won't get dividends. But if I bought te share I initially wanted, I would have received dividends of RM 200.
Should I be regretting at all? Oh well renaye, time to hunt for cheaper shares now.
Comment! (10) | Recommend!
Thursday, October 1, 2009
Today is where my boss held out a thrashing party for the committee members to thrash out their unhappiness about the major event on September 17, and also againt each other. My boss asked me to start the ball rolling but knowing my boss is not as kind as he thinks he is showing off to people, I told NEXT. And somehow the thrash part met its purpose when one of the members walked out of the room. And I just finished emailing my boss something very powerful. The sentence was "leadership is not only about having intelligence and skills but also having wisdom." I maybe lower rank than you or may it be IQ but whoever defies this email, it shows he or her is stupid. It would be interesting to see what is my boss's reaction.
On the other hand, the committee member who walked out of the meeting this morning and I had some fun in doing some ... asking pendulum for answers and tarot card reading. HAHA. I asked a question which freaked him out.
My first question was "Is there a spirit in this room". The answer was YES. Then I told him to ask the same question when I went out of the room, which he did. The answer was NO. "Is the spirit with renaye?" came with the answer YES. "Is the spirit good" came back NO. "Are the spirits renaye's past live's friends?" came back NO. "Do the spirits know renaye from past lives?" came back YES. And he just got freak out. HAHA.
Though I'm not good in telling the story from the tarot cards but I'm pretty good in getting related reading cards. I was pretty surprised myself. Never expected to draw relevant cards under pressure. I usually do reading in private and alone. I don't know whether my interpretations were accurate or not, but my colleague took it very seriously!!
Maybe I could read for people in the future. Let see if I could get hold of a tarot card reading sifu first!
Comment! (7) | Recommend!
Monday, September 28, 2009
I was somehow annoyed by my colleague this afternoon. I was on the phone finishing my conversation with another annoying colleague who talks cryptically, and my colleague wanted to see me. She saw me on the phone but since I was going to be off the hook soon, I indicated for her to come in. And my real annoyance began here.
The colleague entered my room and she didn't even bother to seat but went to my shelves and scrutinised my things. Seriously, it was like she was studying and memorising the positions of my things. My shelves have three levels, and the highest is quite above my height. What pissed me off is she TIPTOED to see what's on my shelf. I SAW THAT.
And then she moved on to my table filled with students' assignments, and then she DIGGED for the Royal Selangor catalogue beneath my documents.
When I was done with the conversation, she got called off by another colleague, leaving me speechless. I was so MAD. This is not the first time. It seems every colleague on my floor is curious about my room. They like to come and scrutinise my things. My god.
I thought of putting up some signage saying "DON'T CROSS BEYOND HERE". Even the students dare not touch my things, how dare this stupid MANAGER touched my things.
I really need to voice out about my PRIVACY.
Comment! (6) | Recommend!
Saturday, September 26, 2009
Do you know that you can't simply pick and buy a deck of tarot cards? To get the suitable deck, you must feel the deck calling out for you. If not, none amongst on the shelf is meant for you. No destiny, in short.
I already have two decks and I was thinking of getting a third. No reason. It's just part of my collection. But every time I go to the bookshop, I could not find any suitable deck. Instead, I felt some negative forces. Whenever, I picked one and told myself to buy this, I have a feeling of saying NOOOOOOOO. Always. So ended up, I didn't buy any.
I never thought this as true especially when my religion disallowed the disciples to practice Feng Shui, or tarot cards, or even allowing palmist to read our palms, and lots of yada. But when I bought my first deck, I was drawn to it. It was in a small and cute blue box. I just felt happy to look at it. But I only bought after Christmas because of the 20% sales. Hehe. Buying that deck brougt a smile to my face.
And the next deck was bought in a small sleepy dead boring town in New Zealand. I was in this art shop and I saw some beautiful decks at the cashier. I was so mesmerised by the graphic that I had a hard time to pick. I think I stood there for like 30 minutes to choose. I had both decks in my hands, and I was so drawn to them and I could feel something inside me screaming to buy both. But as I was tight on money. I could only buy one. And I continued to stand there to hear which one gave me the most feel. And I ended up choosing the Unicorn tarot deck.
So now thinking back, I think my third deck is not coming to me any sooner 'coz I felt rejected by one of the decks I saw in the bookstore today. None of them spoke to me today. I just heard silence when I was in front of the shelf. And I don't think I will buy online because I can't hear the decks speaking to me.
Oh well wish me luck.
Comment! (1) | Recommend!
Monday, September 21, 2009
Woohoo!! Yes... I'm backdating entries. HAHAHA.
I started to celebrate my birthday on 11 September in TGIF with worm worm so I could get a free brownie. But TGIF didn't serve brownie, they served some kind of very.. very dried chocolate cake in the name of birthday cake. The food that night was pretty bad. The fries were not fresh since the staff refried the fries and it was so salty... If I were a snail, I would definitely meet my untimely death, but amazingly worm worm finished his share. I just could not. So the staff replaced with steamed brocolli. And luckily ... the staff sang me the birthday song at 10 pm where there was no customer at all. I actually requested for no singing service!!
Before that, I had my birthday makeover from Estee Lauder. =)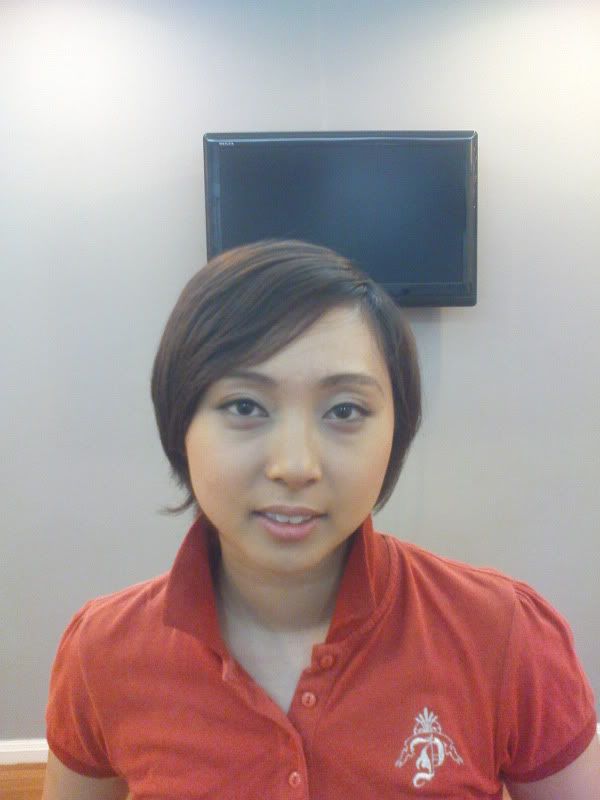 Then on my birthday ... a bunch of students have been singing the birthday song like three times in my room! HAHA.... it was kinda cool except how should I respond other than saying thank you?
Then the night later... I had Korean food with lenglui in Taipan. I never knew my friend's staff would be so generous in giving us extra food. It seems they have given us extra soup, which made our dinner value for money and made us full to the brim! We ended up packing some food for next day's meal. I bought Kimchi for my friend as a thank you gift, and some for my family. The Kimchi is goooooood.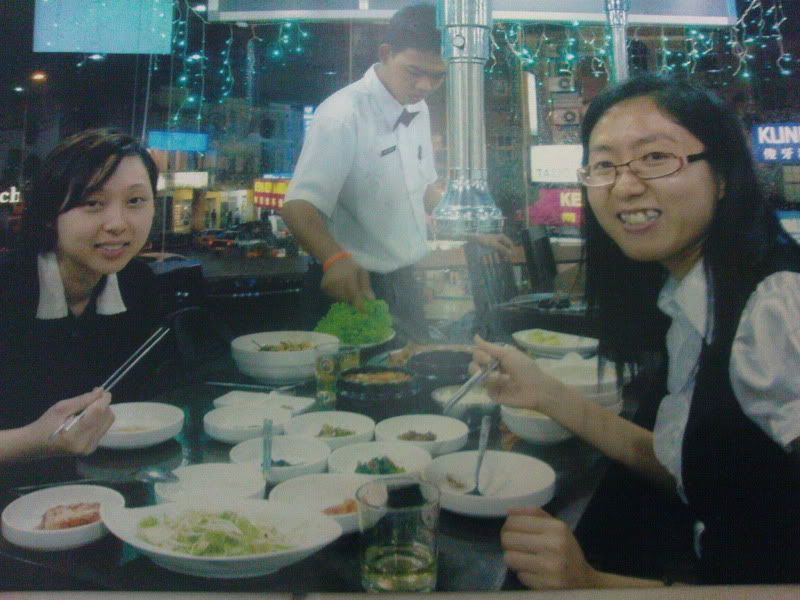 Jolenesiah
came over to KL to celebrate my birthday too on 21 September. I think I went crazy over boredomness while having lunch together in Chilies. Here are the photos!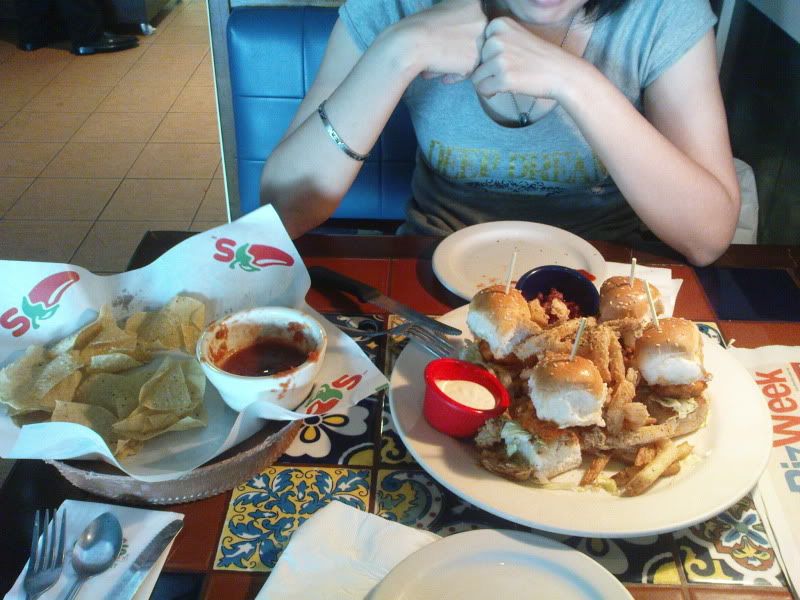 Our lunch. Jolenesiah and I shared the food. Thank god, we did! Because the portion is really huge for the two of us!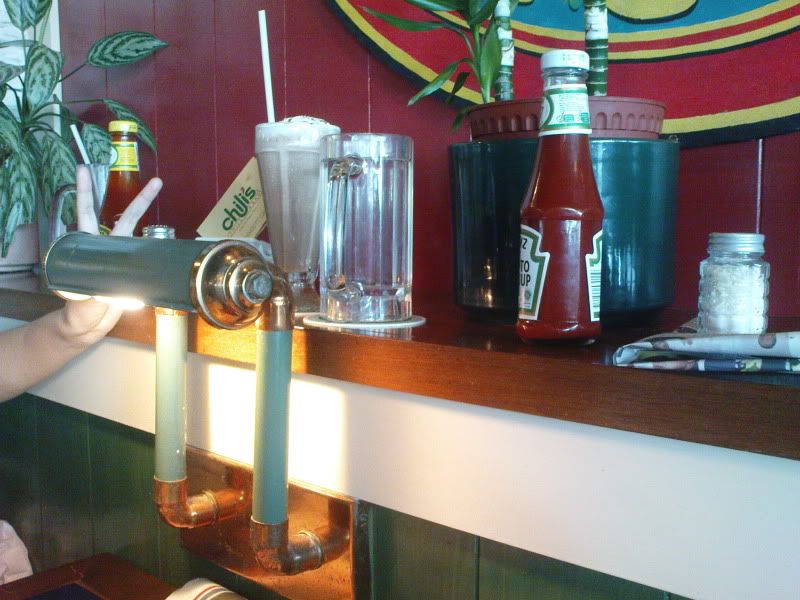 Our table is pretty small so we decided to help Chilies to redesign their interior with our drinks. How creative we are.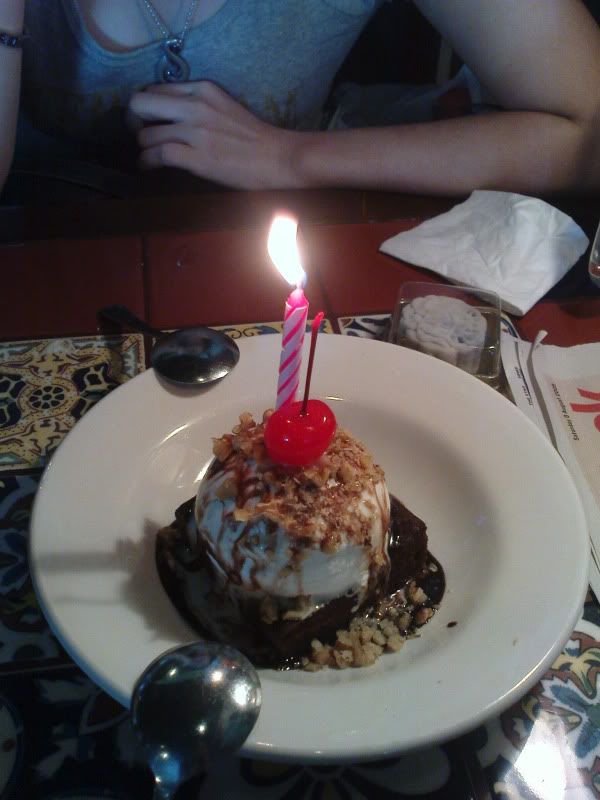 Our brownie arrived. Thank god, no singing service.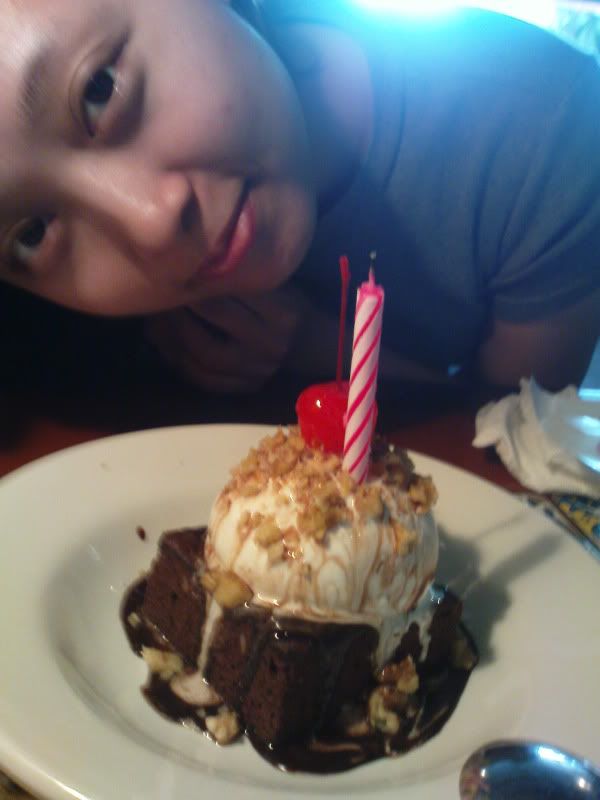 I accidental 'ate' the candle light before I made my wish just to get the ideal photo.
Our second birthday cake is a mooncake made of chocolate and whiskey. =)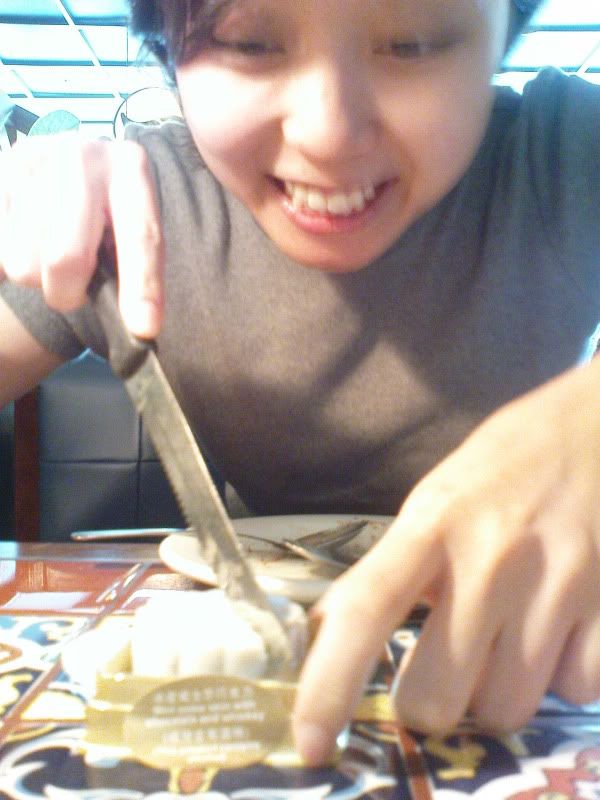 Cincang is the best medicine .. best medicine... best medicine. Cinca...ng is the best medicine if my boss don't give me dinner...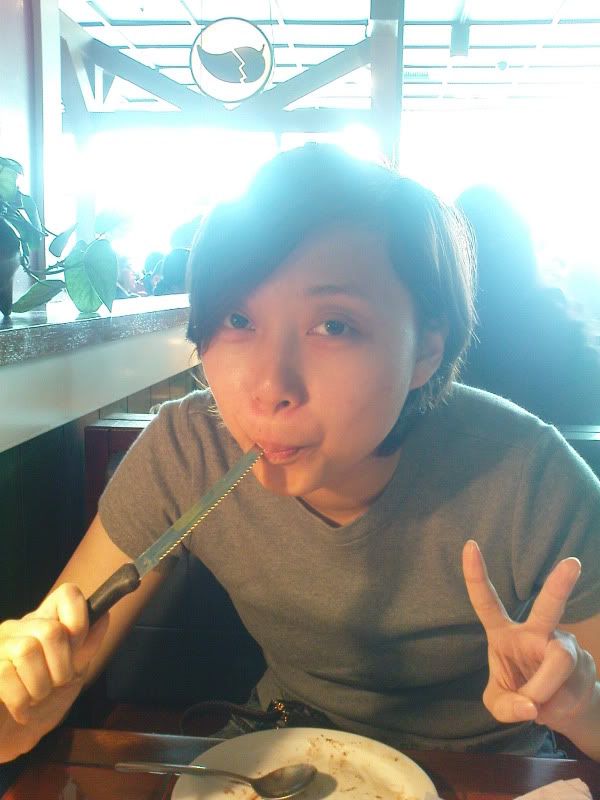 Sharpening the knife.
Yay! Thank you everyone for celebrating my birthday!
smiling and
smiling at me -
thank you
Comment! (10) | Recommend!
Free, Freed, Freer, FREEEEEE
Monday, September 21, 2009
I sincerely apologize for not updating my blog and not returning your comments. I seriously needed time for myself to recuperate after my major event on 17 September. It was extremely exhausting to run this one man show. Exhausting in terms of physical and mental. Though I have been screaming for help with the committee members, only a few came up to me and offered help. Even so, they did a sloppy job, which needed me to do the final touch up.
Less than 24 hours prior to the event, I had not printed out the programme booklet or wrapped the presents for the VIPs, or confirming the attendance of some of the attendees. I was in a state of stress since my bus driver was waiting for me outside. Anyway, I managed to finish the booklet and confirmed the attendance and delegated the printing job to my colleague who said the most stupidest thing to me 72 hours in prior to the event. Guess what she said? She said "The previous person in my position never asked for help. So why are you asking?" I walked off after explaining to the airhead about the difference of this year's and last year's event. I don't think she even understood the difference. Does 60 guests and 200 guests make a difference for an event?
Somehow on the event day, my rising body temperature made the airhead and her colleague to work. Oh yea, I was yelling while poking the girls with the edge of my fangs. This is not something I'm very proud of but it was just funny to see how my boss reacted. The event started at 9 am, and the registration booth, the presents and the emcees update were not even completed by 8.30 am. A colleague from another department took pity on me and came to assist with the presents wrapping, while the girl who was in charged of this section was busy advertising the yau char kway or Chinese fried cruller bread from her office to the room beside mine. I shook my head looking at how this Ms Yau Tiu could be munching the same stick for over 30 mins, I decided to snatch the lion share of the bread from my door.
"Ms Yau Tiu! COME HERE. I need you here NOW! I need you to kau tim (get ready in Cantonese) the presents NOW. The presents must be ready by NOW. The presents must go into the hall NOW. .... NOW.... NOW...."
I didn't know my boss was actually standing next to me. I actually don't remember what I said to Ms Yau Tiu other than "NOW... bla bla.... NOW... bla bla NOW" but my boss's jaw dropped to the ground. He commented "Wow.. I haven't even say that myself". Actually I only recalled myself repeating 'NOW' the whole morning.
Luckily everything went smoothly, and certain things were covered up neatly. And thankfully, I managed to delegate jobs like ushering to the students and some of the committee members just in time of the event. Knowing the guests were well taken care of by these people, I managed to breathe in the office.
I certainly have the experience to organise an event but having team mates that are not willing to go extra mile and use common sense made my job pretty hard. I really felt like scolding one of my seniors for not using common sense when she showed her confused face throughout my briefing with her. What's so difficult to differentiate the booklet with and without folder? Booklet with folder is for VIPs and the VIP list is in the booklet. What else do I need to explain? And if the team mates are more responsible with their roles, I would be a happier person.
But overall, it was a successful event though it was chaotic at the backscene and heaps of leftovers. Oh well, thank god I whacked my boss left, right and centre about his leadership and demanded for dinner which is still pending.
Comment! (1) | Recommend!