Wednesday, December 28, 2011
What did I get for Christmas 2011?
A reindeer hairband!!!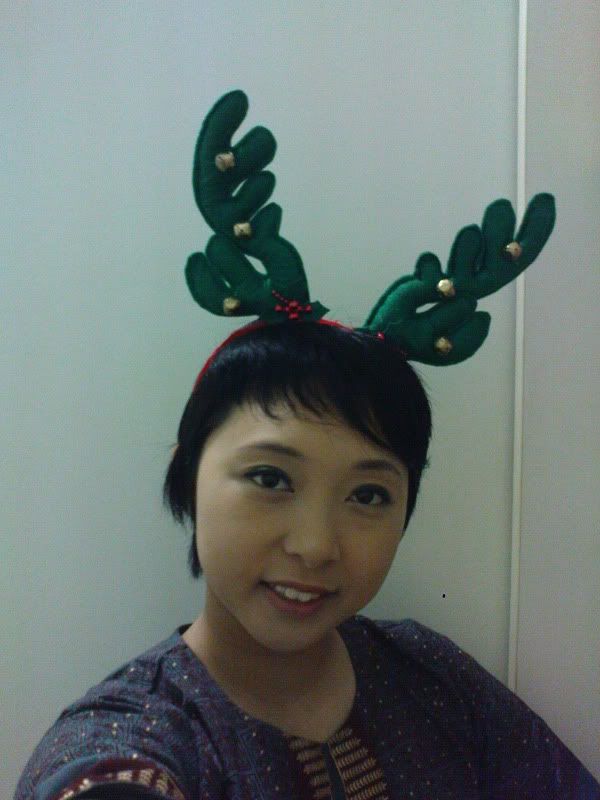 It's a gift from my host sister in Vietnam. I'm loving it.
Comment! (0) | Recommend!
tu tu tu ru ~ tu tu tu ru ~
Wednesday, December 28, 2011
On 28 October 2011 morning ...
I was kinda panic when I read the program that the SG members have to perform during our visit to a high school. I don't think I would be afraid if the whole group is performing together, but it is by contingent. I somewhat felt grateful that there were three Malaysians including myself in the SG. And we certainly had no idea what to perform since we could not extract any of our NDP or performances for port-of-call for the short cultural performance.
I had two concerns: choice of song and my short-term memory. We were far away from our beloved team member who teaches dancing, and we could not consult him what to perform. We were too dependent! And we were left to our own devices. What I worried the most is I might not remember the dance steps!!!
The three of us cracked our brains to come up with a performance. Joget, the most popular Malay dance, came to my mind, but I don't like it and often got my footing wrong even though it is very easy to learn. I instead suggested Bhangra dance - belongs to the Punjabi - because I simply love the energy burst in the dance. Luckily my team members agreed and we had a very suitable song for it!
We choreographed the dance in the hotel room in a night and perform it the next morning. I was anxious, because that was the most spontaneous dance and shortest practice I ever had in my life! The most interesting thing I had to do was to dance with my long skirt! The costume for this dance is usually pants because we need to do some kicking in the air. It was one hell of an experience.
During the performance, the audience could sniff some suspense in the air because we paused for a few seconds when the music was fading, and then the next minute we blasted our energy jumping on one foot while kicking and holding our scarf.
Our audience be it the program admins or the students was stunned for they have never seen such fast movements. Even my SG members were wowed.
Later, we explained to the audience that Bhangra dance was chosen to express our happy feelings to be in the school. For your information, Bhangra dance is a happy dance, therefore it is often performed during happy occasion like weddings. =)
We were glad that the audience loved the dance. We invited the students to dance with us at the end of our visit, but they were too shy.
And the rhythm of the song is tu tu tu ru ~ tu tu tu ru ...
Spinoff
: We received positive feedback from PYs about our dance, and we were happy when our beloved member/ dance teacher praised us. I somehow felt ... ~phew, we did it!
Comment! (0) | Recommend!
Wednesday, December 28, 2011
On 2 December 2011 ...
I was removing my make-up at 11.00 pm, just after the curfew has started. As usual, the Solidarity Group members were doing their night call like a radio dj wishing PYs good night and sweet dreams in various languages. However, recently, PYs were asked to dedicate messages to their friends during the night call.
As I was just removing my eyeliner, I heard a message that went like this:
To AYL Malaysia: You are the cutest and sexiest girl with short hair I have ever seen.
With a raised eyebrow, my doe eyes immediately darted at the radio on the wall with a breath caught in my chest.
Did I hear correctly? I could not ask my cabin mates, because I was alone in the room. I knew who made that message. But nevertheless, it's sweet. =)
And I hope the next day will be a normal day ...
Spinoff
: The next day was indeed a normal day. HAHA. The PYs I met didn't say anything. There was only one person who teased me about it, and that was the AYL from the dedicator's contingent.
Actually, his liking of my appearance is not a secret, as his contingent members knew about it, and I heard he had even talked about me for some substantial hours during his homestay in Malaysia. I hope his homestay buddy, who happens to be my good friend, is entertained with his confession.
Comment! (0) | Recommend!
Tuesday, December 27, 2011
How time flies. I got back on the 16th of December, but we were only allowed to return home on the 17 after we have finished our program evaluation.
I developed fever, cough and flu, and I just can't wait to go home. And yet I have to moderate the discussion, while the youth leader was moderating the other group.
My throat was so dry that I lose my voice. But I guess boredom was my murderer. I could not scratch anyone since government officers were at present, hence I took the picture to satisfy my thirst. That's my fellow team member from Penang. Although I was second in command in the team, I usually asked her for information or confirmation on certain things because there are times I was not paying attention to announcements made by my team leader. BWAHAHHA. I'm just a kitty that wanna play!
~~My flu and cough got worsened, and doctor diagnosed me with bronchitis during my second visit 3 days later after my first visit. I was given inhaler in the clinic and I slept like a log for 2 days courtesy of cough mixture. I guess I was exhausted from my long vacation ...
Comment! (1) | Recommend!
Monday, December 26, 2011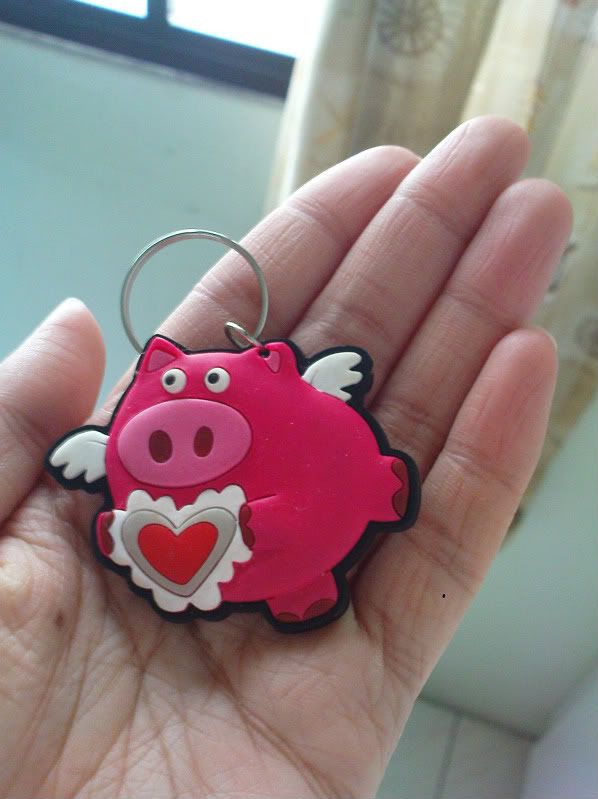 Funny. I never expected to receive such item from my fellow team member on the 4th of December 2011 in the afternoon.
We arrived in Vietnam on that day, and all the Vietnamese participants were thrilled to see their friends coming on board. And they were announcing out loud to the others to view the performances on the port. It was a welcoming reception performance. Many participants went to the 4th floor deck to see it. I could hear the upbeat music playing in the background, but I didn't join them because I was simply busy occupied by my laziness. HAHA.
But I was watching the performance from the third floor through a panel glass window - nothing beats the comfort of indoor. I didn't stay long to watch (and I don't remember what I was doing at that time; I only remember that I was busy walking around).
Approximately 30 minutes later, I asked one of my team members if the performance was still on going as the music was repeating. I was surprised to hear that the Vietnamese youth were still performing! And they are doing it under the hot sun despite the crowd has faded. Upon hearing it and not wanting the youth's effort to go to waste, I decided to climb 4th floor to join the tiny crowd. I stood beside my fellow team members and hey .. I was just in the nick of time to see the youth performing my favourite Korean song: I AM THE BEST. I sang along, and my body was also moving with the rhythm.
As I was singing along, my team member on my right suddenly smiled and said to me "I finally see my AYL (assistant youth leader) smiling." I stopped dead in my tracks, and replied "Have I not been smiling all this time?". The replied was "No ... I rarely see your smile, and this is the first time I'm seeing you in such relax manner." I was actually surprised to hear him complaining about me. Haha.
Later in the afternoon, I found a small colourful envelope in my mailbox. It was a piggy keychain with a message: I finally see you smiling! from the complainer.
How sweet. I returned him a thank you message with chocolates within the same day.
Comment! (0) | Recommend!
Monday, December 26, 2011
There was a moment I wanted to go to my balcony, because I heard myself whispering she wanted to see the world ...
Happy Boxing Day.
Comment! (0) | Recommend!