Perfume(u) is so hilarious!
I'm so back to my old habit which is watching youtube videos in the middle of my work. Oh well, I decided to take a break after finishing the assigment more than 50%. So what I watched??
I watched Perfume's latest single which is Dream Fighter. I don't really like this song because the beat is just too slow for me. But I like the dance and their costumes sucks.
I decided to use this video because each member has a very balance number of screenshots. It makes me more observant whenever I watch a live performance after hearing Yuko Nakazawa, the former Morning Musume leader, complained that she has very little screenshots as they were often stolen by Natsumi Abe... And I realised in another video I watched [the same performance] on a different location, Nocchi [the girl with the short hair] has at least 8 shots while Kashiyuka [long straight hair] has only like 4-5. Poor thing!
And because I like watching Japanese talkshow that interview the idols, singers and such, I was searching for Domoto Kyoudai - two members who are the host and they are one of the most successful groups in Japan. And I found something I have been waiting for!! It's the interview of Perfume in Domoto Kyoudai with subs!!! The episodes have been in youtube for months but no one translated it. So I was so damn happy!
Just for a short intro. Perfume is Japanese group of three girls from Hiroshima that sing electro or techno music. They became a hit recently with their first single, Polyrthymm and the success ball keeps on rolling... The three members are Kashiyuka, A-chan and Nocchi. Please don't be surprised with their sharp high-pitched voice especially Kashiyuka. If I'm not mistaken, she has the highest pitch. And though they sounded moe [anime characters that have sharp girly voice that err... makes them cute] they can sing very well [without the techno sound] especially A-chan. If you listen carefully, you can hear her vibrato.
Enjoy the interview!
Gosh! Is your laugh making you hurt??!! Oh well, A-chan would be such a great mother! She's so funny!! And innocent?!
Wait, there's more!
Comment! (4) | Recommend!
Monday. 12.15.08
I saw
Xjion89
is joining a contest which is caption contest. I can't resist joining because the characters look soooo cute!!! I feel like strangling all the characters especially the cat and the obese hamster!
Here is my caption!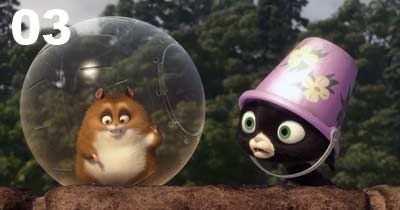 Rhino (the hamster)
: Hehe... You know you need to be as fit as me to be in this ball.
Mittens (the cat)
: EH?! By not having enough of oxygen?!
Have fun! Or join the
contest
Comment! (5) | Recommend!
Argh. My detox is a failure. I did it last week but it was also a failure. Today is also a failure. I need to do it again next week.
Oh... if you have lots of wind in your stomach, try this drink: crush some ginger and mix with honey and water. Drink it warm. I'm going to drink this before I go to bed.
Comment! (4) | Recommend!
I had a cruel dream this morning. I don't remember much of the dream setting except me and along other people were in some kind of working base, as we were all wearing some kind of uniform. There were a group of people bolted into the room and we all were laid down onto the ground on our left. Our hands were tied. There was this leader who looked like Ramualdo from Fantaghiro, the Italian movie, asked us a question. If we can't, his people would slit the throat. The girl before me was actually trying to seduce him but because she answered incorrectly, she was slit. Then it was my turn. Luckily I was asked a dumb question: What is the function of the Exit button? I answered correctly but weakly. So the leader came over to me and checked my pulse and freed me. I was carried to an infirmary where I woke up crying knowing that I was alive.
And damn, the dream ended abruptly as I need to go to the loo. My head just kept on repeating 'cruel dream' as I went to the loo.
Maybe I should take a break from reading a book called A High Priests War written by Michael Collins Piper.
Comment! (19) | Recommend!