Friday, July 10, 2009
One thing annoys me is looking at unclean plates. I dislike people wasting food even though there's only a grain of rice on the plate. Nothing should be left on the plate except bones or fats. If there's something that you do not wish to eat in your food, it's ok for you to ask the person next to you if he or she is ok to eat that since you are not going to eat and have not touch. Is this ok with you?
There was a point where unclean plates made me sick because there other parts of the world that do no have food to eat and we here didn't finish food just because we can and we have the capacity to do so. Because food supplies won't end? Who cares if there's no supply of food in the future?
I was recently dumbfounded when I was having lunch with a bunch of newly made colleagues, who are highly intellectual and their job is to pass on these intellectual properties to our future generations. I was busy cleaning my plate and when I looked up at my neighbours... I noticed their plates still have some grains and some things that can be eaten. And I looked around and notice this is a norm. It made me sick. The instrumental value of a grain was just overlooked. Yes 'a' grain.
Why humans can't be more appreciative?
There are times where my colleagues comment on my food quantity during training. They always encourage me to take more but I always come up with excuses like "I will be taking second round' or 'keeping my stomach for dessert' but the truth is I don't want to waste food. I will finish whatever is on my plate before taking another round.
People say poor people understand the value of food.
Bullshit.
I'm living with a person who was brought up in a so poor condition where lunch was just runny porridge but most of the time was nothing. Runny porridge was better than nothing I was told! So? This person still wastes food everyday equivalent to one teaspoon. He makes my sister, mother and I sick because we are already having financial problems in placing food on the table in near future. Oh well, that's another story.
So what?
Some people who claimed themselves as environmentalists also waste food. I don't think there's any difference of not using plastic and wasting food.
So? Nothing. Food is just like money. What do you feel when you ran out of money to pay your bills?
I hate people telling me nonchalantly to stop eating because the food sucks or they are stuff.
I don't even think or hope that this video helps you to change your mind because we humans have become so inhumane and emotionless. We have become so self-centered and so self-conscious till we forgotten anything else which we cannot see the direct relationship to us.
Comment! (3) | Recommend!
Thursday, July 9, 2009
I did something out of my 'system' just now. And now I could cross one things-to-do-before-I-die from my list. Will keep suspense until it is the right time to announce because I need help from all of you!!!
Comment! (5) | Recommend!
Sunday, July 5, 2009
More pictures are coming up but before that I would like to introduce you all to a Japanese group that is rising star in Japan. I like this group because of their strong vocal and song choices. And these girls are just around 17.
Ithink I finally found an alternative group to Morning Musume to watch on Youtube because I like watching singers singing while dancing.
Below is my first Bright song.
I know they are not very pretty compared to other Japanese singers out there but with their voice... I'm sure they will be as successful as others!
Comment! (4) | Recommend!
Friday, July 3, 2009
Did anyone got amused by the photo in my previous blog? Had fun guessing what kind of jampi is that? Haha. You guys being tricked. Anyway read below to find out why.
This is a backdated entry for 26 June which I would like to update about my dinner salad. It was a pure feat to be able to prepare the salad and finished eating the salad within one hour. Usually my family takes like 2 hours to prepare the salad because the green leafy plants have lots of hidden water, and it usually takes us a lot of time and energy to shake off the water. Basically making salad is a tiring activity. But I got no choice for that night because the lettuce has been in the fridge for two days before its due to be frozen, and secondly I don't want to spend money buying dinner.
Despite being exhausted for the day, I was pretty enthusiastic in preparing the salad. I shaved a carrot and shredded the lettuce and boiled an egg. I also finished whatever vegetables I found in the fridge.
The picture on the previous entry is not some kind of jampi or soy sauce or even kopi o. It was my salad dressing, which was a combination of virgin coconut oil from Country Farm Organic and expired Flax Seed Oil.
This dressing should do good to my complexion, skin and conserving my youth.
As I said, it was tiring to prepare the salad but I somehow got it right. Did the salad look appetising to you?
I suddenly realised the dressing was not enough.
Haha. I was so in a good mood ... I made a smiley out of cherry tomatoes.
The salad was pretty full but unbelievably I had supper just right after the dinner.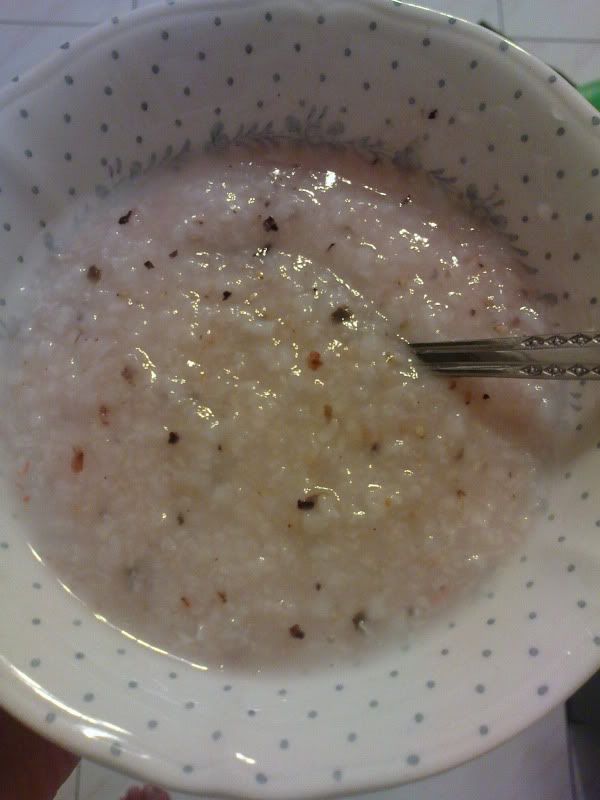 It was broth mixed with furikake (rice spices from Japan).
Coming next: More pictures... and review.
Comment! (5) | Recommend!
Thursday, July 2, 2009
This is my jampi (a Malay word for 'charm' which is used in black magic or something like that).
Comment! (5) | Recommend!
Monday, June 29, 2009
Argh. I hate this description. Got this test off
jolenesiah's
blog.
Your Brain Usage Profile:
Auditory : 20%
Visual : 80%
Left : 41%
Right : 58%
No matter which side of your brain is dominant,
M i n d W a r e
can strengthen your emotional brain power by helping you understand how you feel about yourself.
renaye, you are somewhat right-hemisphere dominant and have a strong visual preference, a blend of characteristics which typically apply to persons with an "artistic" temperament.
In all likelihood, you naturally act in the way that people have come to expect artists to act. With your dominant visual learning style you are active and seeking, working to absorb all of the facets of your environment. Your mind rarely rests, for even when you are not scouring the environment you are turning your searchlight on your own internal processes.
You are intense! In continually processing the data as you do on a multidimensional level, you spend little of your time in reflection -- or sometimes in social niceties. There is a high probability that you are "out of check" -- though not out of control -- sometimes, swept away by the feelings of the moment. You are one of those individuals that may well attempt to assemble a complex piece of equipment without reading the directions or following a sequence, though you might look at the diagram. Sequencing your own behavior is problematic at times.
You are rarely reflective about yourself or your motivations. You know when things are right because you feel it, you intuit as automatically as you breathe. With others, you tend to "go with your guts," not needing rules or expectations to govern your friendships.
You absorb material rapidly and randomly, it is filed "helter skelter" internally. Listening or learning from materials presented in a purely verbal fashion is not your "strong suit" and your performance in situations designed for left-hemisphere dominant persons will not always measure up to the expectations of others. If you have particular learning needs, it is to sequence material and remain focused while you are processing, to develop "structuring" techniques, and to become more efficient with your spontaneity and creativity.
I hate this description because it's true about my character. I cannot quieten the ideas in my head and focus. It's like there's no such thing as 'focus' in my head. This explains a lot why I have not really execute any plans and I love to jump on things. Damn. Another friend of mine also did a palm reading for me and he said the same thing to me.
Why am I so easily being read?
Comment! (4) | Recommend!