Jolenesiah
requested to see my computer screen and here it is.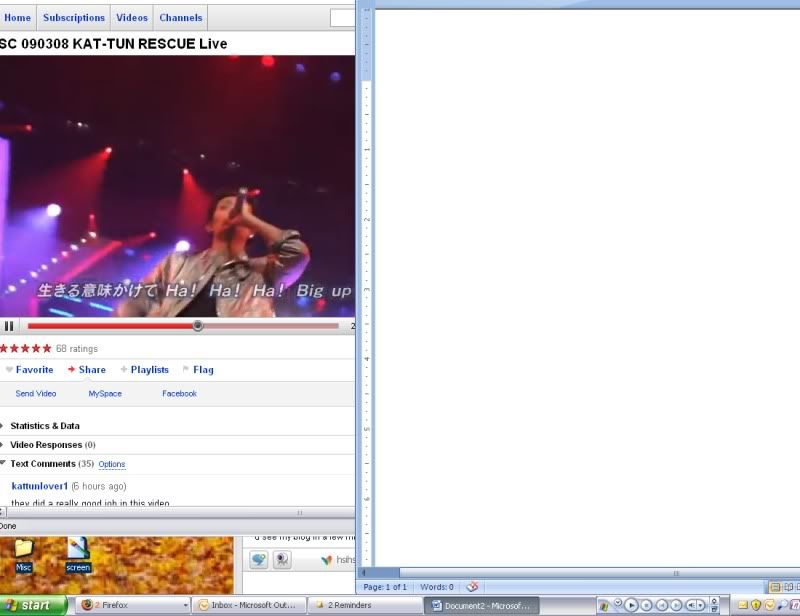 Yes, I'm watching youtube while typing letters. And my MSN messenger box is somewhere behind the two programs. I'm watching KAT-TUN's Rescue live.
Comment! (11) | Recommend!
How many times have I meowed today? I don't remember. Could be short term meowing memory lose? I really don't know.
Recently, I have weird people adding me online on MSN Messenger. I approved them by the way because it would make my block and delete job easier. But before I talked with them like hi and so long no see. These people keep on saying they chatted with me before but I have no idea when because I never gave out my msn messenger address to any Tom, Dick and Jane. Just now, there was this guy who is 4 hours away from me telling me we have chatted before. And I said really? When? He said he can't remember. And so I asked what did we talked? He kept on replying 'huhuhu.' I find it stupid annoying and so I asked again until he told me we talked dirty things.
Oh my goodness. This little meow is capable of talking dirty?
I kept on asking him when. But he kept on saying he didn't remember. And he added I talked to him about sex fantasy. My eyeballs nearly jumped out.
I talked about sex fantasy? HAHAHAH. How come I didn't know?
The scariest part was he knows my full name with correct spelling. But I don't know who he is behind the screen. I never ever gave out my full name to strangers and I never talk dirty. Whoever knows me know I don't talk dirty and the only thing I'm capable of is meowing and get scratched by stupid cats.
I have deleted and blocked him by the way. Where do all these people get my MSN messenger address by the way? Google?
Comment! (5) | Recommend!
Friday. 8.7.09 11:37 pm
As the title says it all: I've been loved. Haha. Via my blog and xjion89 believes my blog rocks!
Thank you xjion89
for the awards!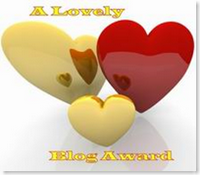 The rules of these awards are:
1. To accept the award, post it on your blog together with the name of the person who has granted the award and his/her blog link.
2. Pass the award to 15 other blogs that you've discovered and think are great! Remember to contact the bloggers to let them know they have been chosen for this award.
Continuing the tradition, I will pass it to:
1.
synch-ro-ni-zing
2.
Jolenesiah
3.
Shuffle and Repeat
4.
The Doodle Blog
5.
Sdovelly
6.
Self magic
7.
Petite Lass
8.
Manglish, please!
9.
Serene's Silent Secrets
10.
-beats in my head-
11.
Pan-Pan Panda
12.
Publish or Die
13.
Sirei/Rei
14.
Life as I Know it-Ng Ju Ann
15. Marcus Teng << waiting for him to renew his domain site. Please do!
Bomb kiss!
Comment! (8) | Recommend!
One of the students that I worked closely with is diagnosed with H1N1 today. Her classmates have been sent home. And I had sterilised my room because one of her group mates was in my room yesterday.
My friend who is an expert in public health advised me to practice self-quarantine which I'm going to do.
This is my second time being quarantined.
Comment! (5) | Recommend!
Wednesday. 8.5.09 10:20 am
damaged nest -
the hummingbirds flew off
to collect new materials
Jolenesiah
has been reporting to me about the hummingbird nest incident via MSN messenger. I felt it was cruel for the office ladies to sweep off the nest as if it was a cobweb. And I began to think if a pair of hummibngbirds built a nest in my balcony. I believe my mother would have done the same thing too because she will have no where else to hang my clothes.
below
the nest
a broom and an akimbo
My sister and I would think it would be nice to accomodate the pair of bird to have their home here but surely my mother would be screaming her head off because of their poo on my balcony. My sister will probably remove the nest because of hygiene reasons.
H1N1 -
all bird pets
have to go
I will be sad to see the birds losing their home but I have no choice but to follow the decision of majority.
departing chants
of happiness and safety
the birds missed it
Or maybe I would just try to support the nest weight with a halve plastic bottle and sling it around the balcony bars.
evening
the birds return
to find a new home
Comment! (3) | Recommend! | Categories: Haiku [t]