I Don't Think I've Ever Been as Pleased With Humanity
Tuesday. 1.6.09 8:30 pm
...as I am right now.
http://www.plasticandplush.com/plasticandplush/2008/08/unicornasaurus.html
How thrilling. :O
Comment! (4) | Recommend!
It's Rainbow. Like My Avatar but Prettier.
Sunday. 1.4.09 7:13 pm
So I have this thing due, tomorrow, and it's about who I am and what makes me that way.
I'm thinking of posting it in a protected blog (due to all the pictures of myself), once it's done. :D
But, really, I didn't think I would learn a lot from it, because we did a similar project in ninth grade.
Wrong, wrong, wrong.
I found a video of my mother quite specifically using gender socialization on me. And failing. Which says a lot...A LOT...
In further news, I have designed a Prom dress, and now I want to make it. ARE YOU IN, OR ARE YOU OUT?
LET'S DO THIS!
-excited about everything in general-
Comment! (5) | Recommend!
Wednesday. 12.31.08 1:31 am
Saturday. 12.27.08 12:26 am
Okay, since it's been a day and my entry is almost--if not completely--off the list, I'll put these in a different entry. This is what Stevie made me, in all its glory (and framed in one, though I haven't secured a good background):
Framed. Pretty awesome, yes? Yup. :D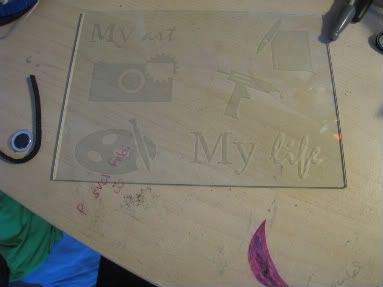 Still not framed, the first day I got it. Didn't know where to put it so it would be safe...freaked me out. I got crazy about where my stuff was in relation to where the glass was... I draw on my desk. >.>
...:D
Comment! (6) | Recommend!