the one abt the camping trip
Monday. 12.19.05 11:31 pm
wanted to blog this super long ago.
we were walking past this sports equipment store at cck with this tent displayed out on the space in front of the store. in a spur of the moment, he decided to buy the tent and we'll go camping during the week we clear leave.
so we went camping. overnight at ECP.
and we saw:
1.
tents! even tho it was a weekday. but guess its coz of the holis. but then again, ECP is always crowded. lol
2.
BloodCurdling RAT! the BCR tried to attack MOI! i din notice coz the BCR was camo-ed in the shadows of the sand. i wasn't paying attention to the grd anyway. he saw the rat staring v intently on my toes but din want to scare me. in a split second, the BCR darted straight for my toes! he tried to whack ard my foot with the rolled up mat he was holding on to and the rat changed course in a sharp angle and run down a nearby drain! OMG! woke me up real good at 3am in the morn. geez
3.
SHOOTING STARS! was looking up n was pretty amazed at the number of stars i can see when suddenly out of the corner of my eyes i saw something streak past. and another! and another! the entire episode lasted no more than 15 min. and passed largely unnoticed by the surrounding pple. the shooting stars weren't v dramatic but shooting stars nonetheless. WOW! v nice.
4.
old pple. wahlau... bloody early at 6+ in the morning and the old pple are crowding us out. confronted with age every where. grp practising some taichi... den ah mas jogging.. den some ah pek with his sword... some where further up got old pple doing morning excerise. dot. i declare the healthy living campiagn a huge success. geez...
and uh... think we went somewhere interesting which i can't rem right now.. shall blog abt it when i rem. heez
Comment! (0) | Recommend!
Thursday. 12.8.05 10:07 am
OFFICIAL BUSINESS
in some details on the EVE party
Venue: Still T's place
Time:
7 ish
Food:
Pizzas mainly.. KFC/others on request.. skipping bbq (leh cheh)
Entertainment: Someone go rent dvds... find some mistletoes.. just a get together/catching up session.. mahjong.. cards... etc
NO official gift exchanging.. can go ahead if u wan tho.. but not obliged to bring any
Names down:
T, Fad, Joan, Lifen, yp, hock, ks, zhihan, Kev (n Ellse?), Huizi n John......
hopefully more to confirm
~*~*~*~*~*~*~
NON OFFICIAL BUSINESS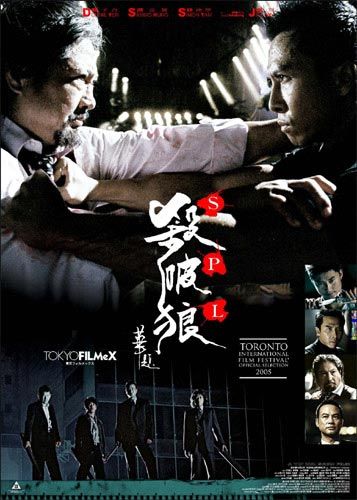 yo.. guys great movie to reccommand u all... esp if u like Action movies.
go watch SPL starring Donnie Yen n Sammo Hung... its basically a cops vs HK mafia show... but the action sequences are so beautiful n intense u gotta concentrate to keep up... or barely keep up. Its moving THAT fast. moreover the sequences are played out by real martial artists.. adding to realism.SUPER UBER COOL. this movie was also nominated for Toronto International Film Fest... so its not a crap all fight movie. there's enuff fights n muscle to hold the guys attention and gers can watch and be mesmerized by the very MAN, testerone dripping Donnie Yen. SUPER SHUAI!.. ahem..(reverts to unbiased film critic mode)
Synopsis: A man that will do anything to keep his criminal empire, a man that walks the fine line between 'protect and serve' and the very element he stands against, and a man pushed to excel in the shadow of personal failure. None are left unscathed. - KARAZEN movie reviews
"...Sha Po Lang, quite possibly the best HK actioner of the last fifteen years or more..."-Twitch, film review website
Official website :
http://www.shapolangthemovie.com/
Comment! (1) | Recommend!