Friday. 8.11.06 12:13 am
3 days ago~
Ot-ed till 9 plus. Realised that we can actually see the fireworks for e fireworks fest at the esplanade thru my office window. kindof a side ways view. but we could see everything. being the Sg team and so near national day, there was actually fireworks shaped like the island of sg. lol.
and poor D was downstairs waiting for me to get off so we could watch fireworks together. sad to say i din finish in time to watch with him. i kinda finished just after the show. so D watched from HSBC just a few buildings away from me.
feel so apologetic.
heez.
~*~*~*~*~*~
It was national day just 2 days ago.
missed out on the pomp and the fun fare altogether. went out for a movie, a dinner with a fren, hung out with a group of pple i don't know. din catch any fireworks for ndp. wat else is there to look forward to except the fireworks every ndp?
i guess u can say that i dun (never?) had a patriotic soul.
~*~*~*~*~*~
Just 1 day ago.
office system cock up. everything went haywire.
and i Ot-ed till 9.40pm. thats the latest i've ever gone. damn shag. considering i start at 8.30. thats more den 12 hours on the job.
i probably wun know how tired the NS guys were, but at least i know that just seeing the person is enuff for me to wear a "genuine smile".
Comment! (0) | Recommend!
Tuesday. 8.8.06 12:13 am
Serve a dish your guests can't forget! Crispy Fried Brain in 5 easy steps!
Step 1
Prepare a whole brain, removing the spinal cord attached and remove from skull
Step 2
Slice brain cross-section like into slices abt 5cm thick (not to worry abt the slices being too big, the brain shrinks when fried)
Step 3
Prepare hot oil
Step 4
Slide each slice of brain into the hot oil. Fry till golden brown.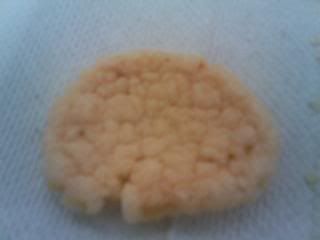 Step 5
Blot oil and serve when cooled.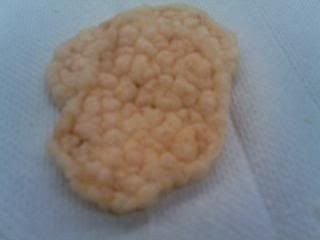 (its actually indian prawn cracker (v delish) , please dun sue me for grossing u guys out)
Comment! (3) | Recommend!