Monday. 9.11.06 12:05 am
I've moved office~!
dun really llike my seat as my back is in full view of anyone walking past our door. but office decor itself is pretty good.
am looking for a nice Jack to sit on my shelving ledge beside me, with the dual purpose of scaring pple away from peeping when i am blogging. lol
preferably Jack should be scrowling. I know its not easy, but i'm trying~!

also, my boss brought a mini fridge from her place and now all i need is a 6 pack! of Coca Cola! Hurrah!
Tho i will rem to drink my 8 glasses of water from my super cute penguin mini water dispenser on my desk~~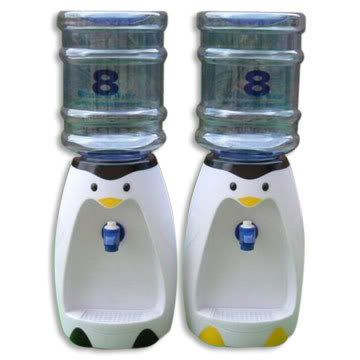 KAWAII ne~!
hmmm... i know, this is a rather meaningless entry... but its acheived its purpose of wasting 5 min of ya time.~ heez!
Comment! (6) | Recommend!
Wednesday. 9.6.06 5:24 am
So...... i will upload our toy'r'us photos from kok, t, mich and me outing when i settle down next week or so
and.....................
i can't rem wat i wanted to blog.. oops.
i'm moving from my original office location is at ocean building, which is really near the train station to samsung hub, which is somewhere at china sq.
sianz.. damn far away from the train.
gotta reach raffles like 15 min earlier just to walk. i can't imagine what will happen when it rains.
i spent the week saying farewell to all my favourite foods in the raffles central area/tanjong pagar coz i know i wun be so hardworking to make the journey. with my limited lunch time, its physically impossible~!. haiz...
ao i bid farewell to my lor mee at tanjong pagar, my tom yam soup at arcade, tml will be the briyani at clifford centre, the last day will be subway i guesss. haiz.
tho i can rejoice that i'm moving nearer to the peanut ice kachang and the ayam "pinet" ( dunno how to spell the malay) lol.. but i think it means compressed chicken. lol
and lastly, its yummy mooncake fest again!
i so love the traditional mooncakes, the snowskin type are not my taste. gimme lian rong with as many yokes u can stuff inside anytime! used to be able to finish 1.5 boxes all by myself. i mean the normal sized ones not the itsy bitsy cutsy ones.
now a days i got my waistline to watch. shucks.
Comment! (0) | Recommend!