Saturday. 9.1.07 2:39 am
Well, I had a 2/3 crappy day at the convention today. I want to be entirely accurate. One of my slots really was a lot of fun. The first Cthulhu slot I played a 63 year old woman who is a whole lot more that what she seems. You know, the surfing, boxing kind of grandma. The next slot was a really really long RP about this group of US army guys who go down in this cave and start encounter fantasy stuff. Three of the six people playing had a heavy amount of military experience and it wasn't long before the entire thing dissolved into a discussion of jargon and acronyms that I had no hope of knowing. That and my brain creaking to remember 3.5 D&D rules after having run WoD for the past couple of years, made the whole experience very painful. Not only that, but the combats eeked on like a minatures game and I had to get home to bring my dog in and feed her so that she wouldn't be stranded until the wee hours of the morning like now... when I'm writing. So I got home, got my dog game back and then there was slot 3.
Slot three is the player competition one, so you want to do good character roleplay. The thing was that I really didn't have much to do. Maybe I'm not creative enough, maybe I'm not a good enough roleplayer, but my character sheet basically said that things were bad in this place here and that I was ordered by the elders of my race to help out. It also specified that I didn't really care. Well shoot, that's great. I am a lizardperson with hella psionic skills and absolutely no reason to be there. Well damn. The best thing about all that is that was how most of the character were: completely divorced from context or motivation. I admit, many players made valiant attempts to make the game happen, but in the end I spent a lot of time just staring at the faces of the two people who actually did have any plot relevance and seraching frantically for a hook or at very least something to do. Squat. Absolutely squat. Even when the DM occasional turned his head around to recognize that I existed, there still wasn't much there. At the end my character got an up close and personal view of the mind of the "Wise One" who we were supposed to kill and I realized that the "Wise One" seems like the good guy and we seem like the bad guys. I was right. I tried to thwart the party. The DM thwarted me by killing me off. Deus Ex Machina. W007. Okay, so it turns out that part two relies on the fact that the "Wise One" has been obliterated by the idiot party of Part 1 and the fact that my character came to this realization was terribly inconvenient, but still, killing me off just because like that? That's a little low. So, going home today I felt really rotten. Not about what I did at the end because it was the only original thing I was able to do all night. I felt rotten because for the past 6 hours or so I felt like all I was doing was being ordered around and minimized by bad flipping DMing. GAHHHRLGGG
Comment! (4) | Recommend!
Wednesday. 8.29.07 2:50 pm
Wednesday. 8.29.07 12:59 am
I don't know about my day today. On the one hand, I got to see everyone from my old classes in my new classes! There are four guys from out original chinese class which makes me on of two girls in a class of seven. The other new guy is a dark haired blue-eyed boy who just came back from a mission in Canada. He speaks Chinese very well (embarassingly well) and I feel like he shall be exported to Business Chinese to fly with his own fluency level. The girl (who is also new) came from China when she was eight though she claims not to remember that much. She does remember that much. She might get to stay, though. She wanted to take an easy class. As for us... well we all suck at chinese. Luckily we all suck in our own special ways, like I can't remember characters to save my life, but if my chinese teacher talks slow enough, I can actually pick up what she is saying and sneakily translate it for my less vocally adept classmates. Then they pick up the character slack and we all muddle through speaking as best we can. The depressing thing is that I really want to be good at chinese. Even though I will only really use it for fortune cookie and I feel embarassed speaking it in front of people, I REALLY DO want to DO well! I obviously don't know how to speak Chinese and I just feel like that is one of those things, like getting your black belt or learning how to play the violin. It's an accomplishment. An accomplishment that you can enjoy yourself and share with the people who struggled with you when you got there. So yeah... Chinese wasn't much fun.
I'm buying wire and wirecutters for 3-D, so that should be fun. Another trip to Ace Hardware but who's counting, right? A lot of the people from my other foundaitons classes are in those classes as well, so I'm not alone either. Art History is going to be painful, as usual. There is a lot of information but the teacher, who is also my advisor, is really nice. I'm praying that I won't die. So basically that's my day in a nutshell.
Comment! (1) | Recommend!
Monday. 8.27.07 10:47 pm
Sunday. 8.26.07 8:55 pm
Sunday. 8.26.07 3:41 pm
The rain has kept me indoors and away from kite flying it seems, so why not do all those things that you save for rainy days, like putting up the pictures of my new room on Nutang! \/\/007! These are pictures of my new dorm room! I'm pretty moved in, which is making me all pink and fuzzy inside, like an elephant!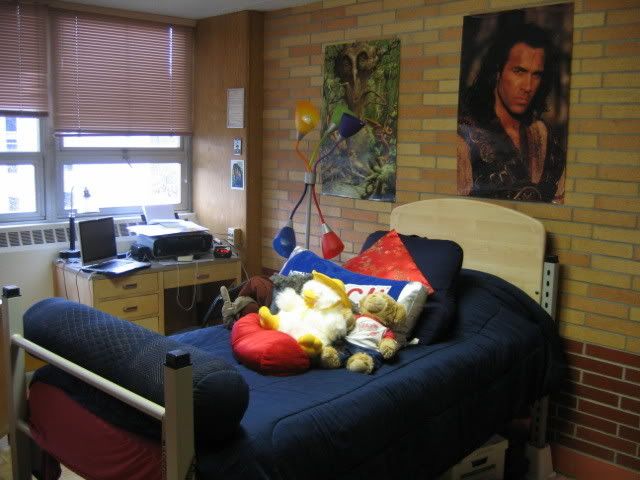 Full room featuring Adrian Paul in that lovely picture there. I haven't seen this poster in years, found it in the basement and decided to indulge my inner teenager.
This is a picture of my closets. Wee! I live in a ship! ... in the middle of another quadrilateral landlocked state :(. My dreams of being a pirate! RUINED!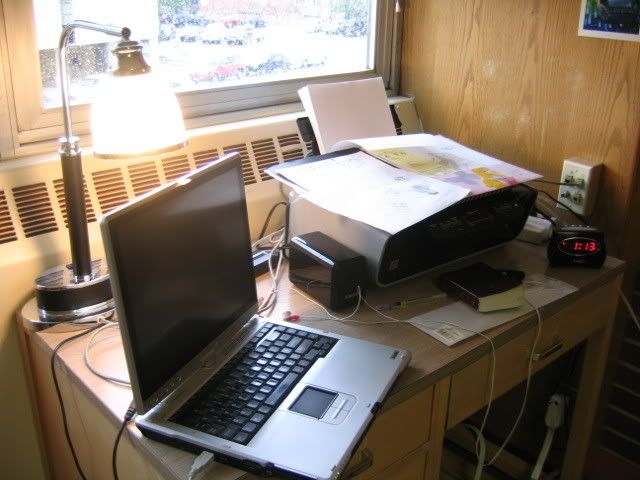 My compy and printery. This is where I type away at my nutang entries.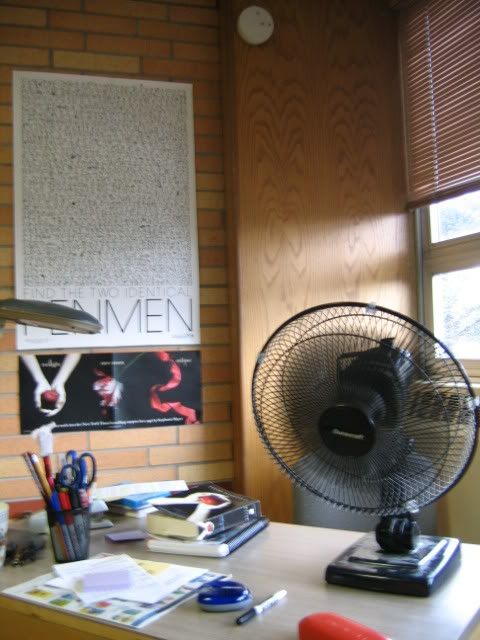 And this is desk number two. This is where I actually get stuff done, like reading and making flashcars and stuff. It is also where the fan is.
The rain is gone... hrm. I think I might hold off the kite flying for the sake of the lightning, but maybe I can do some visiting... or napping... or eating? Who knows...
Comment! (3) | Recommend!