Moby Dick and Queequeg, the sparrows who looked like whales
Tuesday. 10.2.07 12:42 pm
Let me introduce you to my art project. Their names are Moby Dick and Queequeg, called such because everyone thought they were whales. I don't think they look like whales, I never thought they looked like whales, but I guess they could be whales. The thing is that the whales look a lot crappier than the sparrows do. The sparrows look like they're going to vomit, albeit, but that's kinda what I was going for. Everyone still insists that they see whales. Here's a pick, let Nutang decide!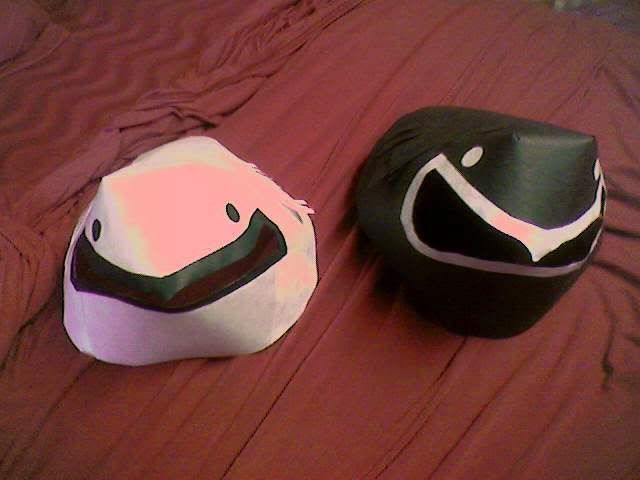 Comment! (0) | Recommend!
Sunday. 9.30.07 3:58 pm
Thursday. 9.27.07 10:54 pm
And the tale of my boring existence, woo7! What can be more fun that that? Well, I wanted to bring your attention to a shiny new comic called
The Phoenix Requiem
. In the vast gap that is left from Inverloch leaving my life *sniff* the author has kindly come out with a new comic to assauge my addiction *yeah* So have a look.

In other news, we started a writing club today! Hurray! We are meeting every Thursday, focusing on everything that a writing club can do: prompts, sharing, critique and general accountability. Wow, a lot to do, but I think we can handle it, at least they can... Strange, even after two years in writing club pushing hard to make everyone share, I still get a little nervous to share. Well, that's it for me!
Comment! (1) | Recommend!
Wednesday. 9.26.07 9:56 pm
I had a very strange dream today. I was in a terrible mood and not being able to puzzle out a way to get rid of it, I decided to nap in the middle of the day. The dream was about my home and my family. I believe it was some kind of family reunion, because there was more than my immediate family there (though in my waking hours, I'm not sure I can tell you who all of them were supposed to represent) and we were all in the old house reminiscing about the old large capacity washer we had and such (which we never actually had). When I saw the large capacity washer I noticed that it was much larger than an ordinary washer. In fact, it looked a lot more like a MRI machine or a clean sewer pipe. At the moment though, I thought like is looked in many ways like a ship.

I sighed. "I love ships," I declared and then, I had someone tap me lightly on my back. I turned and a friendly old woman was standing there with a knowing look on her face an a cane that looked a lot like a rubber mallet. She nodded and pointed at the boat/washer, as though I had said something rather clever and nudged me or rather hit me in the shoulder with the cane. The pain was so great that I woke up. Back in the real world, I discovered that my arm was just fine.


Puzzled by the concept of ships, I went through a series of boring processes to finally come upon the idea of going to the library. So I went and found a copy of Moby Dick from the library.


I looked over the shelf, all the copies of Moby Dick lined up next to one another, strangely hard to sift through. Which of these are not abridged? Which of them are in ENGLISH! Finally I chanced upon a green copy. I read the first page and I was transfixed. I had, it seemed, found an answer.


"CALL me Ishmael. Some years ago - never mind how long precisely - having little or no money in my purse, and nothing particular to interest me on shore, I thought I would sail about a little and see the watery part of the world. It is a way I have of driving off the spleen, and regulating the circulation. Whenever I find myself growing grim about the mouth; whenever it is a damp, drizzly November in my soul; whenever I find myself involuntarily pausing before coffin warehouses, and bringing up the rear of every funeral I meet; and especially whenever my hypos get such an upper hand of me, that it requires a strong moral principle to prevent me from deliberately stepping into the street, and methodically knocking people's hats off - then, I account it high time to get to sea as soon as I can. This is my substitute for pistol and ball. With a philosophical flourish Cato throws himself upon his sword; I quietly take to the ship. There is nothing surprising in this. If they but knew it, almost all men in their degree, some time or other, cherish very nearly the same feelings towards the ocean with me."


I scare rabbits and small birds instead of knocking off hats and though I am a woman and inescapably landlocked, I know exactly what he means. Thereby, I am vicariously adventuring again! I urge you all to wish for my safe return, for I fear I am in danger of staying here.
Comment! (1) | Recommend!
I swear I'll freeze to death!
Monday. 9.24.07 6:10 pm
I cannot turn up the heater
for I have no way of changing it
I cannot light a fire
because they think I will burn everything down.
Am I in Hell? I ask, but it is not cold in Hell.
No, I am in my dorm room
and it is cold, for it is Wyoming.

Flipping blasted cold weather! It is very cold up here and that's just because it's raining! Imagine what we'll have to do when the snow comes. I'll have to hole myself up in my room complete with mitten and hats and scarves! And they said it was unusually warm in these dorms. /sigh. Not one of my best poems... it barely counts, actually. I hope you like it, anyway.
Comment! (0) | Recommend!
My Nightmares are like bad Horror Movies
Sunday. 9.23.07 1:29 pm
So, I woke up at 3:00 this morning. There is this rule that I have: I don't watch horror movies. I don't like them, they just aren't my thing. They don't give me nightmares or anything, no... I have nightmares that are like horror movies. Sometimes I'll be surfing the channels and I'll be like "Oh goodness, I had a dream a lot like that a while back" and quickly flip away from the channel in utter terror.

It's funny, because you forget about nightmares when you don't have them for a while. Sleep becomes fun. Sleep is the best thing that you do with your time outside of playing flash games and youtube videos until 12:00 every night. But last night, I had a nightmare.


There was a girl, who apparently had some depressive issues and so, I guess her parents must have disowned her because they adopted her out to this family that lived in an apartment complex that looked like a mix between the Landmark apartments out here, the beach house, and a hotel room from the four points sheridan (Yeah, I've been to all of these places recently [EDIT: previous was confusing]).

She's a tall skinny girl, blonde-red hair and freckles. She might have been on a basketball team back at her high school. Anyway, she goes and she comes into this house and the people are like: "Hi!!! Good to have you finally here!!! We love that you've come to stay with us." and I'm like "oooo, these people are creepy, I have to get out of here." I think I was the girl at this point.

Anyway, so I start meeting my "foster" brothers and I realize that there is something terribly wrong. As I talk to them they start dissolving into these gigantic werewolf like creatures, except more ala Pickman's Model (HP Lovecraft) with the no skin and the sinewy legs, but definitely hair, lots and lots of hair only on the scruff of their back. They grew and they grew until they filled up the whole room, their green eyes flashing.

They were scary MFs, so naturally I start screaming and run like heck out of the apartment and then I get some back story while I'm running and then I go a little bit further and I keep on trying to call my parents and they keep on saying that it's okay and why don't I like it with the Putnam's or whoever the foster family was and I feel bad because I didn't really make it work out with them, but then again they want to turn me into something like my foster brothers and have me fight against other people and since I'm like, this slim althetic basketball player type, I'm perfect right?

Well, about this time I wake up and it's about 3:00 and I have to slough around for about a hour before I can finally get back to bed, dreaming a different nightmare. Yeah... my night was fun. :(
Comment! (1) | Recommend!