Monday. 10.23.06 10:46 am
I am going back home today :( I want to stay here longer, but I can't. Damn work tomorrow!!!
But, rather than sitting here on the Internet, I should get up and do stuff like pack...or I'm going to be sorry.
Comment! (1) | Recommend!
Sunday. 10.22.06 1:33 pm
Mmmm...I love being at home. My mom is making all of the things that I love to eat! She's making french toast right now and french toast is about my favorite breakfast food EVER. We're having tacos for dinner tonight (which is one of my favorite things that my mom makes...yum yum)...we had pork chops Friday night :) I think I'd just come to eat my mom's good cooking!!
Today has been really nice...woke up, wasn't foggy or nothing (like yesterday). The sky is actually blie, it's a bit soggy outside, but it hasn't really rained at all which is extremely wonderful! I think I miss the green foliage the most from here. The rain that Seattle gets only makes the place so much more beautiful. I don't think there's anywhere that isn't green...and, unlike Colorado with all it's yellow fields and all that, Washington is all green trees and foliage. It's great :)
I've been having some wicked cramping these past few days...they started yesterday afternoon. I am just guessing it's ligaments stretching and all that or maybe I just overexerted myself or something...backaches and the like. I haven't had any spotting or anything, so I'm sure it's not anything different. I wonder if it has to do with the altitude or anything. I'm so used to be up a mile above sea level and here I'm down at sea level. I felt fine on Friday, but it didn't start to be all crappy and achy until yesterday afternoon. Ugh...I hope they go away.
I'm getting on a plane tomorrow at about 2:30 ish...I hope that the flight goes well and then me getting into town works out well. I'm going to have TONS of bags with me on the way back. I'll have to take a picture of all the baby's goodies, but I got TONS. My grandma made me a nice blanket (microfleece...he'll need it) and he got lots of cute little outfits and lots and lots of blankets. I didn't get a lot of bottles, pacifiers, or anything like that...so I'll be getting the bare necessities when I get back to Denver. Probably best that I didn't...that would have been a bitch to haul back on the plane. I got some stuff that I can't get back on the plane with me (my aunt/uncle/cousin bought me a play yard and my friend got me a diaper genie)...those aren't going to fit in my suitcases. I think clothes and blankets are going in the suitcase.
BUT...I'll have to update more when I go through all my stuff. Then I can inventory it all. I know this though...the baby needs a dresser!!!
Comment! (4) | Recommend!
Saturday. 10.21.06 9:32 am
Well...it's so early in the morning right now. It's only 6:30 but I'm so awake...it's normally 7:30 for my body, so I suppose it figured it was soon enough for me to get up. That's usually how that stuff goes.
Hehe...I'm sitting in the bedroom and I sneezed, and you can hear my mom's dog run to the bedroom door and he's trying to freak out (mind you, everyone's sleeping except for my mom) and he's whining and trying to go crazy. He has some kind of issue with people sneezing, clapping, flipping the ottoman out on the recliner...he goes crazy! He's got to bark and freak out at you. It's a strange habit and we have no idea how he got into it. He started to get my dog to do some of these strange things though. My dog has no problem with clapping or flipping the ottoman out, but...when someone sneezes, her and Koby will go grab the "lar lar," which is one of those rope thingies, and they'll play tug-of-war...I think it's to get Koby to be quiet because everyone yells at him when they sneeze. Thank God no one has allergies in this house...we'd be screwed.
Hehe...we were watching the dogs play yesterday and mine is such a bully. Koby will go behind the chair and my dog, Erita, will corner him back there and she won't let him come out from behind there. Well then, Koby starts barking because he's getting picked on...lol...then Erita steals all his toys from him...if someone's giving Koby attention, she's gotta get right up there and make sure she's the one that's actually getting the attention...she walks all over him like he's not even there. She'll go slap him in the face to get him to play with her. If he's standing there and he's not playing, she'll walk right up to him and take her foot and slap him in the face like a person would slap another person...then he runs out and plays tug-of-war with her. When I take Erita back, I don't think I could ever have her as just being by herself. It's painfully obvious that she needs to have a play buddy...lol
Anyway, my baby shower starts at about 1 o'clock...my aunt's are going to come over at about noon, one of my grandma's is coming over early...so, all of the family festivities will begin soon after that. I have a lot of friends that I went to high school with that are coming. I'm so excited to see them...Mellanie (my best friend - Melissa's my best friend now, Mellanie is my best friend in Washingthing...I have Mel's all over the place), Carol, Alison, Julia, Carrie, and then some of their mom's and siblings are coming...just lots of people I've not seen in SO long. It will be good to see everyone. I miss them...these are the people I used to see every single day...now I hardly see them once a year, if that. I wish I was going to be home for longer...but life doesn't work that way. Work calls...and I've gotta be back there doing that on Tuesday. I hope the shit didn't hit the fan when I've been gone...that would really suck BIG TIME.
Anyway...I'm going to go do something else on the Internet to occupy my time for now...watch some crappy videos or something...lol
EDIT:
ugh...why does this shit happen when I come home to visit?
Man accused of having relations with dog
TACOMA, Wash. - A man accused of having sex with the family dog has been charged under the state's new animal cruelty law, which makes bestiality a felony, a prosecutor said.

Michael Patrick McPhail, 26, of nearby Spanaway, pleaded not guilty Thursday to one count of first-degree animal cruelty in Pierce County Superior Court.

Assistant Pierce County Prosecutor Karen Watson said McPhail was the first person in Pierce County to be charged with the new bestiality offense.

She said the dog was taken by animal control.

McPhail posted $20,000 bail on Friday.

Judge Katherine Stolz has set a trial date of Dec. 11.

McPhail's wife told investigators that she found her husband on their back porch Wednesday night having intercourse with their 4-year-old female pit bull terrier, the Pierce County sheriff's office report said. The dog was squealing and crying, according to charging papers.

The woman took photos with her cell phone and called the sheriff's office.

Calls to McPhail's public defender, David Katayama, were not immediately returned Friday.

The bestiality law, which took effect in June, was prompted by a case near Enumclaw in which a Seattle man died after having sex with a horse. Before the law was enacted, Washington was one of 14 states where bestiality had not been explicitly prohibited.
Source
Comment! (4) | Recommend!
Friday. 10.20.06 5:54 pm
I don't have very good pictures for you, but I at least have some of the dogs (yes, the one thing in the house that is photogenic...lol)....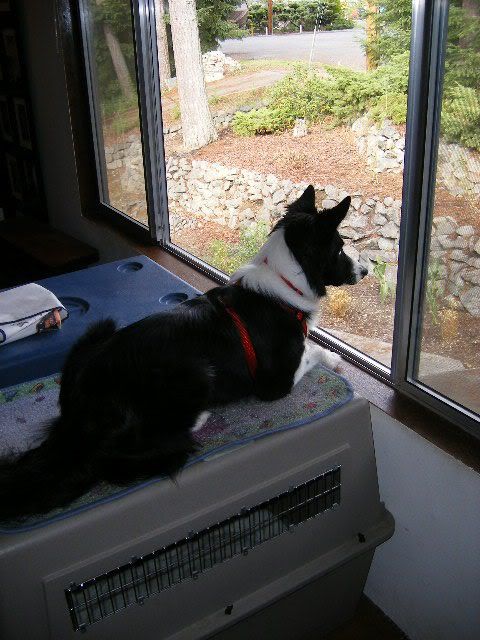 This is my dog looking out the window...she's watcing "Peanut," this squirrel that comes up to the front door...neurotic if you ask me.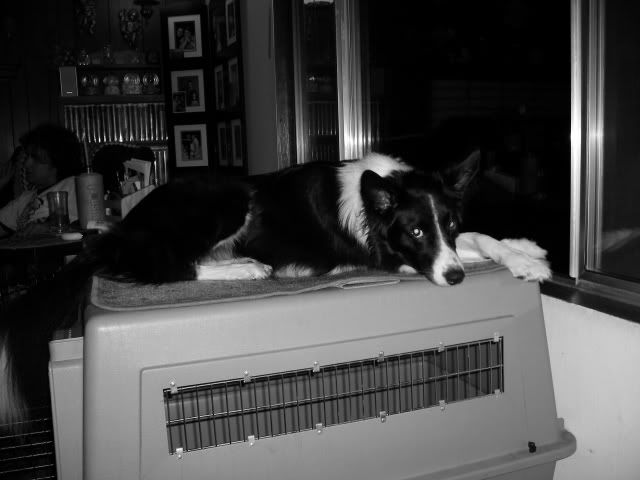 Here she is again, sitting on top of her kennel. She likes to sit up there I guess.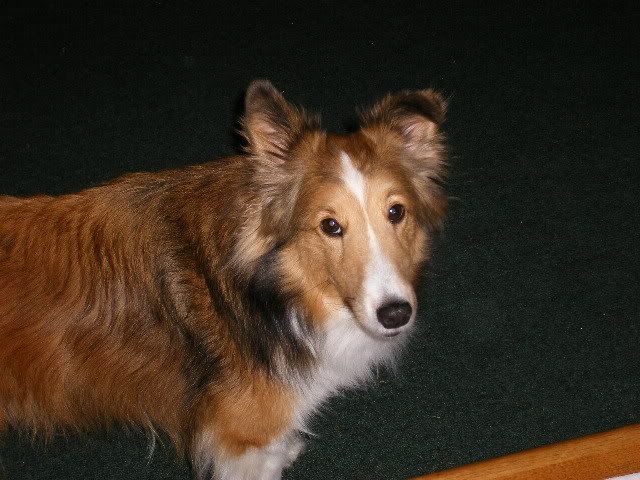 Here's my mom's dog Koby...he's the old man of the house, I swear...or at least he acts that way a bunch.
I'll have more pictures of people and stuff tomorrow since that's my baby shower...hehe :)
Comment! (7) | Recommend!
Friday. 10.20.06 1:20 pm
Well, I made it to Seattle.
That's done deal number one...two, didn't have any complications :) WOOT!!
Anyway, I'm not going to leave much more at the moment as I am neglecting my poor mommy who is sitting in the living room all by herself.
Maybe more later (with pictures) if you're lucky!
Comment! (2) | Recommend!
Thursday. 10.19.06 10:05 pm
So, I'm sitting here at the airport...fun stuff I tell you :)
Gate A32 out of Denver. Currently...the flight is leaving to Omaha, Nebraska...next flight, Seattle, Washington (yay!!)
I had to purchase this little Internet connection, but oh well...$7.95 for unlimited access for 24 hours was pretty reasonable in my opinion. I just took my aspirin not too long ago and I'm trying to stay hydrated as I am going to need all of that for the flight. I think it's about 3 hours or so that I'll be on the plane...so that works for me. Can't be too bad...I can watch Underworld if I do so choose (since that's what's loaded on the computer)...for some reason, Harold and Kumar go to White Castle is on there too, but I really don't want to watch that. He's also got Deathclok on there and I really don't like that show...lol...what a selection :)
The chairs are so uncomfortable here...my butt has already fallen asleep!!! Oh well...it happens
Comment! (3) | Recommend!
Thursday. 10.19.06 9:47 am
Yay...I've been waiting for over a month now for this trip to come, so I finally get to leave tonight! I'm excited, but scared at the same time. The last time I traveled on a plane was in June and I was only a few months pregnant at the time and I felt all crappy on the plane...now I'm almost 7 months pregnant and I hope I really really don't feel crappy. Not to mention, I'm going from one extreme altitude to another (mile high to sea level)...I hope that doesn't effect anything either. I'm sure I'll be fine...just nervous as hell, that's all. I'll eat my baby aspirin like the doctor said an be ready to go!
Brian's meeting me for lunch today...we'll see if he wakes up. I'm sure he will, but sometimes I wonder. Supposed to be out here about 11:45 or so. I'd like to eat a big meal or something at some point prior to going to the airport as I already have to spend $5 for a fucking bottle of water because I can't bring one through security screening (SO STUPID!)...maybe I can get Brian to go to Chipotle or something and we can scarf down one of their monster burritos...I really only care for the steak ones and I've not eaten red meat since we went camping at the end of August. Maybe I shouldn't do that.
Anyway, got all my shit packed for the most part...maybe throw a book or two into the check-in bag. I get home about 5pm, so I'm gonna take a shower and clean out the sink. Melissa's gonna come over and pick me up and then it's off to DIA.
I'm going to be constantly on the go today...I'm going to be so worn out. I think I'll be running on 20 or so hours since by the time I get into Seattle, it's going to be 11:30, but it's going to feel like 12:30 to me as they're an hour behind...I hope my mom was able to call in sick today or at least have them let her get out early (she works the graveyard shift at her work...7pm to 7am she works). As much as I'd like my brother to meet me at airport, I'd love it even more if my mom and my brother were going to be at the airport (my dad too...but he has to work tomorrow, so he'll be sleeping).
Anyway, I should have time while I'm in the airport to at least ramble on about something or other before I actually get on the plane :) YAY!
Comment! (6) | Recommend!
Interesting thing about credit...
Wednesday. 10.18.06 2:23 pm
I was perusing the Internet at lunch and came upon this article about weird things that mess up your credit.
Weird Things That Mess Up Your Credit
I read through the article and was quite surprised at some of the information it provided. For instance, Capital One does not report credit limits to the credit bureaus...so they just use amounts from other cards that you have and assume that your limit is around there. I have 2 Capital One cards with relatively low limits ($200 and $750...I think) and they are current on there...imagine if they were not current and they were reporting that the limits were a few thousand dollars...my credit report would be hella fucked up!
Anyway, I'm not going to go more in depth about it because I don't know crap about credit and money (other than the fact that my credit is not so hot...and I never EVER want a credit card EVER again)...hehe
Thought you guys might find it interesting though...
Comment! (3) | Recommend!