Saturday. 3.10.07 8:59 pm
Here's some Easterish pictures I got taken of Gregory today...I love em!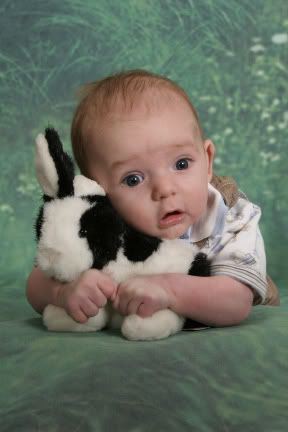 AND, here's some other random ones that aren't so Easterish.
Comment! (11) | Recommend! (2)
The cutest smile (in my opinion)...
Wednesday. 3.7.07 10:55 pm
Here's the biggest Gregory smile I've been able to catch on camera!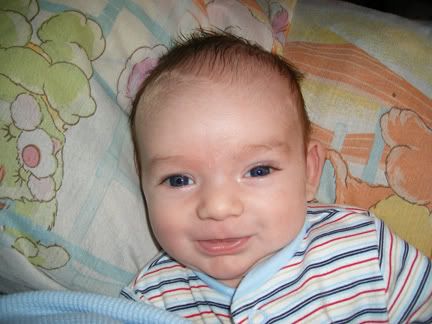 Comment! (12) | Recommend!
Wednesday. 3.7.07 9:38 am
I went back to work yesterday morning and left little Gregory at home with his dad all day. I missed the little guy, but I told him it was best that I was going to work so I could buy toys for him. I'm sure when he actually plays with toys and understands what toys are, this will mean more to him...BUT, I'm at work making money to buy toys for little Gregory.
Yesterday, when I left, he must have thought I was playing with him. I fed him about 6:30 and I left at 7:00 and I gave him to Brian in bed and he was laying under the covers with a firm grasp on the bedspread. He gave me this little grin like he thought I was going to jump in the bed with him, but then I waved and walked out the door. Poor little guy...breaks my heart!
This morning, I took a shower about 6:20 or so and when I got out, Brian was already feeding him. Brian thought that he could just go lay in bed with him and things would be fine (because he said that Gregory's eyes were closed, so he must have been asleep...NOT). Gregory's screaming bloody murder as Brian's putting him in the bed with him. SO, I took him for about 10 minutes before I left. He wasn't done eating because I gave him the rest of the bottle that Brian didn't let him finish. Then I burped him and talked to him telling him that mommy would be spending all day with him Thursday and Friday. I gave him back to Brian before I left and he was perfectly content...he was laying under the covers again just like yesterday morning. I've realized that Brian has no patience. If he would just take some time and do what his son wants, it probably wouldn't be so bad. Sometimes you have to sacrifice your sleep to do what Gregory wants. Brian just wants to sleep and make Gregory go to that schedule. Gregory doesn't want to sleep...he's a freaking baby! He wants to stay awake and explore and look around. He's a curious little boy! He can't be curious laying in bed while daddy sleeps...it doesn't work that way.
Oh well...the commute to work was okay. You can tell spring is coming...the p-dogs are coming out again. You pass empty fields full of p-dogs. I think they're so cute...but now nothing's cuter than Gregory to me, so they aren't as cute as they used to be...but they're still cute!
Anyway, I gotta get to work...nice to be back updating in the mornings again (well, at least for a little bit)...
Comment! (3) | Recommend!
Friday. 3.2.07 4:37 pm
since I've posted a picture of Gregory...
SO, here ya go!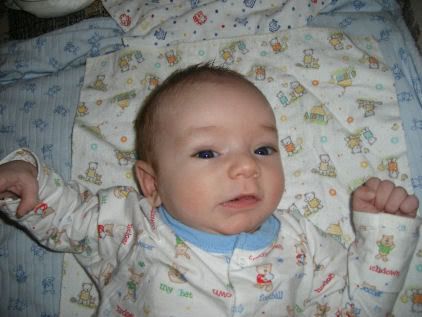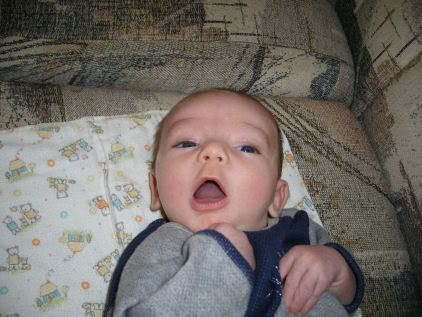 He's just growing like a weed! I can't believe that he's getting so big! He's 6 weeks and 4 days old today...
Comment! (11) | Recommend!
I have come to the conclusion...
Thursday. 3.1.07 1:11 pm
that I am the only one in this apartment (Gregory excluded...because he can't do anything anyway...including make messes...he has no toys to play with because he's too little) that knows how to:
1) empty the dishwasher
2) put dishes in the dishwasher
3) do the laundry
4) put away the laundry
5) clean the bathroom
6) put toilet paper on the roll
7) clean the kitchen
8) run the vacuum
9) throw food in the garbage rather than leaving it laying out
10) get up in the middle of the night with Gregory
11) leave the toothpaste UNgunked (there's so much toothpaste caked on the outside of the nozzle, it's gross...I bought my own toothpaste after that)
12) put laundry in the hamper
Ugh...the list could go on, but I'll leave it at that. I'll be going at it all day and I'm pissed off about it already, so I'd rather not be really pissed off about it.
It basically all started with Gregory crying this morning. Rather than get up with him and sit in the chair or console him by walking around, Brian continued to lay in the bed where he was crying initially. To be honest, if Gregory is crying laying in the bed, he probably isn't very happy laying there, so don't "SHHHH" at the top of your lungs hoping that he'll stop crying...IT DOESN'T FUCKING WORK!
At this point, I envy all single moms living alone with young babies. I don't know how I'd be able to do it...in fact, I don't think I could do it...then again, I wouldn't be leaving a pigstye to clean up every 2 seconds.
If he expects me to continue to be the maid when I go back to work on Tuesday as well as taking care of Gregory full time, he's got another thing coming. I'll kick him out...I'm getting tired of it.
Yes, you heard it...I'm going back to work on Tuesday. I don't want to, but I need to make money. Brian bitched at my spending habits, however, I buy things that we need for Gregory and things that we need (like food)...I also have to pay copays and insurance needs (not to mention, I had to pay for a $400 doctor visit out of pocket because the insurance was being retarded at the moment)...he spends his money frivolously on lunch everyday ($10 lunches...that's fucking ridiculous!) and going out to the bar and bowling...computer parts and games. I didn't realize that Gregory needed computer parts *rolls eyes*
Who am I to complain though...he doesn't listen to me when I tell him.
But yeah, back to the work thing...I'll be working Tuesday and Wednesday (the entire day) and possibly Saturday and Sunday. If I can somehow work four 10 hour days in there, I'll be getting the 40 hours that I need. I could possibly do 12 hours on Tuesdays and Wednesdays and 8 hours on Saturdays and Sundays. I can only do this for a month though before poor little Gregory has to go to day care. My mom said my work would make a killing on having an in house day care. It'd be a smart idea...but it'll never happen. I wonder who we make that suggestion to?
On other things,
Nuttz
asked what a credit score was in a previous comment. Here is the definition:
A score ranging from 300 to 900 which reflects the credit worthiness of a borrower, and is primarily determined by timeliness of past loan payments (i.e. credit card payments, student loan payments, house payments, car payments, etc.)
In response to
kkama67
, I would assume that paying student loans would boost my credit score. As of now, they are current, however, they are stating that they have a deferred payment. I would imagine that when I start paying them and they are no longer deferred, it would make my score go up. Unfortunately, at this point, I have several VERY DELINQUENT credit card ones that are messing it up. Hopefully when it reflects my payments to the attorneys, it will go up as well.
At
ikimashokie
, I don't even want to bother contesting my credit score because I know all of that stuff is mine. If I knew that I could get away with it, I'd be all for contesting...but to me, I'd have to end up paying anyway.
LostSoul13
, don't worry about putting your high credit score in my face. I wish I was more like you and didn't get credit cards when I was 18 and fuck up my credit the way that I did. Everyone has problems...unfortunately, right now is when my problems are...lol
AND,
Silver-dot-
, a 600 on the credit score chain is in the POOR range. The only thing that it's better than is the VERY POOR...the higher your number, the better it is...I think above POOR is FAIR, then GOOD, VERY GOOD, and then EXCELLENT (which, you better have damn perfect credit to get that)...
Comment! (7) | Recommend!
Wednesday. 2.28.07 4:32 pm
Last night, we were at Brian's parent's house for dinner and I know Brian's mom said that she would not drink around Greg (bravo...I'm happy about that) but then Brian's dad wanted to hold him and she wasn't going to give Greg to his dad because his dad had been drinking (I have a new found respect for her)...
I'm so happy that she is sticking to her promise not to drink around Greg. It's a shame that his dad can't put the liquor away long enough to keep the same promise, but at least one of his parents is doing it...maybe she can convince his dad to not do it (I doubt it...his dad is stubborn)...
Anyway, other than that...I've not been doing much. Just sitting around enjoying my time with Gregory. He was smiling and talking to me earlier today. He's sort of giggling, but not really...it's sort of like a cry/laugh type of thing.
Just checked my credit score and it's still not very good, but it's better. It's almost 600, so I'm happy. My credit score is poor, but at least it's better than VERY POOR and it can still get me things that I need (i.e. apartments, car loans (possibly) and home loans (possibly)...Once I start paying my student loans, my score will improve and things will be good :) Once my credit report reflects the payments that have been made on the two large accounts, it should improve...
Speaking of attorneys, I called bastard attorney...their records indicate a letter was sent out on February 5th. I still find it odd that I still have not received it...they're sending it out again. If I do not get it this 3rd time, they said that they could fax it to me...but still, why the hell does nothing from their office come to my mailbox. I think it's a little fucked up...grr...
Okie dokie...that's about it for now...
Comment! (9) | Recommend!
Psychoanalyze Yourself...
Wednesday. 2.28.07 12:16 am
It's fun!!
Psychoanalyze Yourself
For the most part, mine was true...except for a few of the answers. If you like these, I have more that I can post.
Comment! (5) | Recommend!
Tuesday. 2.27.07 12:33 am
I am thinking about filing a complaint against one of the attorneys that my mom paid off with her credit card.
On January 19, 2007, my mom paid off my debt on her credit card. When I was at her house, she received the bill and it shows that the amount was charged to her credit card on that date.
On January 19, 2007, I specifically requested a letter stating the balance that was owed and was told that they could only send out a generic letter stating that I owed an amount, OR, I could pay the amount on the credit card and I would receive a letter stating that it was paid in full.
To this date (February 26, 2007), I have yet to receive a letter stating that my debt has been paid in full.
About a week prior to me leaving for Seattle, I had contacted the attorney's office and let them know that the letter that I had requested on January 19, 2007 had not been received and they better send me the letter. He called me back and let me know that he was putting it in the mail.
Now, checking my mail...still have not gotten it and it has been more than 2 weeks since I talked to them on the phone.
I am unsure about how to go about filing a complaint against them and I am at a loss as to who I would need to actually contact to file a complaint. I think that it is very unprofessional of this attorney to not send a letter stating that the amount was paid in full...especially since I paid them more than a month ago. It's not like this attorney is in another state or anything either...they're in downtown Denver! I could go and stand outside their office if I wanted to because they're 20 minutes away from me (hmm...maybe I should picket!)
I am also considering disputing the amount that was charged on my mom's credit card if I do not receive a response from this attorney. In my opinion, since I have not received a letter stating that it was paid in full or even anything saying the amount that was due, the amount that was charged on her credit card should be invalid...I have nothing showing that this is a charge that belongs to me...and this attorney refuses to send me anything stating so. They had no problem threatening me with a summons to go to court and that I'd have to pay them tons of attorney fees (mind you, I never received a summons and they continued to harass me on the phone about a court date that I was never aware of)...
What do ya'll think? Do any of you have any idea who I need to contact to file a complaint? It's really irritating and it's really pissed me off at this point. I may call them tomorrow and request to speak to a superior. I call them and the damn attorney's office is a call center...they've got 100 people working there, I swear...either way, this guy I've been dealing with is probably the low of the low...there has to be someone who will print me a fucking letter and send it in the mail. I don't understand what is so hard about this...
Comment! (5) | Recommend!