Tuesday. 6.16.09 7:11 pm
Today was one of those days that I just wanted it to end. I could not get any sleep last night. I went to bed feeling like I was in an igloo. I had about 4 blankets on. About every hour into the night, I woke up because I couldn't breathe. Then, I was hotter than shit! At 3am, I just couldn't take it anymore and woke up and went out into the living room. There, I froze my ass off again...and then I went back to bed. The joys of having a cold.
I went to work today when I probably shouldn't have. Everyone told me how horrible I looked and sounded, but I just couldn't see staying at home when I was perfectly fine to function, just a little slower than normal.
Now, I'm sitting at home blowing my nose every 2 seconds wondering when this will just end. Nothing is working in regards to cold medicine. I've just been suffering...oh well.
It has started to rain outside. It didn't rain at all yesterday that I know of and we had a 40% chance for severe weather. Today, we had a 20% chance and it's raining. Just my luck that we'll probably get a tornado warning or something while I'm sitting at home being miserable.
My last entry before the one I did yesterday, I had talked about getting Greg into school. I guess I should fill in that he's been going to school since January and he loves it. He's made so many friends, he's learned to talk so much, and he's just learning TONS. He can do his ABC's, he can count to 20, he can count in Spanish (they did not learn that at school, but he can do that)...and he's just 2 1/2. It blows me away!
I recorded my favorite show on the DVR and we watched it last night. Saturday was the series finale of the show. ABC cancelled it (it, as in, Pushing Daisies) because they're bastards. The show had a large fan following and I think people liked it. It wasn't getting the ratings...so they canned it in the middle of the 2nd season. The rest of the world got to watch the finale before the states saw it. It was a load of crap! I was okay with the ending, but it still left some open parts in the story. I hope they add onto it in a DVD format or something. It was a really good show!
I promised more Greg pictures, so here they are.
He has such big feet...he's just Greg Big Feet!
We go to the zoo quite a lot.
AND...why not a Greg video.
Comment! (5) | Recommend!
Monday. 6.15.09 7:43 pm
Hi everyone.
It's been a million years since I've been on here. I had no idea I was as popular as I appear to be (okay, maybe I'm letting it all go to my head).
I was out of Colorado this past weekend. Brian, Greg, and I drove 12 hours to go visit my cousin for her graduation. They live in Henderson, Nevada, so it was a long drive! She's finally out of high school and it meant the world to her that we actually came to see her. We hung out in the pool all day Friday. Greg absolutely loved it. He was in the pool for about 5 hours straight and he took a very long nap. We hung out for her party in the evening and they had the best food! They went to this place called the Hawaiian Grill or something. Their beef that they got was so yummy! It was like eating a gigantic plate of beef jerkey!
Saturday, Brian and I went down to Las Vegas and visited the strip for a few hours. We walked in and out of a few casinos. Didn't gamble at all. We ended up spending money at M&M's World and the Coke place...and then we went back to my aunt's house. My dad wanted to go down to the Fremont Experience again (for the 2nd time) and watch Greg's face as he enjoyed all the lights. Down there, I met up with
LostSoul13
. It was nice to actually meet someone that I've talked to for so long (I can't believe it's been since before Greg was born). I hope she doesn't think I'm as weird as I thought I must have seemed. The first impressions are always the ones that I worry about. I'd love to meet up again sometime without my family. It was like we had to follow my dad down the entire Fremont experience and it was like one gigantic follow-the-leader thing.
We were watching some band play and some lady hit my mom with a stroller. My mom turned around and said "Watch where you're going...bitch!" This lady looked mean too...she didn't even apologize, say excuse me or anything! My dad turns to my mom about 5 minutes later and goes "Did you hear some lady call that lady a bitch?" and my mom goes "Yeah! It was me!" My family is strange sometime.
We left to drive back to Colorado yesterday and I think I got a cold when we were out there. I sneezed a bunch and had a stuffy nose the entire drive back. Today, I got to sit at work blowing my nose and sneezing my face off all day. My throat is sore and I had an all around miserable day. It was fun times.
Anyway, I suppose I'll post some pictures of Greg since he's 2 1/2 now and getting real big. This first picture is his school picture:
He's always so serious in his picture.
This next one, he's standing next to my brother. Tim's about 6 feet 2 inches tall, so you can imagine how tall Greg is. Everyone keeps asking me if he's 3 years old or older. Someone even asked me if he was in Kindergarten. I don't think he's that big.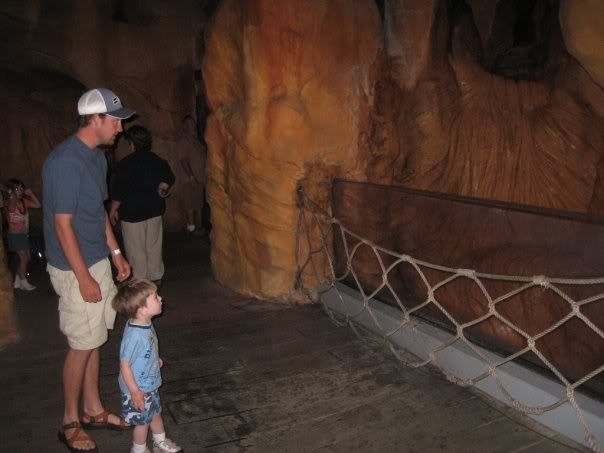 I'll post more pictures later (when I post again)
Comment! (5) | Recommend!
Wednesday. 12.24.08 12:42 am
I smooshed Greg's finger in the door coming in the house today. I had smooshed his finger in the car door before and I make him get back well away from the car before I close the door because I don't want to do that again. Here's me being overly cautious and we're coming in the house and he must have had his finger between the door jamb and the screen door and there went his thumb. I am such a horrible person! His thumb was bleeding (I think I pinched it in there) and I cleaned it all up and he was fine. I hate seeing him hurt...especially when it's something that I do.
Good news on the school. I think I am going to enroll him in the school. He will learn TONS there and one really nice perk...they potty train! I work all day and sometimes when I get home, I have no energy to sit there and be patient with him while he's learning to use the potty. I am thinking that since they'll do a lot of the hard work while he's at school, I'll be able to pick up the rest when I get home. Other perks, it's an actual school and not a day care. The teachers are accredited and he can actually attend private kindergarten there when he gets old enough. I think it will be a good head start for him. He'd be in the young preschool 2 class which is better than I thought. I thought he'd be with the toddlers, but he'll actually being going to preschool. I'm excited!
But yeah...Christmas Eve is tomorrow (today, however you want to look at it) and then it's Christmas time and opening presents. We have to drive down to Colorado Springs on Christmas Day. I really don't want to...no one really wants to, but we have to. I should just listen to my mom. Christmas is a time to spend with your immediate family...spend it together. Who likes to open their presents and then not even get to play with them all day because we'll be in the car. How lame is that?
Oh well...I'll catch you later.
Comment! (1) | Recommend!
Tuesday. 12.23.08 12:43 am
I really need to make it a point to stop and blog more often. It's been quite some time. I'll have more time here since I'm not working every weekend, every waking moment of my day is not devoted to work, etc.
Christmas is on Thursday! I cannot believe it. It's almost like it really snuck up on us this year. I'm glad I got most of the shopping done sooner than later. I made sure I got Greg Elmo Live early because now I'm having trouble finding it in the store. The only crappy thing, I cannot find anything Wall-E. He loves that movie, but it's the first Wall-E thing sold out...no interactive Wall-E for Greg. We'll see if Uncle Tim comes through for his birthday.
My mom got him a car that has 2 buttons on the remote. It drives forwards and backwards and so far, he really wanted to open something, so that was the first thing I gave to him (believe me...he either opened one of his or he opened everyone else's like he's already been trying to do). He drove that thing around the house for about an hour until we took it away from him so he could go to bed. Poor guy...he cried so much. First I shut it off and then he said "I broken...I broken." He says that a lot when things stop working or not doing what he wants, he says that they're broken. It's quite cute.
Um...I have the day off work tomorrow. Brian's mom and I are going to go tour
The Primrose School
. We have been having some issues with Brian not waking up in the morning (I have stories...but there's time for that later) and I told his mom and she completely agreed 100% that Greg needs to go to daycare. Reason number 1...I just want to make sure that he's being supervised. Reason number 2...he needs some socialization. He's the most scared/shy little 2 year old that I've ever seen. He's such a loner and I don't want him to be this way. I am hoping that this school is what we're looking for and that it'll all work out.
We'll see after the tour...anyway, I've got a splitting headache. I must go to bed.
Comment! (4) | Recommend!
Holidays are quickly approaching
Sunday. 11.16.08 1:28 am
I can't believe Thanksgiving is two weeks away. It seems like it was only a few weeks ago that we were doing Thanksgiving and here it is again. Makes me wish I didn't work as much as I do. I'm missing Greg grow up so fast...all because I'm at work.
I've been working non-stop since about 12 days ago. I was going to go into work tomorrow, but honestly, I've been tempted away from that. The prospect of just being at home enjoying the company of my son is enough to keep me away from there. I could always use the extra money, but I only get one shot with Greg. I better make the most of it before he really forgets who I am.
My brother is visiting from Seattle (I think I mentioned something in my last entry) and he actually found a job he was looking for. He's going to be up in Snowmass for the entire ski season as a parking attendant. He has a room for $525 a month and he gets a free ski pass for the entire season. Who could pass that up?
Anyway...Greg's struggling to go to bed, so I best shut the computer off. It'll just be worse.
Comment! (3) | Recommend!
Wednesday. 11.5.08 1:04 am
It's been a few weeks since I posted (okay, maybe even longer than that).
Halloween was good this year. Greg was a buccaneer (pirate more like) and he appeared to enjoy himself. He wasn't about wearing the hat or the bandana, so we went without it. Here's some photos: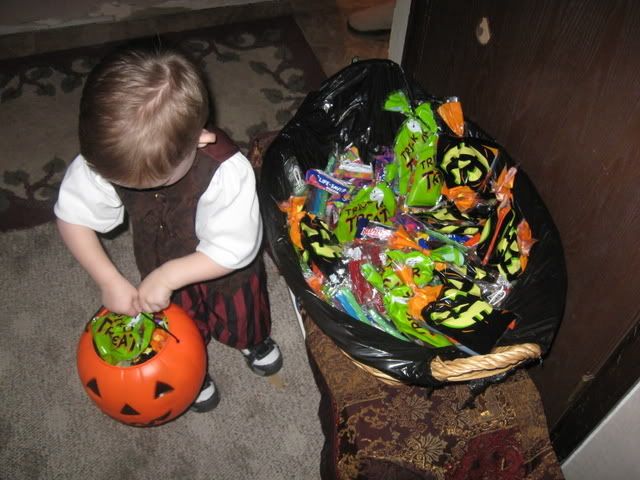 Here's Greg stealing all the loot out of the candy basket before we even left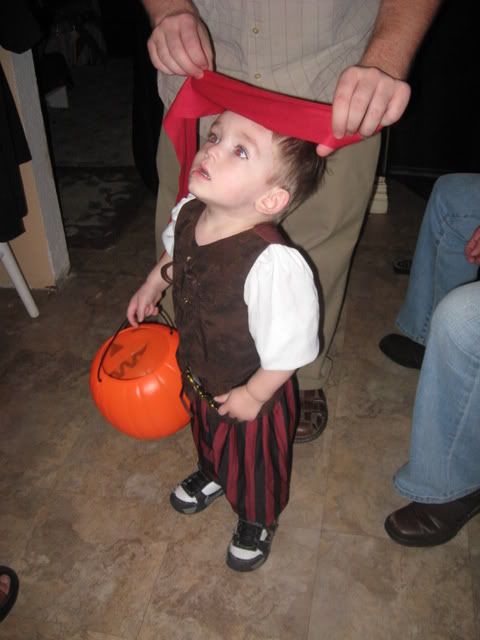 Here's he's struggling while we put his bandana on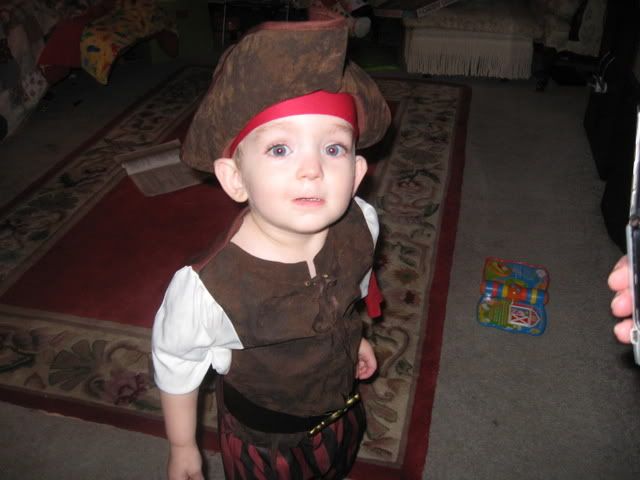 The pirate scowl...arrrghhh!
He we are leaving the house
Here's Greg walking along the street - swinging his pumpkin bucket
A few days before Halloween, my brother drove in from Washington state. He's trying to get a job up in Aspen for the winter in the ski resorts. I'm sure he'll have a good shot at getting something. It's just nice that he's here visiting us for a month or so.
AND...I leave you on the smiling Greg picture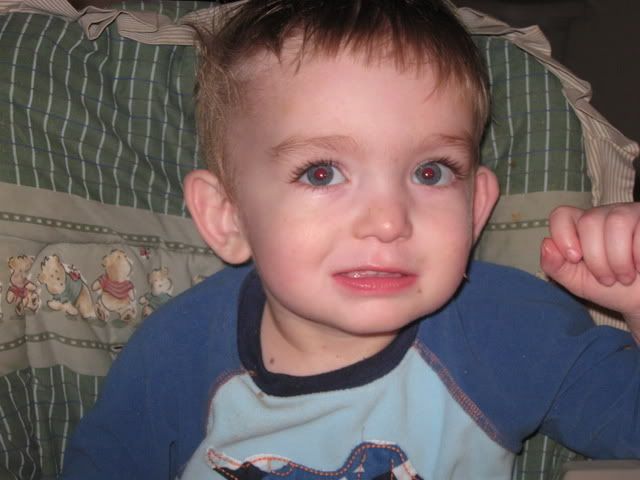 Comment! (3) | Recommend!
Tuesday. 9.23.08 11:39 pm
We got Greg his big boy bed. It was a Sesame Street bed, but I didn't put the stickers on it. I didn't want it to look too tacky (and I put the head and foot board on backwards...and the stickers would go on the wrong way because of that).
It took me 2 hours to put that bed together by myself. I had the headboard set up and I was getting the platform part screwed into it. It was really a 2 person setup thing, but I did it by myself. I had it set up to where the head was elevated so I could put the foot board on and Greg touched it and all the screws popped out and fell over. I was SOOOOO pissed! I basically had to start all over again to put it back together...but it was eventually finished.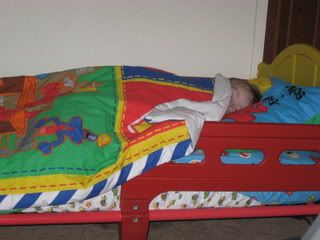 Last Friday, we went miniature golfing. I figured Greg could handle himself because there were lots of plants and I even got him his own little club. He was about the moodiest, whiniest baby that there ever was. I'm not taking him again until he's older. When he's old enough to ride as a passenger in the go-karts, I'll take him back. He's about 6 inches too short still...and about a year too baby (lol).
Here's some pics:
This is before we started mini-golfing (he was happy)
Here's one where he looks like he's in a cage...lol
Here he is watching the statue squirt people with water (when they miss the hole) and the top explodes also (when you get a hole in one). He was really excited about that.
Here he is picking up the golf balls. That pretty much ruined the entire time...any time someone would hit a ball, he'd go pick them up and throw them in the bushes. What a brat!!
Anyway...nothing really new has happened. Been pretty busy at work, but not so much. I've been pretty caught up. Other areas are not caught up, but that's not my problem.
I dyed my hair last night. I was trying to highlight my hair, but I ended up screwing it up...so it looks like I bleached my roots and the bleached part doesn't go to the ends of my hair. Everyone said they thought it looked unique, but I'm like...this looks stupid! Maybe it's just me that thinks that...I don't know.
I went to Toys R Us yesterday and they were having a "buy 2, get 1" book sale. SO, I bought Greg some Wonder Pets books (his favorite TV show). If anyone's not familiar with the Wonder Pets, here's a picture:
The whole show is basically about these animals going to save baby animals who are in trouble. One of the books I got was them rescuing a baby dinosaur. Last night, I was telling Brian that I bought those books, but Greg didn't really like the dinosaur book. Greg all of a sudden goes "DINO!" I told Greg "You don't even know what a dinosaur is," and he goes "DINO!!!!" Then he just kept saying "dino" and he'd change the inflection of it...sometimes it was more like DYE-NOOOOOO or DYe-no...he's such a dork.
Anyway, I think that's enough for tonight....and enough pictures too.
Comment! (4) | Recommend!
Good evening everyone (well, morning to me and some others...)
Wednesday. 9.17.08 2:30 am
WELL...
What is new? Nothing much in particular. We have people over every Tuesday night and tonight, we were playing Rock Band 2. I got suckered into playing the drums again. I'm seriously not that good at it, but I'm better than everyone else at the drums (WHY?!?!), so they make me play. I'd rather play guitar or bass.
In other news, I have a little headbanger. We were sitting there playing Rock Band 2 and Greg is over in the corner rocking out. What would have made it even greater is if he threw up some horns, but no...just the headbanging. He also did a little "go-go" dance with the hands too. He's crazy!
Then, after the did all that...he started running down the hall way, all the way back through the kitchen, down the hallway, through the kitchen, back and forth (maybe about 10 times) before I followed him into the kitchen and then he ran back to his bed and scaled the side of it to get back in so he could pretend that we never saw him climb out of the crib and run out into the living room. Believe me, we saw him...we saw him good!
It's toddler bed time, I guess. He can escape the crib and I'm just not ready for him to grow up :( I wish he was a baby and I had to do everything for him still! I'm going to try and convert his crib into a toddler bed. If I have a crib that isn't convertible, a friend at work said she'd ask her husband about her daughter's toddler bed and she would be willing to let me have it if it was okay with her husband. If that's the case, SWEET! I guess I'm just not ready to chase him around the house to put him back in the bed because I know he won't stay in it!
Oh well...I've been cooking a lot more meals lately. The other day, I made chicken florentine. I'm not sure if Brian liked it since he left all the spinach on the plate, but seriously...I thought it was good. I also made corn chowder (yum yum)...it turned out a bit chunkier than I would have liked, but oh well. My next endeavor will probably be something with the chicken again. I've been glued to
http://www.allrecipes.com
and they have so many recipes that look good and tasty that are simple enough for me to figure out. I like that.
Uh...I think that's it. I'll probably go for a nice drive with my friend
pyrogrrl12
up to Breckenridge or something this weekend. Someone said the drive from Breckenridge pretty much down to Littleton is so pretty and great for pictures, so I'm gonna do it. I've never been to Breckenridge (it's close to Aspen), so it'll be interesting. I like taking Greg places he's never been, so he can experience things. Not that he'll get a whole lot out of it now, he'll appreciate it later.
Anyway...I'm going to go to bed. It's almost 1am and I've gotta get up at 6am to go to work.
Comment! (4) | Recommend!