Frustrated as all hell...
Wednesday. 5.2.07 10:53 pm
but seriously, what's new?
I remember there was a time where I looked forward to going back to work. I am now in that time where work is driving me nuts and I absolutely want to scream every time I walk into that building. Is that a bad thing? Possibly...BUT...it's not going to change.
I got so pissed off today right before lunch time that I walked out (I wish...but I stormed off the premises). I went to a restaurant by myself (Noodles & Company)...I ordered myself a pasta plate and a beer (sort of a no-no at lunch time at work) and I sat there and relaxed...well, relaxed enough as I was going to. The beer definitely took the edge off. Felt nice to just there...wish I wasn't alone, but that doesn't happen.
Anyway, ya'll keep asking about how big Greg is...so here ya go: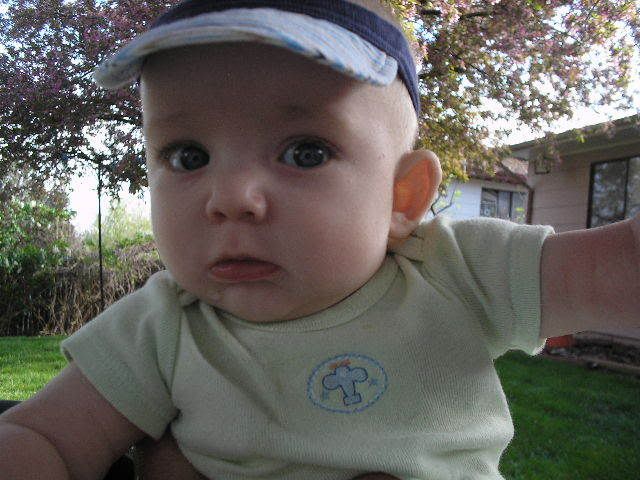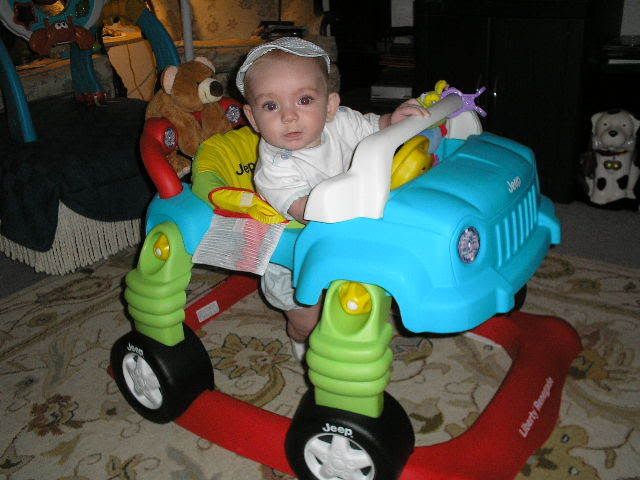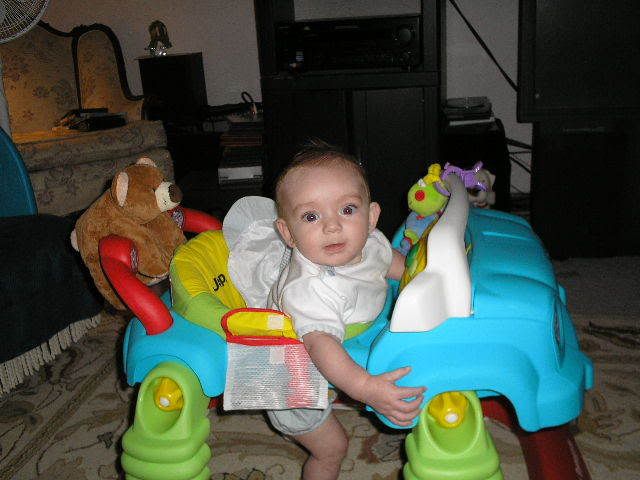 Comment! (6) | Recommend! (2)
Sunday. 4.29.07 9:58 am
I haven't had a nice, fun night out for a long time. I went to a friend at work's house last night at about 6pm and didn't get home until 2am. We were so busy having fun and playing games that the time just flew by. These are things that I used to enjoy doing that I have really never been able to do out here because I don't have a lot of friends.
Don't get me wrong, I love hanging out with Melissa, but it's hard to play HUGE multi-player games with 1 person. Melissa, gotta come with me sometime! It was great fun!
Anyway, Melissa and I are going to take Greg to the zoo today...which will be fun fun fun (again)...I'm going to spend more time there and enjoy myself more this time. Last Sunday, I went with Gregory...and it was hard doing all the stuff I wanted to with a baby and he got cranky midway through it and I only had 2 hands. He wanted to be held, but I couldn't hold him and push the stroller and it took some great maneuvering...Melissa will be there to help this time. Might do a picnic lunch or something :) GREAT FUN!
Comment! (2) | Recommend! (1)
I guess it's never too late...
Friday. 4.27.07 8:45 am
FOR AN UPDATE!
The last entry, I talked about not being able to get into the zoo on Saturday because it was packed. Well, Sunday...I woke up and I REALLY wanted to go to the zoo. I asked Brian if he wanted to go before work and he said no, so I went by myself with Gregory. We got there at 9:30 and there were TONS of parking spots. The zoo opens at 9:00, so it was perfect when we showed up.
Greg sitting in his stroller right after we got into the zoo
We had fun (we weren't there for more than 3 hours). Gregory got fussy I fed him once while we were there. I am not sure he quite knew what was going on, but I took him out of the stroller a few times (when we were around the big animals), so he could watch. He seemed to watch the rhinoceros (as he was right next to the fence) and the hippos were interesting.
It was feeding time for the hippos
My favorite part at the zoo this time was seeing the bears. The polar bears (a highlight of mine) were okay...but they weren't swimming this time...but I really liked seeing the grizzly bears. This is my favorite picture:
This is SOOOO how I sunbathe...in a hole...with some sticks
Anyway, I'm going to go again Sunday with my friend Melissa. I LOVE the zoo...and it's APE-ril, so they're doing things with monkeys and apes this weekend.
Greg's getting his picture taken at Target tomorrow (I hope they turn out good) and it's month end! I'll be at work...late...tonight...woo (NOT)
Comment! (5) | Recommend! (1)
I haven't been here in a while...
Sunday. 4.22.07 12:37 am
What is new...what is new?
We're going completely paperless at work...so, maybe in the future, I will be able to work from home (HAHA...), but not at the moment. That's fine, but I'm just glad we're going paperless.
We tried to go to the Denver Zoo today, but it was a nightmare. We drove around for 10 minutes or so before we decided to give up because there was no parking. We went to the mall instead...walked around for a while.
We went to Target and made an appointment to get Gregory pictures next weekend (which is also when we planned to go the zoo again...and I completely spaced). We'll make it out there eventually.
Um...Brian built me a new computer and it's pretty sweet. It's a dual core processor with a peachy video card, so WoW looks excellent on it now. Not that I'll be playing a lot of WoW, but when I do, it will look better.
Okay...I'm done now. Catch ya'll later...
OH YEAH, my mom drove from Washington to visit me this past week. I wished I could have spent more time with her, but I had to work. It was sort of sad :(
And here's a picture of Gregory...I was messing around with Photoshop, so that's why it looks like it was drawn, sort of.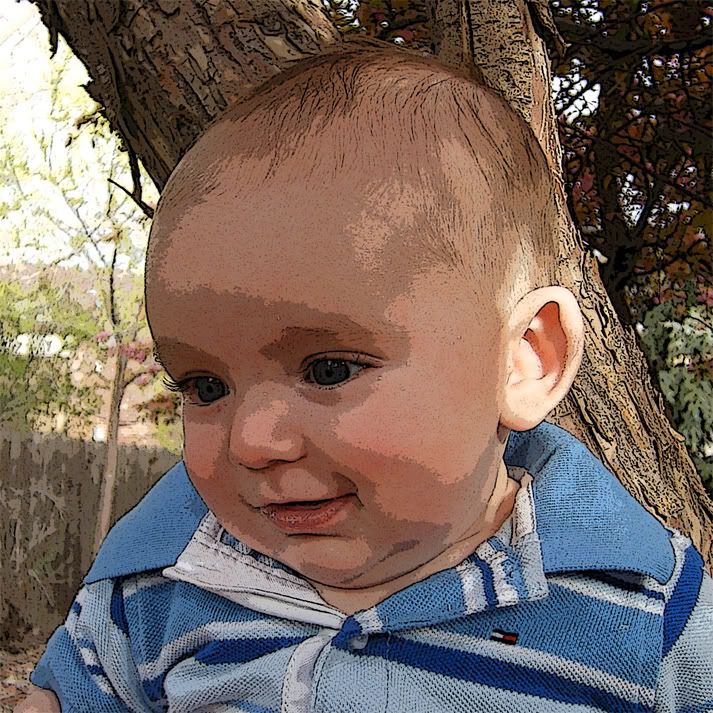 Comment! (5) | Recommend! (1)
Saturday. 4.14.07 3:19 pm
I still have the pink eye...but now it went to my other eye too! I have pink eye in both fucking eyes!!!
On top of that, I think I've got a small dose of the flu or something. I feel like shit already with the headaches and soreness the pink eye causes, but now, I've got headaches and soreness all over because of this damn flu. I've got a sore throat...and I'm just deathly afraid of giving ANY OF IT to Gregory. He doesn't need this shit...he's too little!!!
Brian said he left me some Nyquil last night, so I went to use it. He left me 7.5mL...which isn't even half of the normal dose a 12 year old and up is supposed to take (30mL)...he left me with a quarter of what would make me feel even remotely better...ugh...
Either way, now I'm at work...slaving away on the weekend and I'm just ornery and achey all over. Fucking sickness...grr...
OH, thanks to all those people that read my blog and then me never respond to anything. I'm just busy and I've been sick...and I'll just tell you flat out, I SUCK. I'll get back to ya'll one of these days.
Comment! (5) | Recommend! (1)
Wednesday. 4.11.07 3:29 pm
This totally sucks.
Yesterday, I felt like CRAP. I had my horrible bout of back pain on top of feeling like I was going to heave all day long. People kept asking me if I was pregnant, but I know that's not true because my boyfriend and I haven't been intimate for a LONG TIME...but anyway...TMI
I woke up this morning with my right eye being poofy and I had a bunch of discharge (it was clear...basically it felt like I had a watery eye) and I went to work. They told me to pretty much get away from them and go home because they didn't want me there because they thought I had pink eye. I went to the doctor as soon as I could and low and behold, I have pink eye.
Grr...
I really don't want to give pink eye to Gregory and this really sucks. I basically have to wash my hands compulsively if I want to hold him and if I really want to be safe, I should probably not even touch him for at least 24 hours.
THIS SUCKS!!!
Comment! (5) | Recommend! (1)
Tuesday. 4.10.07 10:22 am
I have been feeling like Ă¼ber crap this morning. At about 12am, the excruciating back pain returned. I took my pills, but it never seemed to go away. Gregory was being fussy...Brian wouldn't get up (Gregory was fussy because he didn't want to sleep...and Brian wanted to sleep)...
GRR...I know why I have these back problems. It's because I'm so stressed out to the point that I want to explode...
Sometimes I wish that I would explode...then I wouldn't have to deal with things...ugh
Comment! (6) | Recommend! (1)
Monday. 4.9.07 10:16 am
Last night, Brian and I got a little break. Brian's mom wanted to watch Gregory over the night, so we let her. It was a little nervewracking at first because I've never left him alone all night before with someone else and me not be there and it was scary.
I had my phone sitting next to my bed with the ring up full blast just waiting for a horrible phone call, but there was none. This morning, there has been a phone call either. I'm worried that I've not received a phone call to let me know that he was okay all night, but I guess I'll find out when I go pick him up here in the afternoon.
Talk about a restless night!
Brian and I took advantage of having no baby there to start the laundry and then we played World of Warcraft for a few hours. It was sort of relaxing...but at the same time, totally scary because Gregory wasn't there. I had to drink a few beers to settle my nerves.
BUT, that's about it...
Now, I'm at work...fun stuff. No casual week this week, so I'm wearing my work clothes again (boo...I feel so fat in these clothes). Brian, the lucky devil, gets to wear jeans or whatever he wants to work everyday and he works in an office setting. Irks me...but whatever. NO FAIR!!!
Anyway, I have lots to do...so I better get to it.
Comment! (7) | Recommend! (1)