MUSE concert...best day EVER *heavy on the pictures*
Saturday. 9.22.07 11:48 pm
I was at Red Rocks on Tuesday watching the best, most ultimate, COMPLETELY FUCKING AWESOME band. MUSE ARE GODS!!!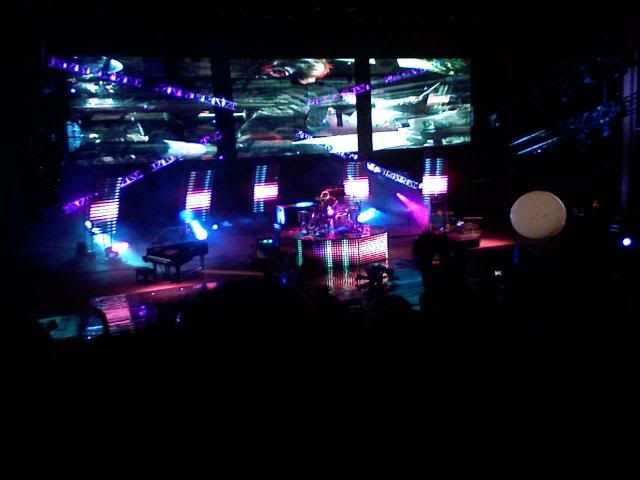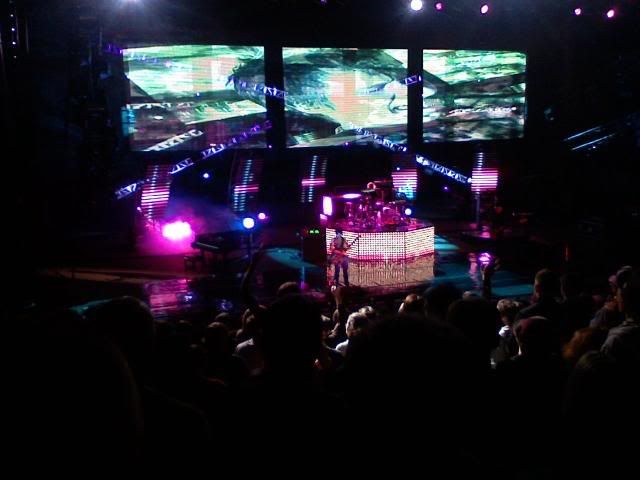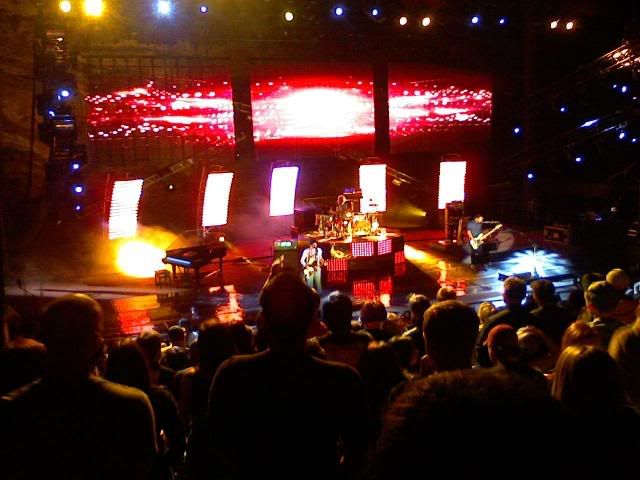 Okay, I think that's enough pictures.
To all of you who got me hooked on the Stephanie Meyer's books, I LOVE YOU. Those books are fantastic! I'm reading Eclipse right now and I spoiled it for myself because I started reading about the book on the Internet and blew it for myself. I'm not doing that for the next ones after this...damn me!
Speaking of Stephanie Meyer's...I was on her page and I went to her Myspace for some reason, and she is the ultimate MUSE fan. I'm so jealous though because she's got a picture with the band and it's bloody obvious that they had backstage passes and all that. Her Myspace is a MUSE shrine! What a coincidence!!!!
Anyway, I'm not dead...just deathly busy...going to MUSE concerts. Who wants to travel around after the band going to concerts every night??? *raises hand*
Comment! (5) | Recommend!
Thursday. 9.6.07 8:26 am
Sorry about not posting. I've been around, but I've NOT been around.
This last pay period (from the 15th until the 31st), I worked 128 hours. Our HR department projects how many hours we're supposed to work and it should have only been 96 for normal work hours (8 hours), so I worked a lot of overtime. Needless to say, I've been HELLA tired when I get home. The past few nights, I've gone to bed right after I toss Greg in his crib.
He's so good...sleeping all night. What a good little boy. He tosses and turns all night though because I'll put him in the crib and he'll be on the complete opposite end of the crib...uncovered. It happens.
I have no pictures of him that I want to share, but since we moved, I have not been able to locate my damn cable to the computer. I have some videos of him too that I want to share, but once again, I need the damn cable to the computer!
Anyway, I gotta get off to work...much to do and no time to do it.
Oh yeah, for all you Twilight people, I went out and bought the book last night. I started reading it and it is good so far. It's funny how it is set in Forks. It sort of hits close to home since I know exactly where they are talking about...and I know all about the albino people (okay, albino looking people because I am one) and how everyone always wears black and how it rains all the time...lol...it's Washington!
Comment! (3) | Recommend!
Thursday. 8.23.07 6:48 pm
I got a horrific call at 12:13pm today. We were leaving work to go to a baseball game...and I got a call from Brian's mom that she was on her way to the ER because Gregory had fallen on his eye.
I was SO SCARED!
I had to make everyone drive me back to work, grab my car, rush to the ER.
Poor little guy...he's got a nice, big scrape across his eye area. It appears that he fell and hit the corner of his eye (where the bone of the socket is) and then when he hit it...he fell and scraped up in a diagonal motion up his eyelid.
They numbed his eye up and then did some sort of ultra-violet thing that made sure that his eyeball wasn't injured and then we were free to go.
I felt so horrible, but I feel much better now...he just has that scrape on his face now.
Comment! (6) | Recommend!
The bastards towed my car!
Monday. 8.20.07 6:52 pm
My apartment building towed my car...fucking bullshit!
I'm gonna sell the thing and I wasn't driving it anyway, but still...bastards! $211.00 for it sitting in the impound yard for not even 4 hours...fucking SHIT!
Why did they pick the impound yard that was 44 miles from my damn apartment?
Comment! (5) | Recommend!
Sunday. 8.12.07 11:24 pm
MOVING IS ONE SON OF A BITCH!
I'll be back online, completely, tomorrow...hopefully...maybe...PLEASE PLEASE PLEASE!!!
Comcast is coming out tomorrow afternoon to hook the cable and the Internet up again, but for now, we're stealing the Internet from some hopeless chump who didn't secure their wireless connection...gotta love em!
Comment! (4) | Recommend!
Thursday. 8.9.07 8:35 pm
Take a look at this link:
Cats shat by arrows
The second person talking in the video (Cody) is my cousin. His cat got shot with a bow and arrow through his foot completely shattering his cat's leg. He was also shot through the jaw.
:(
Comment! (8) | Recommend!
Wednesday. 8.8.07 2:54 pm
I haven't really made an update for a while.
I haven't really had anything to say...and I can't really say that I have been busy, I've just been doing other things that are really boring and that aren't that exciting.
I'm moving this weekend into a 2 bedroom apartment. Little Gregory pants is going to have his own little room. I'm excited about that! He won't have to go night night in my room anymore. His crib is bulky and in front of the door sort of, so it's a bitch to get in and out of the bedroom. All of his toys are going to be in his own room (THANK GOD!) and I hope that the house does not become a disaster zone.
The bathroom is also not in the master bedroom, so that's a good thing. The bathroom in my current apartment is in the bedroom so you have to walk through the bedroom to get to it. If I have company over, I don't want them walking through my messy bedroom that looks like a clothing bomb exploded all over it and the fact that the bed isn't made and all that. At least now, they can use the bathroom...and it will be an incentive to keep the bathroom clean. That can be Brian's job...he can clean the bathtub since he HAS to take a bath.
The shitty thing...Brian's dad was supposed to help Brian move all the big items on Friday while I'm at work, but his dad is going down to Colorado Springs on Friday, so we won't have any extra help. I'm gonna have to help Brian after I get off work on Friday...then we'll have to move all day Saturday. I was hoping we'd have the little stuff left on Saturday so we could clean all day Sunday. It never works out...
On top of that, Brian's dad might be taking his truck with him and we sort of need the truck to move the big items (because no one else has a truck to move things)...it's a neverending spiral of SHIT...
In other news, the cable is getting disconnected for the move and it will not be reconnected until next Thursday, so no Internet at home until next thursday (after Friday...)...what will Brian ever do?! I guess he'll be forced to clean and organize the house...mwuahahahaha!!!!!!
Comment! (3) | Recommend!
Thursday. 8.2.07 9:23 am
My friend and I at work are going to go on the Biggest Loser diet. Ya know, I watch that show religiously when it's on TV and I can't wait for the next season and these people are real people losing this weight. I know I can lose this weight if I put my mind to it...and I want to lose this weight!
I need to lose this weight to fit in the bride's maid dress that I have for my friend Mellanie's wedding. She already bought my dress and it fit me when I went back to Seattle to try it on in Februrary...but since then, I've seriously gained 20/30 pounds. IT REALLY SUCKS. I'm the same weight I was when I was pregnant...except I'm so not pregnant. UGH...I'm tired of being the fat heiffer...and I want to be the moderately sized person that I used to be. It would be great to get back down to a size 12...I'm gonna do it! BTW, size 10 or 12 is perfect for me. I don't strive to be anorexic nor do I strive to be chubby. I think 10 is a happy medium. Marilyn Monroe was a size 12 and people loved her!
Anyway, I was playing World of Warcraft last night and I was very against playing Horde. I really hate how the Horde look and I think the terrain areas for the orcs and trolls is just nasty...the undead people, I like their area, but I hate how they look, and the tauren, I like their area and I sort of like how they look, just weren't doing it for me...BUT, I tried a blood elf last night and I'm in love. I love my freakin' blood elf!!! She's a paladin (which I always play...hehe), so I'm all used to that stuff. I don't know what I like about her, but I just like her. I was getting tired of playing humans. The night elfs are cool, but their area is just a pain in the ass sometimes and I really do not care for the area after their starting area. The gnome/dwarf area is okay, but I don't like to look at gnomes or dwarfs in the game. They're sort of creepy looking. They make the elfs look like Christmas elfs or something. Hell, around Christmas, they can even dress up like little santa's men. It's sort of creepy...REALLY creepy.
We'll see how the blood elf works by myself. Granted, if I play with people, I'm gonna be with my other people on the Alliance side and all, but seriously, I'm lovin' the blood elf!!!
Okay, I gotta get to work.
Comment! (7) | Recommend!