Call for artists and FREE Advertising for my new Ezine
Thursday. 7.24.08 6:27 pm
Check it out! I am creating a new ezine calles A4TH Zine which will feature a homeless shelter of the month, two feature artist and space for 4 ads--that is FREE Advertising for my ezine. Why am i doing this? Because I want to do whatever it takes to promote homeless awareness in America. So if YOU are an artist and would like to be featured--EMAIL ME! If YOU have something you want advertised--EMAIL ME because I will do it for FREE! And if you want to be a subscriber...again EMAIL ME!
[email protected]
Just put int the subject line Mailing List, FREE Ads, or Feature Artists.
For the Feature artist I will need a brief bio, statement and two jpgs of your art.
For the ads, I will need 1-2 jpgs of your product and product description.
Featured artists and Ads will automatically be subscribed.
I am planning on making this a bi-montly blog meaning it will be published twice a month.
Let's do this yall!
Comment! (3) | Recommend!
Launch of the Special Lady
Friday. 7.18.08 6:38 pm
A special lady is someone who is special in someone's life. So what about the ladies in the women and children's shelters? What about the ladies who are abused and have nowhere to go? What about them?
Did people forget about the women and that our children are number one among the homeless in America? I haven't. Here is what I am doing about it. I am launching a new art line called Special Lady which is dedicated to benefitting the shelters that provide special assistance to women and children. So far, here are the few pieces that are done:
Special Lady Art Card only $6.00
I am A Special Lady rose sticker set of 20 for $7.00
I am a Special Lady tee shirt (back side showing) for $35.00
I am a Special Lady bumper sticker for $5.50
I am Special Lady sticker set of 20 for $7.00
I am currently making more designs and you can purchase any of these at http://www.zazzle.com/johnnacrider
Comment! (4) | Recommend!
Thursday. 7.17.08 8:57 pm
I have never had this problem. I used to could just get a job like the snap of a finger but this economy really sucks! Even McDonalds ain't hiring! At least, I was told that by a manager there. I feel so hopeless. FEMA paid our rent for a month and I have been submitting resumes, filling out applications, and just on and on. I think that God has forgotten about me. I am scared that my mother and I will be on the streets again. I have a clean record, but even child molestors get jobs. All the staffing agencies hire Mexicans only--those illegals and that is so annoying. I am so frustrated. If you are illegal, you get work, but if you are American, its like haha fuck you!
Comment! (1) | Recommend!
Friday. 7.4.08 2:59 pm
My boo and I made up and I am at his place chillin now. We will head over to Lenox to check out the fireworks later on tonight. I may take pics and upload them here. He is just going through some things. I hope he can get through them. I will try my best to help him.
We got help from FEMA to pay rent for a month and I start a temp job so I can get a Marta card for a month and have extra money for food and needs and save some for rent.
I am still searching for work. Meanwhile, I have some new art up on my Zazzle page. Here is a preview
create & buy custom products
at
Zazzle
Comment! (2) | Recommend!
Problems in the love department
Saturday. 6.28.08 3:56 pm
My boyfriend is really sweet! Or was. Until he disrecptected my mom. You see, my mother was on the streets, and he, a GSU student, would help her, buy her food, and would be just so sweet. Then I met him, and fell for him, you know, and moved my mom and one of her friends in. I am glad I moved her friend in, he has been a big help and has looked for work alongside of me. He is not nasty or uses drugs or any of that. Enough about her friend, I am talking about my man. He is acting like a child all of a sudden. Its like he has been demonically possessed! And it scares me--not physically, but I am scared for him. I am Christian and he is--or was Hindu. He now thinks he is the Most High God--or is he just saying that to irritate me and get my attention? Then, he called and my mom picked up the phone. I was on the toilet. He accused of her lying about me being in the bathroom...WTF??? Why would I lie about using the bathroom?????? His sister apparently mentally abused him and he called me cold hearted when I told him that I did not appreciate him talking about how pretty other women are and about how he wanted them...then he tells me that he is mine and that I have his heart. He loves me a lot. If he did, then why all of this drama?? I have enough problems without someone trying to make my blood pressure go sky high! I am trying to keep my mother and myself off of the streets! I just don't know what to do except for pray. I have been praying. I can't just drop him, I care about him. As a Christian, I feel as if I need to do something to help me. What happened to the dude I met who did believe in God--even if his god wasn't my God? Now he thinks he is god. I am just left here scratching my head, and blinking in disbelief.
Comment! (4) | Recommend!
Thursday. 6.26.08 7:46 pm
I am still hanging in there, my rent is paid up and we have food and I am just grateful to God for that. However, my Marta card expires next week so I will be walking from place to place. I hope I get a job soon. I have been plastering the city with my resumes so maybe something will come up. Here is some eye candy for ya!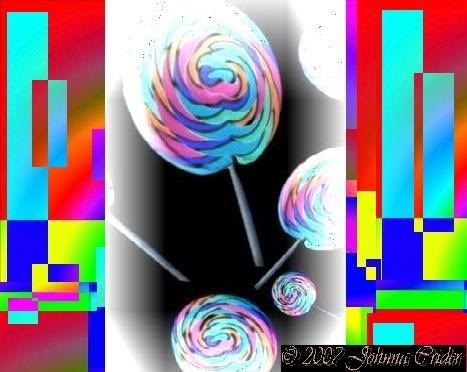 Comment! (1) | Recommend!
Check out this cool place!
Wednesday. 6.18.08 3:42 pm
If you are homeless and you love art--and you live in Atlanta, you should check this neat place out. Its called Common Ground and they do pedicures on every Monday, they have art group on Tuesdays, movies on Thursdays, and Bible study every day! They also serve food, coffee, water--iced cold water that is--danishes and pastries.
Also, if you want to donate art supplies or food or whatever, you can check out their website
@http://www.commongroundatl.com
I was there yesterday and I worked on an art piece. Here is what I did:
That one is still in progress! Wait until you see the complete finished version.
Also here is some more new art that I am working on. It is on a window pane.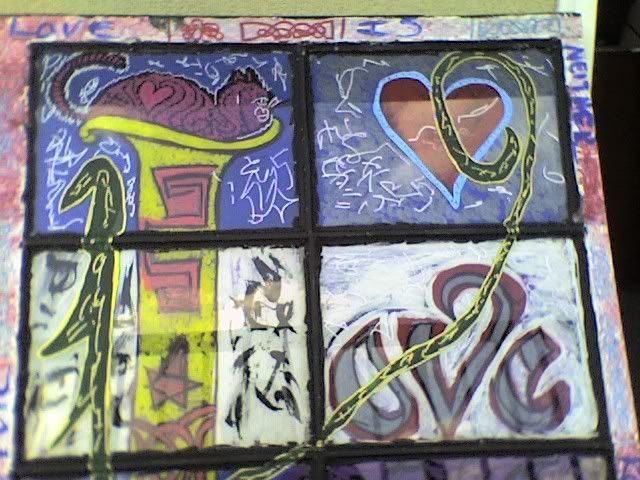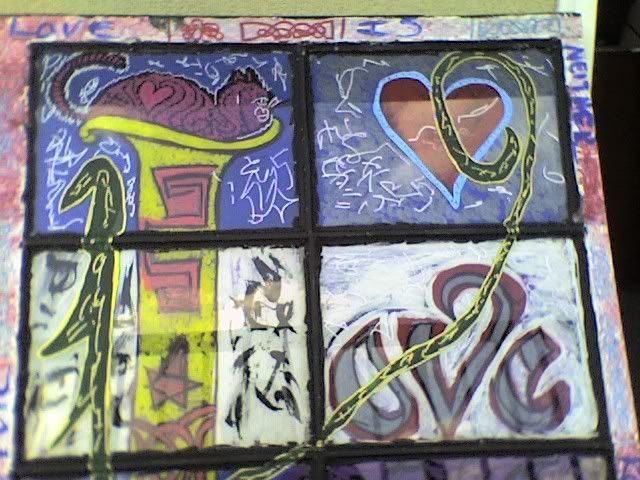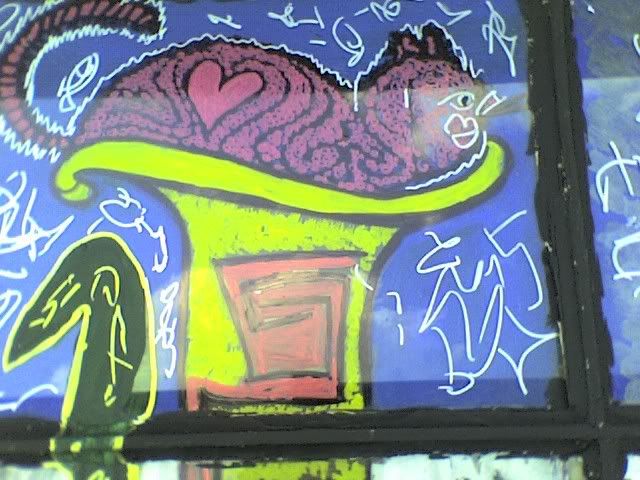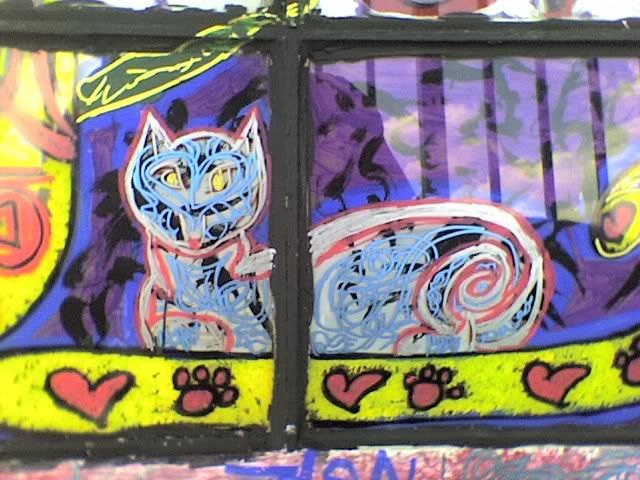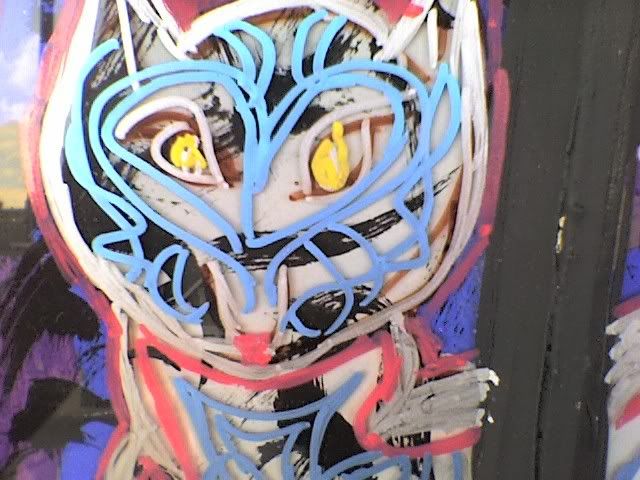 Comment! (1) | Recommend!
Hosea Feed The Hungry--Atlanta
Tuesday. 6.10.08 6:34 pm
I went to Hosea Feed The Hungry today to get some food for my mother and myself. I should have brought a suit case. That fudge brownie/peanut butter cheesecake was fresh and delicious! That was one of the many things given to me.
I had an excellent experience there. We had to wait awhile because one of the social workers called out or something but we watched a video, were provided with coke or water and I killed time by drawing. The staff seemed to really care about each and everyone of us and, unlike most of the services I have experienced in the past, I can honestly say that I enjoyed my day!
I encourage each of you who read this to donate something to HFTH. When I get the extra funds, I will, and I will also donate some of my time.
You can check out their website
here
Comment! (2) | Recommend!