Friday. 1.19.07 11:24 am
Today I am suppose to be on vacation spending time with my family in Hawaii eating some really good food. But instead I am HERE at work busting my ass! A long time employee of my job is retiring today and everyone is making a big "hoo-ha" about her last day. They ordered cake and brought food, made a memory book and doing a photo slide show. They wanted me to make something for the memory book but I have no time. I have my nose to the grindstone and these people are buying party decorations and having a great time.
It is so annoying!
Comment! (0) | Recommend! | Categories: party [t], retirement [t], nutz [t], ranor [t], dialated [t]
Friday. 3.30.07 3:39 am
You know how when someone does something bad to you, you try to forgive them. But when they do it over and over again you just get so pissed. Well, I had a friend like that and I told her, "you are really pushing me to the limit and if you dont stop now, you may just lose me as a friend." I mean I was really understanding, patient and forgiving but she was being a persistant ASS. She pushed me so far that I try to avoid places that I know she will be and also I have not talked to her in over 4 years.
Just the other day I get phone call saying that she was in the hospital because she had a heart attack. I could not feel any remorse for her. The things she did to me were beyond unforgiveable. One of them was pulling out a gun and telling me if I turn around and walk out the door she would shoot me or herself. What a psycho, nut job!
I was brave enough at the time to turn around and walk out. I did not want any part of this psycho trip. She use to do drugs so I dont know if there was any brain damage done. What am I saying?? That behavior was NOT normal.
Comment! (6) | Recommend! | Categories: ranor [t], lostsoul [t], ikimasookie [t], kirei [t], zanzibar [t], mockkiller [t]
Wednesday. 4.18.07 10:07 pm
I try to visit your blogs at least once a day. I know that I dont always leave a comment but that does not mean I am not reading or stopping by. I just try to visit as many blogs as I can during the day and also to visit the blogs of everyone in my friend list. If I do not leave a comment, please just know that I was there... :)
Comment! (12) | Recommend! | Categories: nutang [t], ikimashokie [t], jmc [t], kirei [t], changbang [t], invisible [t], ranor [t], dilated [t], mockiller [t], nutz [t], silverdot [t], elessar [t]
Tuesday. 1.2.07 11:52 am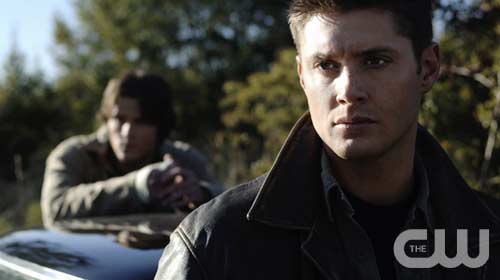 I don't know how many of you watched this show on thursdays but it is very interesting. If you liked X-files or Buffy the Vampire slayer, you would find this could easily become your next favorite.
Synopsis
In the tradition of Buffy The Vampire Slayer and Charmed, the series Supernatural (Sept. 13) is set in the dark world of the unexplained. Sam and Dean Winchester (Jared Padalecki and Jensen Ackles) are two young brothers who are bound to an "other worldly" mission. Traveling the country in their 1969 Chevy Impala, they fulfill their father's quest to quell the supernatural forces responsible for their mother's murder 20 years ago.
Link: http://supernatural.warnerbros.com/
This show airs on fridays... check it out and let me know what you think?
Comment! (5) | Recommend! | Categories: supernatural [t], paranormal [t], WB [t]
Wednesday. 2.7.07 2:03 am
My son is doing much better since his fever broke this afternoon. He seems a lot happier now that he is not burning up. Thank you everyone that expressed your concern. :)
Comment! (2) | Recommend! | Categories: elessar [t], lazypuppy [t], nutz [t], katrina [t], ranor [t]
Saturday. 3.24.07 3:13 am
If you have been following my blog you will know that I have been experiencing alot of pain in my back and knee. I have been seeing an accupuncturist and a chiropractor. I dont mention the chiro much because I have been mainly seeing the acupuncturist. Those bills are adding up. The chiro is 20 bucks each visit which is cool but now my son is going 3 times a week. The acupuncturist is 100 bucks per week (2 visits per week).
I went to see a specialist because it does not seem like the numbness in my shin is going away. This specialist is so busy that you have to wait 2 - 3 weeks just to get an appointment. I got really lucky and got to see him within 24 hours.
I did not get far in the examination because I was in so much pain. The doctor began to bend my knee and I felt this sharp pain. .
I screamed, "ouch! stop stop stop!" I hit him everytime I said stop. Yes, that means I hit him 3 times. I was in so much pain. I had my eyes closed and tears were coming down.
He ordered xrays right away and then asked the nurse to set up an MRI appointment for me. Everything seems to be moving along fast. This is good because I have had this pain for about 6 months. I cant wait to find out what is wrong so that they can fix it. The doctors says that I have a pinched nerve but he thinks something else is going on too.
I got me some drugs finally! I got Vicadin extra strength and some muscle relaxers. They warned me not to have any alcohol while taking the medication. Uh, duh! ha ha.
I really hope the specialist can get to the root of the problem and take care of it. Honestly, this is my last hope.
Comment! (6) | Recommend! | Categories: doctor [t], chiropractor [t], acupuncture [t], kirei [t], changbang [t], ikimashokie [t], zanzibar [t], ranor [t]
Thursday. 3.29.07 2:36 am
First of all, thank you to everyone for your kind words on my last blog. I greatly appreciate it.
I saw the back surgeon today. He is the one that is going to perform the surgery. I was a little nervous but he was very nice. He gave me three options... 1. Live with the pain for the rest of my life. 2. get a shot in my back then when it wears off either get another shot or live with the pain. and 3. surgery.
Well with these options which would you pick. The surgery is only going to take one and a half hours and I will get to come home. I was like what did you say? I am going to be an out patient? In a way that is good. I just go in, he makes a little incision in my back and pulls that piece out. He said I should start feeling 100% better within 24 hours. That is amazing!
Surgery is scheduled for next week monday. Somehow I am feeling guilty about not being at work. Why do I feel this way? I should not feel responsible for my job right now and I should be concerned about my health. What is wrong with me?
Comment! (10) | Recommend! | Categories: operation [t], injury [t], surgery [t], elessar [t], changbang [t], ranor.nutz [t], mockiller [t]
Monday. 4.2.07 3:30 am
I am not really a movie buff but I have seen a lot of movies lately. I think it is because I am stressing about the surgery that I find movies to be a pleasant distraction. I saw Reign over me. It was kind of a sad movie. I dont even know if it was true or not. My best friend went to college (cal arts) with one of the main actors. He was the guy that played Dr. Johnson.
It had some funny parts because Adam Sandler was in it but it was kind of a slow movie too. I guess I really felt for the guy.
We ate at PF Changs. I like their seared lamb there. Lamb is really gamey but they do a good job at cooking it and making it taste "just like beef." It was good.
What a MARVELOUS meal.
Comment! (2) | Recommend! | Categories: movie [t], adam sandler [t], ranor [t], changbang [t], ikimashookie [t]