Wednesday. 4.18.07 10:07 pm
I try to visit your blogs at least once a day. I know that I dont always leave a comment but that does not mean I am not reading or stopping by. I just try to visit as many blogs as I can during the day and also to visit the blogs of everyone in my friend list. If I do not leave a comment, please just know that I was there... :)
Comment! (12) | Recommend! | Categories: nutang [t], ikimashokie [t], jmc [t], kirei [t], changbang [t], invisible [t], ranor [t], dilated [t], mockiller [t], nutz [t], silverdot [t], elessar [t]
Sunday. 4.8.07 2:54 pm
Happy Easter Nutang!!
This is my first Easter with all of you.. hee hee. seems kind of special.

This morning I went to church with my kids but had to bail out early because I still

cannot sit for long periods.

I was looking forward to going to an Egg Hunt. I love to see all the little kids in

their Easter clothes and running through the grass trying to find eggs. Then they

run back to their mommies with their baskets to show them the eggs they found.

For me that was the best part of Easter. Holidays are for kids... little kids. If you

dont have one then you can enjoy other peoples kids. If you want to of course. I

mean if you are Ranor that may not be so fun. ha ha.


One thing I sitll dont get... Whats with the bunny??? Bunnies dont lay eggs, nor do

they carry baskets. Why do we eat chocolate bunnies anyway??



Comment! (5) | Recommend! | Categories: Easter [t], nutang [t], dilated [t], changbang [t], ikimashokie [t], kirei [t], ranor [t]
I need your support.....(please)
Tuesday. 5.8.07 8:54 am
Hey guys... you all know that I have been so unhappy at my current job right? Well, I am hoping I will be working at a new place soon. I have my interview today and I am so nervous.
Can I please ask all of my friends here at Nutang to think positive thoughts about me getting this job today? I really need a job change and I really, really, want this job.
Thank you (in advance) for your positive thoughts and support.
Comment! (30) | Recommend! | Categories: murad [t], lanza [t], davexlabs [t], ranor [t], dilated [t], elessar [t], kirei [t], changbang [t], ikimashokie [t], jmc [t], nutang community [t]
Tuesday. 6.12.07 10:01 am
There are things about the road and driving that are just so annoying. You know what I am talking about.. people that drive slow, people that signal but never turn, those that rush past you only to meet you at the red light. Annoying right?
Well the one thing that I find to be the MOST annoying is window sticker on the back of peoples car that tell you how many people are in their family. You mostly see them on the back of family vans that say, Mom, Dad, Judy, Jake, Janice and then the dogs name or the cat. ANNOYING!!! Who the frack cares?? Arent they the least bit concerned that maybe someone will go to the school and say, "hey judy, I am a friend of your mom and she told me to pick you up today?" Hello??
Anyhow, I found the solution to all this annoyance!! A picture speaks a thousand words!!!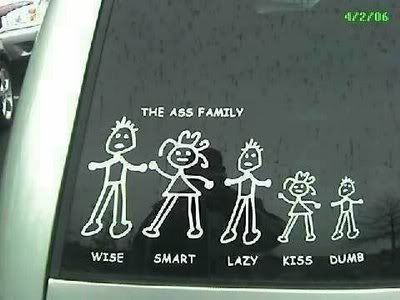 Comment! (9) | Recommend! (1) | Categories: lostsoul13 [t], invisible [t], silverdot [t], changbang [t], ikimashookie [t], elessar [t], dilated [t], ranor [t]