Tuesday. 1.2.07 11:52 am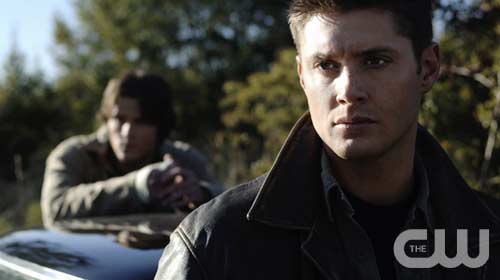 I don't know how many of you watched this show on thursdays but it is very interesting. If you liked X-files or Buffy the Vampire slayer, you would find this could easily become your next favorite.
Synopsis
In the tradition of Buffy The Vampire Slayer and Charmed, the series Supernatural (Sept. 13) is set in the dark world of the unexplained. Sam and Dean Winchester (Jared Padalecki and Jensen Ackles) are two young brothers who are bound to an "other worldly" mission. Traveling the country in their 1969 Chevy Impala, they fulfill their father's quest to quell the supernatural forces responsible for their mother's murder 20 years ago.
Link: http://supernatural.warnerbros.com/
This show airs on fridays... check it out and let me know what you think?
Comment! (5) | Recommend! | Categories: supernatural [t], paranormal [t], WB [t]
Tuesday. 1.23.07 11:34 am
Dakota Fanning movie controversy
Jan. 23 - Child star Dakota Fanning is at the centre of a controversy over her portrayal a girl who is raped in the film 'Hounddog'.
Child actress Dakota Fanning spoke to Reuters at the Sundance Film Festival about her role in the controversial film 'Hounddog', which features a scene in which her character is raped.
Critics have blasted the film, saying that children should not be subjected to engaging in "seamy portrayals" for commercial purposes.
ACTRESSES LIKE JODI FOSTER AND BROOKE SHIELDS PLAYED ROLES AS CHILD PROSTITUTES . bROOKE SHIELDS MOST CONTROVERSIAL MOVIE WAS "BLUE LAGOON" IF ANYONE REMEMBERS THAT ONE.
Comment! (2) | Recommend! | Categories: sundance [t], controversy [t], dakota fanning [t], youtube [t], headline [t], prime [t], showbiz [t], tonight [t], rape [t], entertainment [t], hounddog [t], sony [t], pictures [t]
Sunday. 2.4.07 6:43 pm
The Strawberry Chocolate is now on sale on the Verizon website. As expected it is pink for Valentines Day. You can buy one today for $99.99 with a 2 year contract.
THIS PHONE IS SOOO CUTE! I want to wait till they sell the unlocked version on Ebay!!
Comment! (3) | Recommend! | Categories: strawberry [t], chocolate [t], strawberry chocolate [t], verizon [t], wireless [t], cell phone [t], Nutz [t], changbang [t], JMC [t]