Tuesday. 3.27.07 5:31 pm
I went to the orthepedic surgeon today. He took a look at my x-rays and it was not good news. I have a large pertruding disc in my lower back that is pressing on the nerves. Normal to average disc problems are a slipped disc, herinated disc or ruptured disc. My problem is a large disc that is protruding into the nerve.
So what is the end result? SURGERY.
I called a family meeting tonight. Being a single mother I need to talk to my children about taking care of the home while I am in the hospital. My oldest son needs to be in charge and everyone has to do their part. I am really sad right now because I think I am more affraid than anything. I have NEVER had surgery before so I dont know what to expect. I am young and I am sure that I will make it through the procedure. I just worry about my children and my home while I am gone.
Comment! (14) | Recommend! | Categories: surgery [t], orthopedic surgeon [t], disc [t], family [t]
Thursday. 3.29.07 2:36 am
First of all, thank you to everyone for your kind words on my last blog. I greatly appreciate it.
I saw the back surgeon today. He is the one that is going to perform the surgery. I was a little nervous but he was very nice. He gave me three options... 1. Live with the pain for the rest of my life. 2. get a shot in my back then when it wears off either get another shot or live with the pain. and 3. surgery.
Well with these options which would you pick. The surgery is only going to take one and a half hours and I will get to come home. I was like what did you say? I am going to be an out patient? In a way that is good. I just go in, he makes a little incision in my back and pulls that piece out. He said I should start feeling 100% better within 24 hours. That is amazing!
Surgery is scheduled for next week monday. Somehow I am feeling guilty about not being at work. Why do I feel this way? I should not feel responsible for my job right now and I should be concerned about my health. What is wrong with me?
Comment! (10) | Recommend! | Categories: operation [t], injury [t], surgery [t], elessar [t], changbang [t], ranor.nutz [t], mockiller [t]
Wednesday. 4.4.07 11:45 pm
It is done and I am coherent. I had a discectomy because I had a completely herniated disc. I heard that the doctor told my friend that it was HUGE. He does not understand how I tolerated the pain as long as I did.
THAT CUZ I AM A WARRIOR PRINCESS... damnit! hee hee.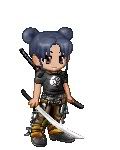 So after the surgery I had coffee. I know. I was thirsty and did not get my coffee that morning. Since I was able to hold down the coffee without feeling like puking they said I could eat anything I wanted. Whoo hoo! Where is the BUFFET!? My best friend, Hiroko, took me to an all you can eat chinese buffet then she took me home, tucked me in the bed and waited for me to sleep. She stayed until 8pm. I LOVE her soooo much. She called my dad and my mom and told them that I made it through and that I was doing just fine. Then she had me talk to them. I was doing great but groggy..
Thank you everyone for all your kind thoughts and prayers.... I cannot be greatful enough to all of you!
Comment! (12) | Recommend! | Categories: surgery [t], orthopedic surgeon [t], disc [t], family [t], Hiroko Hojo [t]