Monday. 6.18.07 5:56 pm
Ok, so now that I know my secret page can be anything I want I think I will make it into a links page. I have so many one way links on my page that it is getting cluttered. I need some organization!!
Hopefully with the help from invisible my page is going to look AWESOME!!!
Comment! (3) | Recommend! | Categories: invisible [t], randomjunk [t]
Sunday. 12.3.06 2:51 pm
In the spirit of the Christmas Season, I would like to give 10 pps to anyone that visits my page and leaves a christmas message in my guest book between December 1st and December 25th. This offer is limited to one entry per person. Thank you and Merry Christmas!!!
PS. I can only process one transaction per day so if you do not receive your pps right away, don't worry it will get to you. ")
Comment! (7) | Recommend! | Categories: Christmas [t], kirei [t], changbang [t], jmc [t], lazypuppy [t], elessar257 [t], ikimashookie [t], silverdot [t], invisible [t], dave [t]
Wednesday. 4.18.07 10:07 pm
I try to visit your blogs at least once a day. I know that I dont always leave a comment but that does not mean I am not reading or stopping by. I just try to visit as many blogs as I can during the day and also to visit the blogs of everyone in my friend list. If I do not leave a comment, please just know that I was there... :)
Comment! (12) | Recommend! | Categories: nutang [t], ikimashokie [t], jmc [t], kirei [t], changbang [t], invisible [t], ranor [t], dilated [t], mockiller [t], nutz [t], silverdot [t], elessar [t]
Monday. 2.12.07 11:18 am
Two hours of "24"back to back tonight starting at 8pm
Episode Detail: Day 6: 1:00 PM-2:00 PM/Day 6: 2:00 PM-3:00 PM
- 24
Darren McCarthy runs into some trouble trying to deliver Morris to Fayed, and those dissatisfied with President Palmer's handling of the crisis begin to align. Vice President Noah Daniels: Powers Boothe. Marilyn: Rena Sofer. Darren McCarthy: David Hunt. Rita: Missy Crider. Reed Pollock: Chad Lowe.
Comment! (4) | Recommend! | Categories: \"24\" [t], jack bauer [t], invisible [t], dave [t]
Saturday. 3.10.07 1:00 am
Hoorah! So Nutang is finally up. That is great. It seems like a door to a new world has opened up. We were all bottle necked into the shout box and now we have so many options availiable to us. Where do we begin?
Well, I want to change my layout but I dont know how to modify the codes... INVISIBLE help!!
Comment! (3) | Recommend! | Categories: invisible [t]
Tuesday. 6.12.07 10:01 am
There are things about the road and driving that are just so annoying. You know what I am talking about.. people that drive slow, people that signal but never turn, those that rush past you only to meet you at the red light. Annoying right?
Well the one thing that I find to be the MOST annoying is window sticker on the back of peoples car that tell you how many people are in their family. You mostly see them on the back of family vans that say, Mom, Dad, Judy, Jake, Janice and then the dogs name or the cat. ANNOYING!!! Who the frack cares?? Arent they the least bit concerned that maybe someone will go to the school and say, "hey judy, I am a friend of your mom and she told me to pick you up today?" Hello??
Anyhow, I found the solution to all this annoyance!! A picture speaks a thousand words!!!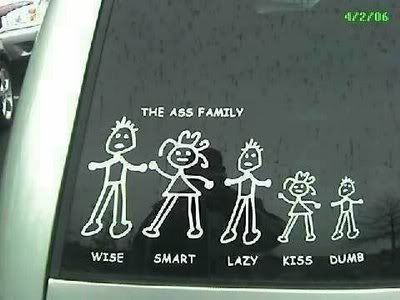 Comment! (9) | Recommend! (1) | Categories: lostsoul13 [t], invisible [t], silverdot [t], changbang [t], ikimashookie [t], elessar [t], dilated [t], ranor [t]