Friday. 3.30.07 3:39 am
You know how when someone does something bad to you, you try to forgive them. But when they do it over and over again you just get so pissed. Well, I had a friend like that and I told her, "you are really pushing me to the limit and if you dont stop now, you may just lose me as a friend." I mean I was really understanding, patient and forgiving but she was being a persistant ASS. She pushed me so far that I try to avoid places that I know she will be and also I have not talked to her in over 4 years.
Just the other day I get phone call saying that she was in the hospital because she had a heart attack. I could not feel any remorse for her. The things she did to me were beyond unforgiveable. One of them was pulling out a gun and telling me if I turn around and walk out the door she would shoot me or herself. What a psycho, nut job!
I was brave enough at the time to turn around and walk out. I did not want any part of this psycho trip. She use to do drugs so I dont know if there was any brain damage done. What am I saying?? That behavior was NOT normal.
Comment! (6) | Recommend! | Categories: ranor [t], lostsoul [t], ikimasookie [t], kirei [t], zanzibar [t], mockkiller [t]
Tuesday. 6.12.07 10:01 am
There are things about the road and driving that are just so annoying. You know what I am talking about.. people that drive slow, people that signal but never turn, those that rush past you only to meet you at the red light. Annoying right?
Well the one thing that I find to be the MOST annoying is window sticker on the back of peoples car that tell you how many people are in their family. You mostly see them on the back of family vans that say, Mom, Dad, Judy, Jake, Janice and then the dogs name or the cat. ANNOYING!!! Who the frack cares?? Arent they the least bit concerned that maybe someone will go to the school and say, "hey judy, I am a friend of your mom and she told me to pick you up today?" Hello??
Anyhow, I found the solution to all this annoyance!! A picture speaks a thousand words!!!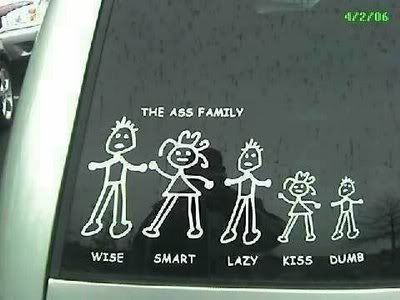 Comment! (9) | Recommend! (1) | Categories: lostsoul13 [t], invisible [t], silverdot [t], changbang [t], ikimashookie [t], elessar [t], dilated [t], ranor [t]