Sunday. 12.3.06 2:51 pm
In the spirit of the Christmas Season, I would like to give 10 pps to anyone that visits my page and leaves a christmas message in my guest book between December 1st and December 25th. This offer is limited to one entry per person. Thank you and Merry Christmas!!!
PS. I can only process one transaction per day so if you do not receive your pps right away, don't worry it will get to you. ")
Comment! (7) | Recommend! | Categories: Christmas [t], kirei [t], changbang [t], jmc [t], lazypuppy [t], elessar257 [t], ikimashookie [t], silverdot [t], invisible [t], dave [t]
Tuesday. 2.6.07 12:05 pm
My son gets sick every now and then but his fever today is 103! His whole body is like a heat rock and his cheeks are rosey red. He is coughing and throwing up after he coughs.
I took him to the doctor yesterday and had such a hassle getting to see our regular physician. They said , "she leaves at 11:30 but we can squeeze you in at 11." Ok, we get there at 11 and waited until nearly 12 just to see her. Then we only see her for less than 5 min. and leave with no prescription because he only has a viral infection and not a bacterial one. It was a little frustrating but I do not trust any other doctor.
Comment! (5) | Recommend! | Categories: son [t], sick [t], changbang [t], nutz [t], silverdot [t], jmc [t], lazypuppy [t], ikimashookie [t]
Wednesday. 2.7.07 2:03 am
My son is doing much better since his fever broke this afternoon. He seems a lot happier now that he is not burning up. Thank you everyone that expressed your concern. :)
Comment! (2) | Recommend! | Categories: elessar [t], lazypuppy [t], nutz [t], katrina [t], ranor [t]
Wednesday. 3.14.07 10:35 pm
I went to tmobile today to get a new sim card for my son. While I was there I found out I was eligible for a phone upgrade. I saw this cute little nokia phone. I dont particullarly care for nokia since I have had my history of problems with them. I really like motorola but the new razor has not come out yet.
Anyhow, I should be getting the new phone in about a week. Luckily my sisters celphone just broke so I will send her my Razor once I get my new nokia...
What do you think??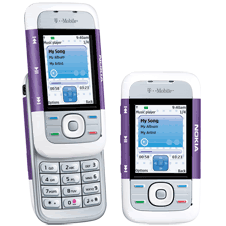 Comment! (7) | Recommend! | Categories: tmobile [t], changbang [t], lazypuppy [t]
To all the Mommy's on NUTANG!!
Friday. 5.11.07 7:22 pm

Behold the Mother with Her Newborn Child
By: Nicholas Gordon

Behold the mother with her newborn child!

An icon of a hope that never dies.

Death may label all we cherish lies,

Yet this love lies too deep to be defiled.

We clear an inner field where fate has smiled,

Letting play the pleasures of surmise,

Holding back all contrary replies,

As though our thoughts might turn the winters mild.

Despite the well-known travesties of time,

Each time a child is born we dream anew,

For only thus our losses are regained.

Though we must share the destiny of slime,

No passion in our palette is more true

Than that which cradles innocence unstained.


Comment! (6) | Recommend! | Categories: lazypuppy [t], AmbrosiaB [t], crochetmama [t], princess_oo [t], Kahne_Earnhardt_Fan [t]