My Not-so-Disney Vacation
sábado, 14 de julio, 2007
I went to Universal Studios, Epcot, and Sea World in Orlando, one per day, respectively. No offense against marine life, but it wasn't a great way to cap off a vacation. Maybe as a starter course, but I was let down. Oh, if only I went in the future when their water park would've been open! Seems like even they knew they couldn't keep people's attentions with just water-dwelling animals, expensive food, a few rides and some shows. It was like going to an extra-big aquarium with amusement-park attractions scattered here and there.

Of the two remaining, I can't decide which I like better. The first consisted mostly of "[INSERT UNIVERSAL MOVIE HERE]: The Ride" and the second was like the weird brother of prime rib. Well, at least I came away from this little excursion with a few things: extra freckles despite slathering on SPF 50 sunblock twice a day. Note to self: Kill the sun.
22:58
Comment! (4) | Recommend! | Categories: florida [t], mainland [t], die summer die [t]
viernes, 13 de junio, 2008
Stupid mosquitoes keep bypassing my screen window and drinking my precious blood. They keep waking me up in the middle of night, so I just kill them, spilling my bright red blood over my white walls. My feet and lower calves are riddled with gross little disgusting itchy bites.

I asked my mom why they don't follow the trail of carbon dioxide to my dad, who sleeps on the living-room couch sometimes because of his back and is the person closest to my room. Change up your eating habits, you know? She said because his skin is thick and tough and of course they'd want tender flesh. I countered that my brother is younger than me, therefore his flesh is the tenderest of us all.

Conclusion: Summer sucks big balls. (See previous entry.)

Oh and Happy Five Years on NuTang to me. It's Friday the 13th today and was Friday the 13th the day I signed up, too. That kind of thing only happens once every few years!
18:31
Comment! (1) | Recommend! | Categories: random [t], die summer die [t]
martes, 10 de junio, 2008
Cayman Islands guy
: I'm sorry, but I cannot divulge information about that customer's secret, illegal account.
[hangs up phone]
Oh, crap. I shouldn't have said he was a customer.
Oh, crap. I shouldn't have said it was a secret.
Oh, crap! I certainly shouldn't have said it was illegal.
[sighs]
It's too hot today.
It was hotter than the Devil's armpit yesterday, and today it's like he lifted his arm only a tad. I'm just glad I live near the water so it's not as hot as inland, but there is that urban heat island thing going, so I guess that fucks things up and cancels everything I just said.
18:16
Comment! (5) | Recommend! | Categories: the simpsons [t], quotes [t], new york city [t], die summer die [t]
It's Spanish for... the Niño!
lunes, 15 de junio, 2009
So apparently, it's been unseasonably cool this late in the spring game because of El Niño. Time for the news to say: ZOMG IT IS SO COLD I AM FREEZING IN THIS 70°F WEATHER PLZ COME BACK HOT SUMMER DAYS WHERE CENTIPEDES AND MOSQUITOES ROAM THE SWEATY, B.O.-FILLED AIR!
I say: MORE! I don't particularly enjoy summer or the sun (see entry where I noted to kill the sun), so this is great. Sure, it's been a bit dreary and rainy, but I can live with that. It just gets too humid for me here in the summer. Once when I was ten, I sweated an evil face into the back of my T-shirt. Summer is not my friend!
Well, at least it's better than Orlando, even though it's classified in the same climate as NYC, humid subtropical (wtf, get away from me, tropical). That was a crazy, sweaty week.
20:40
Comment! (4) | Recommend! | Categories: die summer die [t], new york city [t]
The Sun is Trying to Kill Me
sábado, 27 de junio, 2009
This shirt is kind of perfect for me: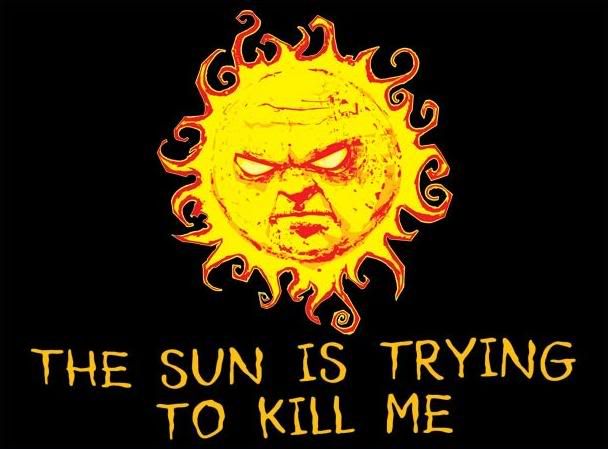 I wouldn't buy it though... it's black! Who wears a black shirt in the sun? Someone with a death wish. And although I know the Sun's trying to kill me, I won't let him have an advantage!
14:00
Comment! (5) | Recommend! | Categories: funny [t], t-shirts [t], die summer die [t]