Friday. 1.19.07 11:24 am
Today I am suppose to be on vacation spending time with my family in Hawaii eating some really good food. But instead I am HERE at work busting my ass! A long time employee of my job is retiring today and everyone is making a big "hoo-ha" about her last day. They ordered cake and brought food, made a memory book and doing a photo slide show. They wanted me to make something for the memory book but I have no time. I have my nose to the grindstone and these people are buying party decorations and having a great time.
It is so annoying!
Comment! (0) | Recommend! | Categories: party [t], retirement [t], nutz [t], ranor [t], dialated [t]
Ex-employee says FAA warned before 9/11
Saturday. 11.25.06 11:35 am
This is another case of retaliation against a whistle blower. Ex-employee
Bogdan Dzakovic
, a member of the elite squad for security systems at the airport states that he warned the FAA of potential security breaches in their system. He said that his team was able to sneak in bombs and submachine gunsright past the screeners. When he reported these findings to the FAA they told him to cover it up.
Once 9/11 hit numerous FAA officials were stating,"How could we have known this was going to happen?" They did know. They were even warned of the holes in their security.
As a result for whistle blowing, Dzakovic was demoted to a desk job where he does remedial tasks such as, hole-punching, updating agency phonebooks and twiddling his thumbs. He cant really complain though. They did not give him a pay cut so he gets paid $
100,000
for doing his entry-level job.
Comment! (6) | Recommend! | Categories: 9/11 [t], FAA [t], ex-employee [t], government [t], cover-up [t], news [t], Bogdan [t], Dzakovic [t]
Tuesday. 11.28.06 12:46 pm
All women want to know the key to success. How do we define ourselves in society? Well, an article I read, written by Barbara Moss, answers such questions.
A survey was conducted. Included in this survey were accomplished, university-educated women in their late 30s to mid-50s. Some held senior positions in business, government and the not-for-profit and cultural sectors. Some had left marquee jobs to pursue a passion -- start a business, write or follow other personal interests. These were the top 5 answers.
1.
Know yourself
. This knowledge is the foundationf for making effective career and life decisions. If your job does not require your best skills or calls for you to act like someone you aren't, find another role.
2.
Act on what is most important to you.
Refuse to put on the back burner the things you care deeply about. Make a date with yourself at the end of each week and ask: What did I learn? Which of my values are being met? Looking to the future: How can I make my work a better fit with what I need? Don't drift. Make conscious decisions. Defend your personal time aggressively. Start thinking about the legacy you want to leave.
3.
Maintain your integrity
Stay firm on the issues that go to the core of what you believe in.
4.
Distinguish between the big issues and the smaller ones
Ask yourself, "Is this really important?" As tempting as it can be to let it rip, consider the consequences. Similarly, be open to influence.
5.
Dont make work the centerpiece of your identity
Many survey respondents regretted having put their work before their personal lives and having made too many sacrifices for their jobs. You can't cuddle or giggle with your job at the end of the day.
Comment! (1) | Recommend! (1) | Categories: women [t], success [t], kirei [t], jmc [t], changbang [t], survey [t], business [t], government [t], cultural sectors [t], personal [t], interest [t], knowledge [t], integrity [t], issues [t], work [t]
Metrosexuals snap up cosmetics in China
Tuesday. 12.5.06 4:29 pm
Metrosexuals snap up cosmetics in China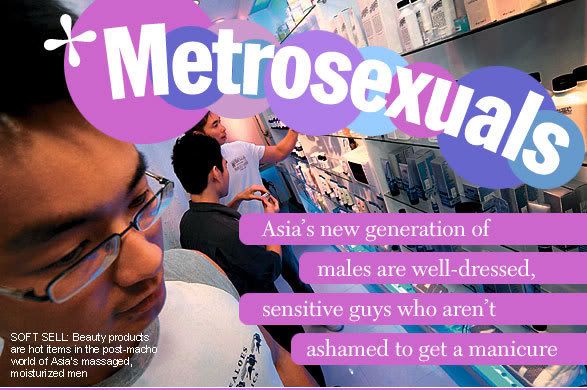 Urban Chinese men spend 8.6 minutes a day gazing at themselves in the mirror and shell out($10) a month on beauty product.
Men in Beijing and the financial center of Shanghai were neck-and-neck on whose residents were most vain.
Those in the capital spent the most money on cosmetics -- an average of 119 yuan a month -- but those in Shanghai looked in the mirror the longest -- about 17 minutes a day.
NOW IS A GOOD TIME TO BE A PLASTIC SURGEON IN CHINA
Comment! (5) | Recommend! | Categories: metrosexual [t], china [t], men [t], cosmetics [t], chinese [t], gazing [t], shanghai [t]
Sunday. 11.26.06 10:41 pm
That damn movie made me cry. I had to view it for what it really was and that is another reason for liberals to make humans feel guilty for everything; like cruelty to animals and next they will blame us for global warming. Most of all, penguins DONT sing or dance!
Comment! (5) | Recommend! | Categories: happy feet [t], movies [t], entertainment [t], kkama67 [t], changbang [t], kirei [t], youtube [t]
Tuesday. 1.23.07 11:34 am
Dakota Fanning movie controversy
Jan. 23 - Child star Dakota Fanning is at the centre of a controversy over her portrayal a girl who is raped in the film 'Hounddog'.
Child actress Dakota Fanning spoke to Reuters at the Sundance Film Festival about her role in the controversial film 'Hounddog', which features a scene in which her character is raped.
Critics have blasted the film, saying that children should not be subjected to engaging in "seamy portrayals" for commercial purposes.
ACTRESSES LIKE JODI FOSTER AND BROOKE SHIELDS PLAYED ROLES AS CHILD PROSTITUTES . bROOKE SHIELDS MOST CONTROVERSIAL MOVIE WAS "BLUE LAGOON" IF ANYONE REMEMBERS THAT ONE.
Comment! (2) | Recommend! | Categories: sundance [t], controversy [t], dakota fanning [t], youtube [t], headline [t], prime [t], showbiz [t], tonight [t], rape [t], entertainment [t], hounddog [t], sony [t], pictures [t]
Britney is just a sick little girl
Friday. 2.23.07 11:44 am
Britneys Father Speaks Out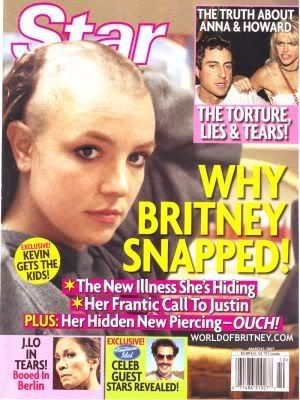 Hollywood.com reported that Britney Spears father, Jamie, has spoken out about his daughters recent troubles, calling her a sick little girl.
Spears father, who, like the Toxic singer, has also sought rehab help, was seen with his daughter when she initially checked into the Promises Treatment Center in Malibu, California, on Tuesday.
The pop star was spotted having dinner with her father on Sunday, when he reportedly pleaded with her to get professional help.
Jamie Spears tells Fox News the problems she is facing are not about what other people think.
He says that he and Spears mother are concerned about our daughter, adding the troubled pop star is sick little girl.
He says, "We are just trying to take care of her."
Comment! (5) | Recommend! | Categories: britney spears [t], k-fed [t], celebrity [t], entertainment [t]
Thursday. 2.22.07 11:31 am
Jack Bauer has this habit of using the word damn it in his hit TV show 24. The game is designed to have all players take a shot (your poison of choice) everytime your hear him say the word damn it in the show. I think if you were to watch a marathon of 24 you will be stone drunk after the first two episodes!
Comment! (6) | Recommend! | Categories: jack bauer [t], 24 [t], entertainment [t], youtube [t], jay leno [t], damn it [t]