Sunday. 11.26.06 10:41 pm
That damn movie made me cry. I had to view it for what it really was and that is another reason for liberals to make humans feel guilty for everything; like cruelty to animals and next they will blame us for global warming. Most of all, penguins DONT sing or dance!
Comment! (5) | Recommend! | Categories: happy feet [t], movies [t], entertainment [t], kkama67 [t], changbang [t], kirei [t], youtube [t]
Tuesday. 1.23.07 11:34 am
Dakota Fanning movie controversy
Jan. 23 - Child star Dakota Fanning is at the centre of a controversy over her portrayal a girl who is raped in the film 'Hounddog'.
Child actress Dakota Fanning spoke to Reuters at the Sundance Film Festival about her role in the controversial film 'Hounddog', which features a scene in which her character is raped.
Critics have blasted the film, saying that children should not be subjected to engaging in "seamy portrayals" for commercial purposes.
ACTRESSES LIKE JODI FOSTER AND BROOKE SHIELDS PLAYED ROLES AS CHILD PROSTITUTES . bROOKE SHIELDS MOST CONTROVERSIAL MOVIE WAS "BLUE LAGOON" IF ANYONE REMEMBERS THAT ONE.
Comment! (2) | Recommend! | Categories: sundance [t], controversy [t], dakota fanning [t], youtube [t], headline [t], prime [t], showbiz [t], tonight [t], rape [t], entertainment [t], hounddog [t], sony [t], pictures [t]
Britney is just a sick little girl
Friday. 2.23.07 11:44 am
Britneys Father Speaks Out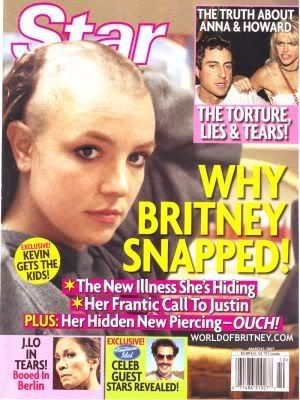 Hollywood.com reported that Britney Spears father, Jamie, has spoken out about his daughters recent troubles, calling her a sick little girl.
Spears father, who, like the Toxic singer, has also sought rehab help, was seen with his daughter when she initially checked into the Promises Treatment Center in Malibu, California, on Tuesday.
The pop star was spotted having dinner with her father on Sunday, when he reportedly pleaded with her to get professional help.
Jamie Spears tells Fox News the problems she is facing are not about what other people think.
He says that he and Spears mother are concerned about our daughter, adding the troubled pop star is sick little girl.
He says, "We are just trying to take care of her."
Comment! (5) | Recommend! | Categories: britney spears [t], k-fed [t], celebrity [t], entertainment [t]
Thursday. 2.22.07 11:31 am
Jack Bauer has this habit of using the word damn it in his hit TV show 24. The game is designed to have all players take a shot (your poison of choice) everytime your hear him say the word damn it in the show. I think if you were to watch a marathon of 24 you will be stone drunk after the first two episodes!
Comment! (6) | Recommend! | Categories: jack bauer [t], 24 [t], entertainment [t], youtube [t], jay leno [t], damn it [t]