Watch the latest episode of 24 for FREE!!!
Wednesday. 1.24.07 5:27 pm
Fox On Demand
Beginning today, consumers can access previously-aired episodes from FOX's returning hits and new fall primetime series including Bones, Prison Break, Standoff, Vanished, Talk Show With Spike Feresten, 'Til Death, The Loop and Justice. Additional episodes of these and other FOX shows will be made available throughout October and November. On-air promotions during MLB broadcasts will push viewers to the sites to catch up on their favorite FOX shows through FOX on Demand.
Click
here
for the link!!!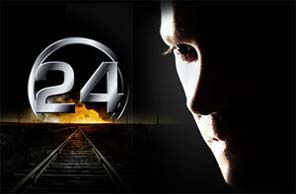 NOW ALL 24 FANS CAN ENJOY THE LATEST EPISODES AT YOUR OWN CONVINIENCE.
Comment! (5) | Recommend! (3) | Categories: Fox on demand [t], 24 [t], season 6 [t], jack bauer [t], bones [t], prison break [t], vanished [t]
Wednesday. 2.7.07 7:00 pm
24 television series
SOME PEOPLE DON'T KNOW WHO JACK BAUER IS... SO LET ME CLUE YOU IN
Jack Bauer
was born in California as the son of Phillip Bauer. After high school, he enrolled at UCLA, where he graduated with a bachelor's degree in English Literature and Art. He went on to receive his Master of Science in Criminology and Law from UC Berkeley[2].
After completing his schooling, he was in the U.S. Army's elite special forces unit Delta Force, and worked as a Los Angeles Police Department SWAT team member. Bauer also did fieldwork for the Central Intelligence Agency before being seconded to the Counter Terrorist Unit. While at CTU, he was the Team Leader for an action known as Operation Proteus and the Section Captain during the incident of the Hotel Los Angeles attack[3]. He later uncovered evidence that three CTU agents, including his mentor Christopher Henderson, were taking bribes. Jack gained a reputation as a whistleblower and lost favor with CTU hierarchy[4].
Jack was married to Teri Bauer; the couple had one daughter, Kim Bauer. After Teri's death by the hands of Nina Myers, a rift grew between Kim and Jack, not closing until eighteen months later. Jack also broke off contact with his father, Phillip Bauer shortly after the funeral. He and his brother Graem Bauer have been cold towards each other since Jack had an affair with his wife. They hadn't spoken in nine years.
Throughout the course of 24, Jack has been the subject of "blowback" (when a past operation comes back to haunt him in some way) a total of four times. The first was in Day 1, with Jack being the target of the Drazen family (also targeted: Senator David Palmer and Robert Ellis). The second was in Day 3, with Jack's former Delta Team soldier, Stephen Saunders, releasing a weaponized virus in the United States. The third occurred in Day 5, when Jack was abducted by Cheng Zhi after taking part in a covert operation on the Chinese Embassy in Day 4. The latest blowback occurs in Day 6, when terrorist Abu Fayed demands Jack's death after Jack tortured and killed his brother in Beirut during an operation in 1999.
Comment! (2) | Recommend! | Categories: Jack bauer [t], 24 [t], CTU [t], UCLA [t], UC Berkley [t], US Army [t], Delta Force [t], LAPD [t], SWAT [t], whistle blower [t], Nutang [t], Dave [t], CIA [t], Beirut [t]
Monday. 2.12.07 11:18 am
Two hours of "24"back to back tonight starting at 8pm
Episode Detail: Day 6: 1:00 PM-2:00 PM/Day 6: 2:00 PM-3:00 PM
- 24
Darren McCarthy runs into some trouble trying to deliver Morris to Fayed, and those dissatisfied with President Palmer's handling of the crisis begin to align. Vice President Noah Daniels: Powers Boothe. Marilyn: Rena Sofer. Darren McCarthy: David Hunt. Rita: Missy Crider. Reed Pollock: Chad Lowe.
Comment! (4) | Recommend! | Categories: \"24\" [t], jack bauer [t], invisible [t], dave [t]
Thursday. 2.22.07 11:31 am
Jack Bauer has this habit of using the word damn it in his hit TV show 24. The game is designed to have all players take a shot (your poison of choice) everytime your hear him say the word damn it in the show. I think if you were to watch a marathon of 24 you will be stone drunk after the first two episodes!
Comment! (6) | Recommend! | Categories: jack bauer [t], 24 [t], entertainment [t], youtube [t], jay leno [t], damn it [t]
Saturday. 3.3.07 4:37 pm

SEASON 6
4:00 - 5:00
Ok, this episode was the WORST episode of my entire life!!! I was so confused and it was sooooo super boring. Nothing really happened in this episode. There was no killing, no espinage, no torture and no hostage!!! I could not stay awake. What are the producers thinking???????
Comment! (1) | Recommend! | Categories: jack bauer [t], 24 [t], season [t]
7 bad habits of overweight people
Tuesday. 2.19.08 11:21 am
7 bad habits of overweight people
My weight keeps going up and down like a yoyo and it is so frustrating. For my height I am considered overweight by... too many pounds to mention. I work out at 24 hr. fitness and these are some of the bad habits of overweight people:
1. They don't exercise regularly.
Dylan Gautreaux, fitness manager for 24 Hour Fitness in Carrollton, Texas, recommends two to three cardio sessions per week of 20 to 45 minutes and two to three resistance training sessions per week of 30 to 45 minutes. He says resistance training will build muscle that helps burn fat.
2. They eat most of their meals out.
"Restaurant portions are enormous and most of us were brought up to belong to the clean plate club," says LouAnn Frisch, a dietitian in Portland, Oregon. She says that Mexican and Chinese restaurants probably have the highest calorie meals, but if you must eat out: "Thai and Vietnamese foods are better. Pho soups and won-ton soups are great choices." [Pho, pronounced "fa," is a Vietnamese soup that's usually made with beef.]
3. They always eat a second portion.
"It really does take 20 minutes for your brain to catch up with your stomach. But most people consume high amounts of food in 20 minutes," says Frisch. She acknowledges that it's difficult to slow down, but suggests putting less food on your plate and skipping seconds.
4. They avoid even light activity.
"There are little things that you can do to lead a more active lifestyle," says Gautreaux. "Take breaks and get some fresh air instead of sitting at your desk all day. There are even stability balls made to sit behind a desk instead of a chair. These cause you to sit up straight, hold your back up and burn more calories."
5. They never turn down sweets.
Frisch doesn't recommend cutting out sweets completely, just cutting down on them: "If you need chocolate, have some. Not a lot, just some. But savor it and be happy with a small portion."
6. They eat even when they're not hungry.
"Eating is a physiologically and psychologically satisfying, mood-altering experience. Most people eat, not because they are hungry, but for other reasons," says Frisch. Learn what triggers you to eat and healthier ways to reward yourself or brighten your mood.
7. They skip meals.
Researchers from the University of Massachusetts Medical School found that skipping meals can play a role in obesity. Eating fewer, larger meals may cause insulin to spike, which triggers hunger and could cause more blood sugar to be stored as fat. The study found that people who eat several, smaller meals were less likely to be obese. Overweight people may find it difficult initially to overcome their bad habits, but the results of better eating and exercise habits are very rewarding.
Well I know that I am guilty of numbers 2, 5 and 7. Eating out and skipping meals I can work on.... but take away my chocolate and the world will be sorry. ha ha ha...
Comment! (11) | Recommend! | Categories: overweight [t], 24 hour fitness [t], diet [t], exercise [t]