Hefty One Zip Travel Bags~~~$0.34 cents at Target
Monday. 8.15.11 1:56 pm

Target sales Hefty One Zip Travel bags for $0.84 cents

AND score some cheap bags

Hefty One Zip Travel Bags $0.84

Pay $0.34 each
Comment! (0) | Recommend!
SCAN YOUR CVS CARD TODAY FOR FREE ITEMS
Sunday. 8.14.11 5:58 pm
Today if you go to CVS you might find a FREE coupon for Hershey's Carmello, FREE coupon for CVS brand fabric bandages, and coupon for FREE Pantiliners.
So head over to CVS today and SCAN YOUR CVS CARD.
Coupons expire tomorrow.
This is one of the reason I love shopping at CVS, they have give away so many FREE things to their customers.
Comment! (0) | Recommend!
Talking True Blood with my friends
Monday. 8.8.11 8:33 am
Guest post written by Andy Byers
Every Sunday when I get to work, there's always one thing that me and a few of my coworkers that I'm friends with talk about, True Blood. Because it comes on Sunday nights, they're the first people that I can really talk to in person about it and therefore I look forward to Monday mornings when True Blood is coming on!
If anyone would look at our browsers at work they would probably also see that we send each other links with a lot of spoiler sites too. I was browsing through some of the better spoiler sites this Monday when I ran across the site
ClearWirelessInternet4g.com
. I looked through it some and showed it to my girlfriend later. Then we decided to change over our apartment internet and phone to it.
I think that the one thing that we're talking about the most this season is definitely the whole Eric having amnesia thing. It's so weird to see him act nice, which I'm sure is the reason that Sookie and him are supposed to get together and fall in love by the end of the season.
Comment! (0) | Recommend!
Free No Deposit Bingo websites on the rise
Sunday. 8.7.11 10:26 pm
Find your new favorite artist on Tweewoo
Wednesday. 8.3.11 3:47 am

Tweewoo is a smaller social network community for music artist to broadcast their music. You can learn about the
best new music
by exploring Tweewoo. Tweewoo also allows you to listen to different radio stations by genre, so you only listen to music you like. The beauty of this website is that you can find so many talented people in one spot.
Tweewoo is also a great
website for free music listening and band promotion
. So if you would like to get your band a little promotion definitely join Tweewoo. You definitely don't know who might come around your music on this website because it's so small. I found an artist from Berlin, Germany by the name of Dani, and I thought she was good. Dani music reminds me of a young Sade. Dani definitely will be a hit in the United States real soon. Dani has a song called "When the sun is going down" that I think is a hit. The pop genre on Tweewoo seems to have the best talent from Europe. GurL is a singing group from Canada that I thought reminded of the old rock band from the early 2000s. I thought this group had a lot of potential, and could go far in the music industry.
So if your an inspiring artist definitely get on Tweewoo, and showcase the world your talents. Seriously, you don't know who might come around it.
Comment! (0) | Recommend!
Check out Blue Sky Scrubs Original Scrubs Collection
Friday. 7.29.11 5:42 am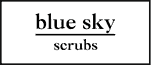 BlueSkyScrubs has an original scrubs collection that features a variety of colors. You can check out the original collection
http://www.blueskyscrubs.com/categories/Scrubs/Scrubs-for-Women/Original-Scrubs/
The original scrubs for women are so popular because they include a fashionable stitching on the back pockets. The front pockets also includes this stylish stitching that will have your co-workers asking where you got your scrubs from. You can purchase these scrubs in brown, blue, red, and pink just to name a few colors.
Scrubs sets can be a little pricey but don't worry Blue Sky Scrubs has you covered. Not only will you look good in these scrubs, but you can will have a
cheap scrubs set
for a reasonable price. You can purchase a simple scrubs set for $22 dollars lesser than the original scrubs set, and still look great. The simple scrub sets come in some basic colors like black and blue,and are without the stitching. If your looking for some scrubs to work in or for your medical classes definitely visit BlueSkyscrubs today.
Comment! (0) | Recommend!