Saturday. 5.3.08 12:17 pm
So I went to the Daffodil Ball last night, which was the big spring ballroom dance extravaganza. As usual, I went by myself, though surprisingly my friend Crater Girl ballroom dances and had she not had a commitment and had it not cost $5, she may have accompanied me.
After looking over the dance card, I decided that the only dances I was comfortable doing were the east coast swing, the waltz, and the cha-cha, since those were the only ones I could remember from when I last danced them, some two years ago. They were few and far between. But by the end of the night, I was doing the international waltz, the international cha-cha, the foxtrot, the quickstep, the hustle, the tango, and my favorite- the samba. The tall elderly asian guy with whom I was doing the samba had apparently learned the same routine that we had done in gold latin dance (samba walk!). I enjoyed them all, but always find the international waltz to be a little invasive of my personal space... if I wanted a man's thigh that far into my crotch, I would do the horizontal polka. (Just kidding!)
Thank goodness the puritanical Americans invented the American waltz, which is by contrast quite civilized. I think the waltz is the epitome of true love. That kind of romantic, sweet, tender kind of love like you hope to have on your 50th wedding anniversary. You know, all you really need is a gigantic ballroom with huge windows and a balcony on one side and stars and cherubs painted on the ceiling and a floor that looks kind of like a compass and a big yellow dress with matching gloves and a big, handsome beast to dance with and life would be perfect.
The rumba, on the other hand, captures the way that love often is, especially in its first, volatile stages where neither of you is willing to lay down your hand. There was a terrific rumba showcase to that song, "Too late to Apologize". I know ranor loves that song. ;) The dance was SO GOOD.
I met a fellow whose job it is to collect seashells and make them into jewelry with his family. I guess they sell these pieces to wholesalers or occasionally at craft fairs. They collect shells from all over the East Coast. I also later learned that he has a website about aliens and a plan to shuttle people back and forth through space by using some kind of magnetic elevator. You tend to get into these sorts of conversations when you reveal that your job is to study Mars.
In the end, I made a lot of new friends and they convinced me to join the ballroom club. Apparently they're having lessons and practice over the summer, when I actually have time to participate. Their coach is a tall, bald British guy who looks more like a drill sergeant than a ballroom coach. But actually,
most
ballroom coaches are more like drill sergeants than anything, I've come to realize.
TOES OUT!
Comment! (6) | Recommend!
This is my body, broken for you.
Friday. 5.2.08 5:53 pm
I had a really weird dream last night. I dreamt that I was Jesus. Yes, Jesus.
I was in some kind of house-- it could have been in Afghanistan or Iraq, you know, just your ordinary small home with light blue-green walls and carpeting. There was fighting room to room. The Romans, of course. They had come to arrest me. They had cornered me in a room, some five or six of them, and they stabbed at me with their spears. A spear pierced my side. They had hammered nails through my hands and feet and I was bleeding from these wounds as well.
The pain was intense, but somehow overprinted with an intense dizziness from the loss of blood.
One of my friends-- a disciple-- came into the room after the Romans had just left. You would know the type: the athletic, solid, frat-boy build. Wears dress shirts that roll to the elbow and flip-flops. Today he was dressed more for battle. He took me up from where I lay on the ground into his arms. He cried out to the other people in our party, telling them to go after the Romans, telling them to get some help. He was starting to panic, I could tell.
There was something I was supposed to say, I remembered, through my hazy vision and the pain in my side. There were a lot of things that I was supposed to have said... we hadn't had time for the Last Supper, the Romans had taken us by surprise.
I told him not to go after the Romans, but my voice came out as a ragged croak. "That's not what I want," I said. "There is a new Covenant."
I had to tell him about the New Covenant, I had to tell him about how things were going to change. I had to tell him that nothing would ever be the same again.
He wasn't listening, he was blinded by the panic of the situation.
Was I supposed to tell him about the temple, and how it would be rebuilt in three days? Or did the prophet Elijah already say that? Would these disciples, these good, simple people, would they remember the words of Elijah? I felt my energy waning, and the dizziness intensified. I felt like that spinning top on the edge of oblivion.
I reached out and took his young face in my hands, my own blood spilling from my fingers down his sweating brow. "Listen," I said, and his eyes locked on mine.
"This is a new covenant in my blood..." I tried to remember the familiar words that I was supposed to say.
I looked deep into his tear-filled eyes, to his soul.
"Do this as often as you drink it...
...in remembrance of me."
My light was extinguished.
Ain't nobody gonna blow it out,
No, I'm gonna let it shine!
Let it shine,
Let it shine,
Let it shine...
Comment! (6) | Recommend!
Thursday. 5.1.08 10:42 pm
In this world of ours there are but three lava lakes. Nyiragongo in Zaire, Erebus in Antarctica, and Erta Ale in Ethiopia.
Of the three, Erebus, shrouded in snow and ice, riddled with crevasses and gas pockets, located literally at the ends of the Earth, is considered the easiest to visit.
Nyiragongo, located in the Democratic Republic of Congo, is a unique volcano in that it erupts the fluid and easy-flowing lavas of a shield volcano, but has the extremely steep sides of a stratovolcano. The combination allows lava to spill down the flanks of the volcano at up to 60mph. This volcano is extremely dangerous, and has the most active lava lake in the world.
But today we shall talk about Erta Ale. One of my friends recently visited Erta Ale, which is located in the Danakil Depression, deep in eastern Ethiopia in the Afar region. (That always made me think: the three wise men... did they come from Afar?)
The Danakil Depression is actually caused by the East African Rift, where the continent of Africa is being slowly ripped apart. If the rift is successful, there will be new sea floor between Somalia and the rest of Africa. Good news for the Somali pirates, I am sure.
This part of the rift is especially interesting to geologists because it is part of a triple juction, where three spreading centers join as one. One spreading center caused the Red Sea to open up (much to the chagrin of the Pharaoh). The other caused the Gulf of Aden. Both of these have been busy making seafloor for a while now. The prong that goes down into Africa is the newest, and so far it has succeeded in making the lowest, hottest, and most hell-like place on Earth.
A woman came today to talk about some of the seismic activity that has been going on in this region of the world. Apparently in 2006 there were suddenly a hundred earthquakes here in two days. Within the next two weeks, the total had climbed to 170 separate events. Some of her colleagues were out in the field interviewing people about what they had seen and felt. Periodically the earth would tremble. It began to get worse, and the earth was shaking, and fissures were appearing in the ground around them. The helicopter pilot who had brought them said, "I am leaving. If you want to leave, you are leaving now."
So they went. But two hours later, a gigantic fissure opened up in the very valley where they'd been standing. It was about 50ft across, probably more. ("Little Foot!") Deep in its gaping maw magma was welling, and this magma came up in random other places along the 60km rift zone.
Erta Ale itself sits upon the rift zone. Even as it is being built up by successive lava flows, it is also being torn apart. New lava seeps out its oozing gashes, and every spreading event is punctuated by dike emplacement and curtains of lava erupting out of the ground. My friend climbed to the top of this volcano- it's said to be a relatively mild hike once you get past the stinging sand, sweltering heat, and drooling camels. But it's all worth it for a glimpse of the lava lake:
This volcano has been continuously erupting since 1967. It is believed that its lava lake has been active for almost 100 years.
Thankfully, my friend returned alive and was neither consumed by the volcano nor kidnapped by the militant Afar tribesmen. Sadly, of the two, the latter is probably the most probable. At least these days they don't sell you into slavery as often, as they did to the gentlemen of the 1938 expedition to Emi Koussi in Northern Chad...
...but this is a tale for another time.
Comment! (2) | Recommend!
Tuesday. 4.29.08 9:04 pm
If it isn't one thing, it's another.
Why doesn't my real life just LEAVE ME ALONE!
Why can't I just hide away in my ivory tower?
Comment! (7) | Recommend!
Monday. 4.28.08 10:27 pm
When I try to fall asleep, I feel like my mind is a large wooden top. It starts spinning, and it's spinning and spinning and spinning and thoughts are racing through it in every different color... and then... and then... the top starts wildly precessing, and the logic of my thoughts decay as the obliquity increases... until the whole top falls right over into oblivion.
Sometimes if I realize that this is what is happening, I can interrupt the process, like flicking a spinning quarter just right to keep it spinning.
But why would you want to? Falling asleep is one of my few true, natural skills.
Comment! (1) | Recommend!
Sunday. 4.27.08 4:08 pm
The daffodils explode like fireworks
Then succumb to the frigid air that lurks
in fitful Spring just around the nearest bend
Skeletons of smoke in ashen gray
They tremble in the wind and drift away
For greatest beauty always comes to swiftest end.
Comment! (2) | Recommend!
Monday. 4.21.08 10:13 pm
Didn't quite know how the old birthday would go this year, but it turned out just fabulous. Heard from all my favorite people, got some really sweet and thoughtful presents, ate delicious candy/cake/thaifood/icecreamcake, and just generally felt the love. And, having felt the love, I will now emanate it. :D
::love vibes to everyone reading this entry::
::love love love::
love you!
Comment! (4) | Recommend!
Saturday. 4.19.08 12:25 am
So I finally met with my entire Master's committee today. We're supposed to meet every semester but I don't seem able to get it together but once a year. And last time one of my three committee members [the Geophysist] forgot and didn't show up. Today he also forgot but we were able to get him on the phone and tell him to come over. I was afraid he was mad at me because he hasn't asked me to help him work on the seafloor for a while, but turns out he totally isn't and he says we can work on it more this summer. Big sigh of relief. I'll have to remember what my codes say because I must admit I haven't thought about the seafloor since December. [THOUGH APPARENTLY OFF THE COAST OF WASHINGTON STATE IN THE MIDDLE OF THE JUAN DE FUCA PLATE THERE WAS A SWARM OF EARTHQUAKES WITH OVER 600 EARTHQUAKES IN 10 DAYS THAT BEGAN MARCH 10TH!!!! WTF???]
Anyway, I chatted to them about my research for like an hour, and also with these random other guys who were visiting my advisor and so had nothing to do. One of the guys, wow, so back in the day when he had just been accepted to graduate school at Harvard to work for this very particular guy, it was the summer before he started school and the advisor went into the field, contracted bubonic plague, and died. So he showed up at Harvard in the fall and they were like, "uh, sorry, but you'll have to have a new advisor."
Grad student: "wtf, man, when did this guy go to grad school, like the 14th century?"
Anyway, they said I could take my PhD qualifying exams whenever I feel like it! Hooray!!! I also pitched my random pet theory about cosmogenic isotopes (rare isotopes of elements that are made when charged particles from the solar wind interact with the nuclei of elements in rocks on a planetary surface). We still don't know if my mad plan would work, but they didn't find any problem with it [yet]. My advisor was satisfied and gave me a pat on the back and a wink. He also let it slip that he's going to Antartica this winter, but still nobody knows who he's going to take with him. Very likely not me [sad face].
Anyway, it was quite triumphant, and I celebrated by going to Fluid Mechanics, where they put me back in my place by teaching me a bunch of stuff that was totally and completely over my head in every way. Then I celebrated some more by screwing around for the rest of the day instead of writing my master's thesis. Give me a break! It was 76 degrees today!
Thalweg and I then went to Target and bought cheap clothing and then watched "MEGLODON", an amazing movie about a parallel ocean beneath our ocean which is filled with prehistoric sealife, including the 60ft shark, the MEGLODON, which escapes into our ocean and proceeds to EAT EVERYONE!
All told, a splendid day!
Hypothesized Megladon jaw size (from size of teeth)
This really happened. That t-rex, poor bastard, managed to survive a tragic shipwreck only to be feasted upon by the MEGLODON. He wouldn't have lived... hard to swim with those tiny little arms. Amazing that someone caught it on film.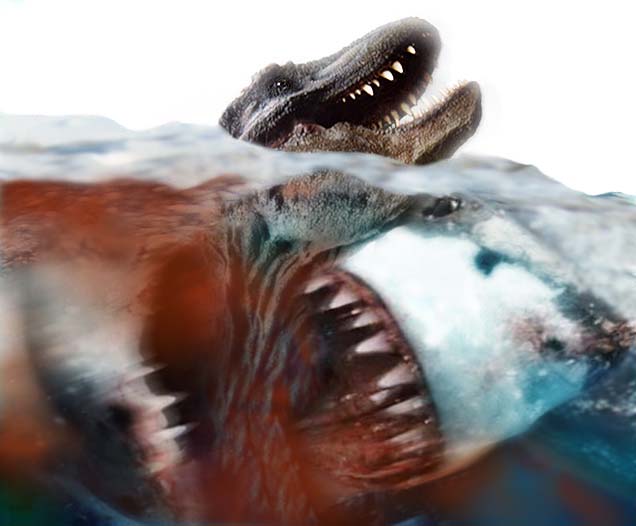 Comment! (4) | Recommend!