Sunday. 4.27.08 4:08 pm
The daffodils explode like fireworks
Then succumb to the frigid air that lurks
in fitful Spring just around the nearest bend
Skeletons of smoke in ashen gray
They tremble in the wind and drift away
For greatest beauty always comes to swiftest end.
Comment! (2) | Recommend!
Monday. 4.21.08 10:13 pm
Didn't quite know how the old birthday would go this year, but it turned out just fabulous. Heard from all my favorite people, got some really sweet and thoughtful presents, ate delicious candy/cake/thaifood/icecreamcake, and just generally felt the love. And, having felt the love, I will now emanate it. :D
::love vibes to everyone reading this entry::
::love love love::
love you!
Comment! (4) | Recommend!
Saturday. 4.19.08 12:25 am
So I finally met with my entire Master's committee today. We're supposed to meet every semester but I don't seem able to get it together but once a year. And last time one of my three committee members [the Geophysist] forgot and didn't show up. Today he also forgot but we were able to get him on the phone and tell him to come over. I was afraid he was mad at me because he hasn't asked me to help him work on the seafloor for a while, but turns out he totally isn't and he says we can work on it more this summer. Big sigh of relief. I'll have to remember what my codes say because I must admit I haven't thought about the seafloor since December. [THOUGH APPARENTLY OFF THE COAST OF WASHINGTON STATE IN THE MIDDLE OF THE JUAN DE FUCA PLATE THERE WAS A SWARM OF EARTHQUAKES WITH OVER 600 EARTHQUAKES IN 10 DAYS THAT BEGAN MARCH 10TH!!!! WTF???]
Anyway, I chatted to them about my research for like an hour, and also with these random other guys who were visiting my advisor and so had nothing to do. One of the guys, wow, so back in the day when he had just been accepted to graduate school at Harvard to work for this very particular guy, it was the summer before he started school and the advisor went into the field, contracted bubonic plague, and died. So he showed up at Harvard in the fall and they were like, "uh, sorry, but you'll have to have a new advisor."
Grad student: "wtf, man, when did this guy go to grad school, like the 14th century?"
Anyway, they said I could take my PhD qualifying exams whenever I feel like it! Hooray!!! I also pitched my random pet theory about cosmogenic isotopes (rare isotopes of elements that are made when charged particles from the solar wind interact with the nuclei of elements in rocks on a planetary surface). We still don't know if my mad plan would work, but they didn't find any problem with it [yet]. My advisor was satisfied and gave me a pat on the back and a wink. He also let it slip that he's going to Antartica this winter, but still nobody knows who he's going to take with him. Very likely not me [sad face].
Anyway, it was quite triumphant, and I celebrated by going to Fluid Mechanics, where they put me back in my place by teaching me a bunch of stuff that was totally and completely over my head in every way. Then I celebrated some more by screwing around for the rest of the day instead of writing my master's thesis. Give me a break! It was 76 degrees today!
Thalweg and I then went to Target and bought cheap clothing and then watched "MEGLODON", an amazing movie about a parallel ocean beneath our ocean which is filled with prehistoric sealife, including the 60ft shark, the MEGLODON, which escapes into our ocean and proceeds to EAT EVERYONE!
All told, a splendid day!
Hypothesized Megladon jaw size (from size of teeth)
This really happened. That t-rex, poor bastard, managed to survive a tragic shipwreck only to be feasted upon by the MEGLODON. He wouldn't have lived... hard to swim with those tiny little arms. Amazing that someone caught it on film.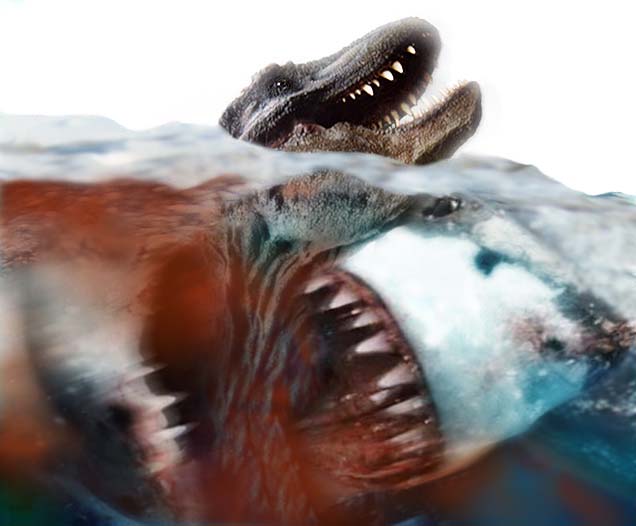 Comment! (4) | Recommend!
Lessons on Global Warming from the Garden of Eden
Thursday. 4.17.08 9:41 pm
Today I went to my Christian Fellowship meeting. It's the second time I went, the first time I ate jumbalaya, mmm-mm!
Anyway, this time we were focused on our relationship with the environment. We had invited the big environmental group on campus to talk about the environment and the intersection of the environment with people of faith.
The guy who leads it is really awesome. He is really laid back and casual, like a surfer. He's the kind of guy you imagine Jesus would be, really chill and peaceful but at the same time surprisingly deep and insightful. He's worried about whether or not we should be worried about the environment. I appreciate people who worry over what they should worry over. The environment is something I worry about less than I worry about the effects of good-intentioned people who go overboard trying to save the environment and do things that result in huge mistakes (like bio-fuels, for one pertinent example).
Anyway, last time I went we were talking about the story of Adam and Eve. In the story, they live in the garden and they are stewards of the garden and its inhabitants. It's not just that they live in harmony with the animals and plants, and it's not that they live just like any other animal. They live in the garden but they are the gardeners- they are masters of the animals and plants and they govern them. The best way to govern is to do subtle things that allow your garden to grow to its potential. Like any good master, they are really servants of the garden. They have a harmonious relationship with their environment, each other, and their God.
Then, when they eat from the Tree of the Knowledge of Good and Evil, they become aware of the difference between good and evil. They were made with free will, and now with the knowledge of good and evil, they have the capacity to choose evil, to suffer for it, and to cause others to suffer for it. The first thing they gain as a result of this action is shame at their nakedness, and they hide from God.
This leads to a hilarious joke about Genesis 3:10:
A new pastor moved into a town,
and he went out one day to visit
his parishioners. All went well until
he came upon this one house.
It was obvious that someone was
home, but no one came to the door
even after he had knocked several times.
Finally he took out his card, wrote on
the back "Revelation 3:20" and stuck it
on the back of the door.
Revelation 3:20:
"Behold, I stand at the door,
and knock: if any man hear my voice,
and open the door, I will come in to him,
and will dine with him, and he with me."
Later in the week, as he was counting
the offering, he found his card
in the collection plate
Below his message was the notation
"Genesis 3:10."
Genesis 3:10: "And he said, I heard thy voice
in the garden, and I was afraid, because
I was naked: so I hid myself."
HAHAHahahAHAHAha.
But
anyway
, jokes aside, their open and harmonious relationship with God is shattered. When God asks Adam if he ate from the Tree of the Knowledge of Good and Evil, Adam immediately blames Eve for what he has done "The woman you put here with me—she gave me some fruit from the tree, and I ate it." When God asks Eve about it, she blames the serpent for tricking her. The knowledge has shattered relationships between humans as well. They realize that they were not only naked in the literal sense, but all of their thoughts and feelings and intentions had been exposed as well. And so they clothe these thoughts and intentions from each other. And last, they have shattered their relationship with their environment, and instead of the Earth continuously yielding bounty, they must work the ground with back-breaking labor in order to cause it to bear fruit.
If this weren't enough, God then enters his curious first person plural mode of speaking and says, "The man has now become like one of us, knowing good and evil. He must not be allowed to reach out his hand and take also from the tree of life and eat, and live forever."
You must recall that there were not one, but two trees in the middle of the garden, but Adam and Eve were allowed to eat from the Tree of Life, just not the Tree of the Knowledge of Good and Evil. This seems to be extremely harsh of God right here. First, all of their most precious relationships have been damaged by their shame and their distance from each other, God, and their charge, the garden. Now God takes away the Tree of Life as well?
Here's where the guy who was giving the talk gives this story an interesting spin. He says that it isn't God's spite, but God's love that moves him to make this decision. It was Adam and Eve's choice to fall from grace, but if they ate the fruit of the Tree of Life, they would stay that way forever. They would always live in a world with broken relationships, a harsh and unforgiving environment incapable of being subdued or properly governed, and a distance from God. So it is from kindness that God bars the way to the Garden of Eden and the Tree of Life.
Naturally this message has to tie into the Christian message, because we're at a Christian Fellowship meeting. How?
Because Adam was the first gardener, but he isn't the last, says the leader-guy. When Jesus comes along, he says, "You live in a world that is full of pain, sin, suffering, turmoil, and distance from God. But God has brought back the Tree of Life, and offers a way for you to re-enter Eden, eat from the Tree of Life, and live forever."
Jesus is often compared to a shepard, but he is also a master gardener, and his sheep are gardeners, too (look how they've been trimming the grass!) In terms of the popular terms of today, you can't have a sustainable garden by making all of the gardeners unemployed. People have to be involved in making their part of the Earth flower and grow fruitful, because that's their purpose. It's their job to be steward of their fellow man, their environment, and themselves.
But anyway, you could tell that the environmental group was kind of there to manipulate us into hearing about their cause. In many ways, environmentalism is just like all of the evangelical Christian groups that they can't stand, angling for converts and convinced of their own holiness. We were there to learn about each other, but really we were there to learn about them, and they were there to convince us of the urgency of their message. Come on now. We invented that technique during the Middle Ages. Repent or face the end of the world? Change your ways before it's too late? It's been done.
One kid was Jewish, though, and he was the one who could relate best to where we were coming from. He was the only one that had felt the intensely personal feeling of a greater power. The other two said, "Spirituality" as a catch phrase to get our attention, but the one kid you could tell actually knew what that meant. But of course our leader had an interesting comment once again. He said that what the environmental movement lacks is hope. And that's something the community of faith has always had in spades. Ironically, the community of faith is just what the environmental movement needs: hope.
Comment! (5) | Recommend!
Wednesday. 4.16.08 7:42 pm
"If you look over the side of your boat and you see chunks of pumice floating in the water, run for the nearest life jacket immediately," my advisor begins.
Pumice is a very light volcanic rock. In the volcano, the pressure decreases as the magma rises to the surface, since the pressure on the magma is due to the overlying rock. Just before it reaches the surface, the pressure gets so low that gas, which had previously been squashed into the liquid, comes back out as a gas again, making bubbles in the liquid. These bubbles coalesce to form larger bubbles, until there are almost more bubbles than magma. The pieces of magma get stretched out to form the bubble walls. If the bubbles continue to grow, eventually the bubble walls will shatter, and the pieces of bubble-wall will be thrown out of the volcano and float to the ground as ash. That's why pieces of ash are so angular-looking.
If, however, the magma gets thrown out at that intermediate time, when the bubbles had been made but they weren't broken yet, then the result freezes into pumice, a rock filled with gas and holes that is so light it floats on water.
"When you see pumice floating all around your boat," continued my advisor, "this means that an eruption has just taken place perhaps immediately below you in the ocean. An explosive eruption under that much pressure [the pressure of the ocean water] requires a large amount of gas, and that gas gets released into the ocean water."
Now get this: If enough gas is released into the ocean water, the water will temporarily be reduced in density. That is, the column of water below the ship will be composed of a large portion of gas in addition to water. This makes a boat that is normally buoyant into the equivalent of a block of lead, because buoyancy depends on the
relative
densities of the two objects.
"Some Japanese fishing boats have radioed for help, citing just the same conditions that I have just described to you now."
He pauses for effect.
"Those boats were never heard from again."
Comment! (5) | Recommend!
Saturday. 4.5.08 4:44 pm
Sometimes, when I'm here alone in my kitchen, I start to cry. I just start crying, spontaneously.
Or maybe it's the onions that I'm chopping that does it.
Hmmm. Yes, it seems correlated with chopping onions.
Then I feel like I want to pour crude oil all over myself and slink across a table.
Comment! (7) | Recommend!
Thursday. 4.3.08 6:49 pm
So perhaps you have heard of Mr. Prandtl, giant among men in the field of fluid mechanics. Apparently back in the day, he had formulated his theories about laminar (laminar = not turbulent) flow around a cylinder and he had a bunch of equations that seemed extremely mathematically sound. This was before anyone even thought about turbulent flow, you see.
Pleased with his results, he took on a graduate student named Munch. Munch's project was to build a water tunnel and a cylinder, and then to take pictures of the flow going around it in order to prove experimentally his advisor's theoretical results.
So Munch built the flume, and he ran water through it, and sure enough, he found that the flow was completely different than his advisor had predicted. Like, COMPLETELY different. He took his results to his advisor, who, like all advisors in such situations, decided that his calculations were still right and that Munch had built the flume wrong. He told him to go back and rebuild it and make sure that the surface of the cylinder was extremely smooth, and the walls of the tunnel were extremely smooth, thus ensuring that the boundary conditions would match what Prandtl had proscribed.
For two years, Munch worked to make the walls of the tunnel smooth and the cylinder smooth, and to make the experiment exactly match Prandtl's specifications. But each time he ran the experiment he saw the same kind of flow and the cylinder would start vibrating when he turned up the velocity too high.
By this time, his office mate, VonKarman, had come back from the War. (Apparently he'd been in the Austrian Army or something). He resumed his studies and his place in Munch's office, and when he saw the experiments that Munch was running, he surmised that in fact the experiments were totally correct, and Prandtl was wrong (assumedly Prandtl was not VonKarman's advisor). So he went and made a theoretical model of what he thought was happening... that is- TURBULENCE! He decided that instead of sticking to the side of the cylinder as the flow bent around it, it would become separated from the cylinder, causing flow separation and the creation of alternating vorticies, which caused the cylinder to start vibrating. (Just like the singing islands or telephone wires that I've talked about in the past!)
So VonKarman published a paper about this, and now we have VonKarman vorticies, and we have a Prandtl Number, and do we have anything about Munch?
Perhaps only a scream of utter despair.
Moral of the story?
Don't go to graduate school.
Comment! (5) | Recommend!
It's That Time of Year Again
Saturday. 3.29.08 10:35 pm
O thou whose face hath felt the winter's wind
Whose eye has seen the snow clouds hung in mist,
And the black elm-tops 'mong the freezing stars,
To thee the spring will be a harvest-time.
O thou whose only book has been the light
of supreme darkness which thou feddest on
Night after night, when Phoebus was away,
To thee the Spring shall be a triple morn.
-John Keats
ps- I added "Mitternacht" to the playlist. How could I resist! It's just so catchy!
Comment! (7) | Recommend!