Wednesday. 7.14.04 10:13 pm
Monday. 7.12.04 10:34 pm
I love my basement. Every time I go down there it smells like Kid Pix. Ah, but Kid Pix is a computer game, and so therefore has no smell, you say, you clever thing, you. But when I was younger I used to go down there during the summer and play Kid Pix to my heart's content, back when there was no warehouse and no summer reading and no worries at all.
So whenever I smell that summery basementy smell, it immediately makes me recall Kid Pix. Smell is my strongest memory-sense, as they say is usually the case with most people, so when I smell an old smell that I hadn't been around for a long time, the memory comes back with such force that I am completely transported to that time and place long ago. So it is with my basement.
I used to spend a lot of time down there, doing all kinds of various and sundry things. I used to do my homework down there, and I used to close the door softly behind myself and then throw my back pack down the first flight of stairs and I'd throw myself down after it, and I'd hit the turn in the stairs with a WHAM! and then I'd pretend that I just woke up from being unconcious and I'd pretend I didn't know where I was and sometimes my leg would be broken and sometimes my arm or collar bone and I'd discover it as I was trying to get up to look around at this strange new place. I'd have to favor it and try to not use it as I levered my tired body enough to look around. Sometimes it was a prison, and I'd run to the top of the stairs just to pretend that the door was locked and there was no way out. I'd pretend to pound on it, but not really because then someone in the house might have actually heard me and come to see what I was doing and there was no good way to explain that ... . Sometimes I'd pretend that I'd been transported into another world where I had spent many years and had many adventures and then suddenly, inexplicably, I was back in my old childhood basement and no time had gone by at all, like in
The Lion, the Witch and the Wardrobe
. If this was the case I would see my backpack on the ground beside me and I'd go through everything inside like I hadn't seen it in a million years. My old stapler! My old desk, new again! I would have completely forgotten how to do complex division, of course, because no one uses that in real life, but I'd have an entire assignment on it that... my god! was it 1999! I was in highschool! It was due tomorrow! Then I sit at the desk and do my homework and marvel at how I still remembered
My Antonia
even though I had only half read it many years and many memories before. If it was the prison scenario, I would get bored of shouting, "I'm innocent!" and I'd wander down the stairs to see what the deal was. There I would see that I was being well kept, there was a piano and a foosball table, and I'd tinker with these before I discovered the backpack- which was full of history assignments and science worksheets that some lazy student (who could it be? the last inmate?) had never done. Knowing that I was going to be here for a while, and enchanted that I knew all of the answers as if I had just been studying this stuff that very day (how convenient!) I would occupy myself by doing the student's homework for him or her.
Sometimes I'd lug my dad's legal dictionary into the basement and pretend that I was afraid to open it because it was
dangerous
. Instead, I'd run my hand along the swirls that the pages made when the book was closed and pretend that the magic was tempting me to open the book... it was irresistable... I must open it! BUt NO. I put it away. My will was stronger than that!
le sigh. I never pretend like that anymore.
Ah the basement. Cool- musty- strange dead bugs in dusty corners. You can hang up a Sky Chair under the deck and trail your hand along the rough cement and absent-mindedly pet the dog. Find picture albums from Super Bowl Sunday of 89, that model plane I started making but never finished, the canvas that Carol and Katherine and I painted of a swamp just because everyone else was painting something happy and we wanted to be contrary, a framed drawing of a fish. Just messy enough to be interesting.
Comment! (0) | Recommend!
Saturday. 7.10.04 1:53 am
Saturday. 7.10.04 1:30 am
Monday. 7.5.04 1:56 pm
watching:
SPIDERMAN
listening to:
ballroom blitz
mood:
fiercely patriotic
I had a long day yesterday, I went to church in the morning and we sang a lot of fabulous hymns. I learned that "God Save the Queen" is in our hymnal, a fact that I think I should report to the appropriate authorities as evidence of my church's loyalist leanings. The sermon was about freedom and we learned that Jesus set us free from the bondage of sin and death. We said my favorite prayer, the prayer of St. Francis:
Lord, make me an instrument of Your peace.
Where there is hatred, let me sow love;
where there is injury, pardon;
where there is doubt, faith;
where there is despair, hope;
where there is darkness, light;
and where there is sadness, joy.
O, Divine Master,
grant that I may not so much seek
to be consoled as to console;
to be understood as to understand;
to be loved as to love;
for it is in giving that we receive;
it is in pardoning that we are pardoned;
and it is in dying that we are born to eternal life.
Especially the last bit.
Anyway, there weren't any doughnuts so I gave my quarters to the offering plate and went to King Soopers to buy one and it was only 39 cents! I got one with a star on it, it was so patriotic that I ate it immediately. Then I bought a lotto ticket, cause fresh outta church, I was feeling LUCKy.
Then I went home and made a grasshopper pie, into which I put a considerable amount of booze.
Finally, I went to the Rapid's game, which was awesome, the most exciting part being the halftime show where all the mascots from Colorado and Wyoming schools went at each other in a soccer game. Mostly it was just Cam the CSU Ram fighting with Chip the CU Buffalo without regard to where the soccer ball was and the Broncos mascot trying to push both of them over. The only serious soccer player seemed to the the Eagle, whose feet were too big for kicking, and the Wyoming University Cowboy, who was actually not too bad. His team won with a big goal against the Bronco. Most adorable mascots: The Colorado School of Mines Miner and the Colorado Mammoth. Aww. The Chick-fil-a cows were wailing on Ronald McDonald for a while, but how can you get mad at a clown? Seriously!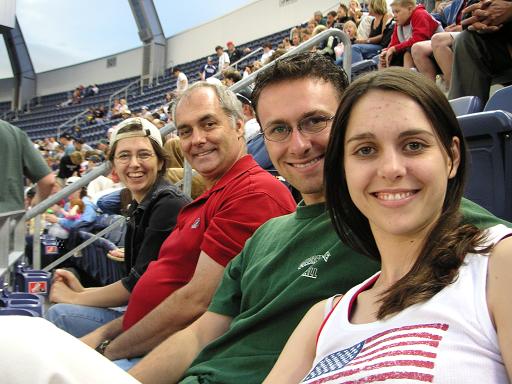 Yey for the 4th of July! Next big holiday: Bastille Day! Oh, that I were in France.
And HAPPY BIRTHDAY XTINA!
watching:
SPIDERMAN
listening to:
ballroom blitz
mood:
fiercely patriotic
Comment! (2) | Recommend!
Thursday. 7.1.04 11:48 pm
Wednesday. 6.30.04 11:10 pm
Wednesday. 6.30.04 9:41 pm
End of War on Sauron raises more questions about its conduct and
necessity
New Gondor Times
Grima Wormtongue
While the leaders of the alliance including Gandalf and
Aragorn have proclaimed a victory in the War on Sauron questions are
increasingly being raised about both the conduct of the war and its
necessity.
Archeologists and historians have particularly bemoaned the
loss of priceless artifacts forever lost with the fall of Barad-dur,
when Sauron's fortress was destroyed. These artifacts reputed to date
back to the First Age have caused some in the archeological community
to condemn what they call the careless and thoughtless way the assault
on Mordor was handled.
Meanwhile months after the fall of Barad-Dur, the Alliance has
failed to capture either Sauron or the Ringwraiths. While the Captains
of the West claim that Sauron and all his works have perished, no body
has ever been found and there are reports that Sauron may be wandering
on the outskirts of Mirkwood in various disguises. This adds yet
another question to the many questions already being raised about the
conduct of the War on Sauron.
Military experts had already condemned the march to the Towers
of the Black Gate as a foolhardy maneuver conducted with too few
troops and point to the heavy casualties incurred during the sieges of
Helm's Gate and Gondor as evidence of the incompetence with which the
War on Sauron was handled.
Various questions have also been raised as to whether the War
on Sauron was even necessary in the first place.
"After Sauron's defeat at the hands of the Last Alliance he
was in no shape to mount any kind of assault on the West. His
fortresses were in ruins, his armies were demoralized and the only
thing he wanted was to recover a small piece of property, a trifle
that was looted from him by Allied troops during the former war," The
Wizard Saruman had argued, "A mere ring. If it had only been turned
over to him, this entire conflict could be avoided."
While Gandalf and others have argued that the so-called "One
Ring" would have singlehandedly allowed Sauron to crush the West,
other experts have questioned whether any ring could indeed have such
capabilities and suggested that the Ring was never actually recovered
after it had been lost by Isildur but that the leaders of the Alliance
had deceived the Peoples of the West into believing that Sauron was on
the verge of gaining possession of it in order to trigger a war with
Mordor. Alliance leaders have responded indignantly to such
accusations but nevertheless no real evidence bas been presented that
the One Ring even existed outside of the claims of a handful of
insiders at the Council of Elrond. Gandalf's insistence that the One
Ring has now been destroyed in the fires of Mount Doom has done little
to boost his credibility with a story that to many far too
conveniently disposes of the evidence before any objective parties
have had a chance to examine it.
"We kept hearing all the time about Sauron using this supposed
ring to enslave the free peoples of Middle Earth and now it turns out
that Sauron never even had this ring to begin with," Political
activist Bill Fenry said, "I feel deceived and lied to."
Many of those who had voiced opposition to war and pushed for
a peaceful settlement with Sauron have also questioned whether
diplomacy could have been used to avert a terrible conflict citing
frequent emmisaries from Mordor that were turned away by Rohan and
Gondor causing some to speculate on the motives of the Alliance
leadership in wanting to bring about an unnecessary war.
Mithril has been cited as one economic reason driving the
conflict with anti-war activists citing the assassination of Smaug and
the rebuffed Dwarven colonization of Moria combined with the sudden
appearance of Dwarves at the Council of Elrond as evidence of a
conspiracy aimed at allowing Dwarven interests to take control of
Mithril mines in the possession of Sauron leading to the slogan, 'No
Blood for Mithril.'
Others point to the widespread hostility towards Gondor and
the Western Lands, and particularly towards King Elessar and his
policies as proof that the War on Sauron has failed.
"Yes we may have defeated Sauron but now the Haradrim, the
Southrons, the Easterlings and the Orcs and Goblins hate us,"
Political analyst Shelob said, "And what point is there in defeating a
single Sauron when our foreign policy causes us to be so hated that a
thousand more Saurons will rise in his place."
Particularly worrying to Shelob are polls that show that Orc
hatred of humans is at an all time high with over 90 percent of Orcs
expressing a desire to devour human flesh.
"We can't hope to defeat the Orcs with weapons. We must
understand why they hate us and what we can do to stop them from
hating us and wanting to eat our flesh. For example virtually every
Orc surveyed has expressed dissatisfaction with Gondor's foreign
policy of killing Orcs and overthrowing Sauron. Those are statistics
we need to really pay attention to."
One thing is certainly clear that with Sauron possibly still
on the loose, many people questioning whether the existence of the One
Ring wasn't a fraud meant to create support for an unjust war, the
loss of valuable archeological treasures at Barad-Dur, exposure of
military blunders by the alliance and continuing raids by Orcs and
Goblins; whether or not the so-called War on Sauron has ended in
victory or defeat remains in question.
(Lifted from odeus@bigfoot.com (O Deus) on r.a.s.f.f.) Props to Justin Bristow. ;)
Comment! (4) | Recommend!