Wednesday. 7.14.04 10:13 pm
My job is rather strange, if you think about it. What a weird job I have. Like the other day we were happy that a truckload of drums of glue never came in because that meant we had more room for the dog food boxes that had come in earlier. hmm. drums of glue? Never have the same day around that looney bin. Today I told one of the drivers that I didn't want him to bring me dog food anymore, that I wanted something yummy instead, so when he came back he said that he'd brought me chocolate. That is.... a whole truckload of Nestle wrappers! After that I stacked a bunch of sewer man-hole ladder steps and moved around some sump pumps.
How would you feel about eating those Rolos if you knew that their wrapper was right next to a bunch of sump pans in its previous life! how about a Nu-Go Nutrition bar that was chilling out next to the cement pigment and driveway salt? Mwahahahaha. I got to finally try a Nu-Go bar. They sell them at Costco. I would recommend the Chocolate Banana ones but not the Chocolate Blast. What if I told you that the American-made motorscooter you are buying was actually made in China, made into an American bike by razoring out the "Made in China" part and subsequently buried behind a pallets and pallets of cat food boxes before finally being sold to you!
Yesterday I bumped this truck when I was putting a dock plate in and this little baby bird fell down from above right under my forklift wheel. I slammed on the brakes and herded the little fellow towards the exit (he had wings and feathers and could hop with them, but he couldn't fly yet and still had his wide baby mouth). So he hopped around clumsily until he fell between the dock and the truck under the truck, so I went to see if he was ok. He was a little sluggish so I tried to scare him to make sure he hadn't broken anything and he skittered about on his too-large feet and wedged himself under the truck tire to hide, beak first. Knowing that any weight on the truck about would surely crush him and that Smitty was about to come along and drive his clamp in there, I ushered him out from beneath the wheel and he hopped crazily into the grass where there was an adult sparrow chirping shrilly and hopefully she was his mother. She was very nervous and urgent, but the little man himself was quite happy and was chirping merrily all the way through his crazy ordeal. I'm not sure he'll make it, as clumsy as he is, but if you ever got any points in the animal world for being cute and good-natured, he would come out on top. I wish I could have scooped him up and made him mine, but as any republican will tell you, sometimes the best way you can help someone succeed is by leaving him alone! (especially if you smell like human being and his mother doesn't like that smell!)
one sighting among many!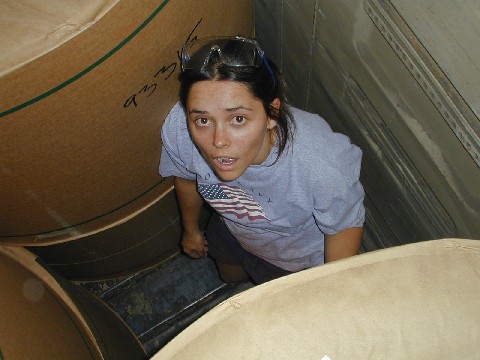 I got stuck in a rail car!
Comment! (4) | Recommend!
Monday. 7.12.04 10:34 pm
I love my basement. Every time I go down there it smells like Kid Pix. Ah, but Kid Pix is a computer game, and so therefore has no smell, you say, you clever thing, you. But when I was younger I used to go down there during the summer and play Kid Pix to my heart's content, back when there was no warehouse and no summer reading and no worries at all.
So whenever I smell that summery basementy smell, it immediately makes me recall Kid Pix. Smell is my strongest memory-sense, as they say is usually the case with most people, so when I smell an old smell that I hadn't been around for a long time, the memory comes back with such force that I am completely transported to that time and place long ago. So it is with my basement.
I used to spend a lot of time down there, doing all kinds of various and sundry things. I used to do my homework down there, and I used to close the door softly behind myself and then throw my back pack down the first flight of stairs and I'd throw myself down after it, and I'd hit the turn in the stairs with a WHAM! and then I'd pretend that I just woke up from being unconcious and I'd pretend I didn't know where I was and sometimes my leg would be broken and sometimes my arm or collar bone and I'd discover it as I was trying to get up to look around at this strange new place. I'd have to favor it and try to not use it as I levered my tired body enough to look around. Sometimes it was a prison, and I'd run to the top of the stairs just to pretend that the door was locked and there was no way out. I'd pretend to pound on it, but not really because then someone in the house might have actually heard me and come to see what I was doing and there was no good way to explain that ... . Sometimes I'd pretend that I'd been transported into another world where I had spent many years and had many adventures and then suddenly, inexplicably, I was back in my old childhood basement and no time had gone by at all, like in
The Lion, the Witch and the Wardrobe
. If this was the case I would see my backpack on the ground beside me and I'd go through everything inside like I hadn't seen it in a million years. My old stapler! My old desk, new again! I would have completely forgotten how to do complex division, of course, because no one uses that in real life, but I'd have an entire assignment on it that... my god! was it 1999! I was in highschool! It was due tomorrow! Then I sit at the desk and do my homework and marvel at how I still remembered
My Antonia
even though I had only half read it many years and many memories before. If it was the prison scenario, I would get bored of shouting, "I'm innocent!" and I'd wander down the stairs to see what the deal was. There I would see that I was being well kept, there was a piano and a foosball table, and I'd tinker with these before I discovered the backpack- which was full of history assignments and science worksheets that some lazy student (who could it be? the last inmate?) had never done. Knowing that I was going to be here for a while, and enchanted that I knew all of the answers as if I had just been studying this stuff that very day (how convenient!) I would occupy myself by doing the student's homework for him or her.
Sometimes I'd lug my dad's legal dictionary into the basement and pretend that I was afraid to open it because it was
dangerous
. Instead, I'd run my hand along the swirls that the pages made when the book was closed and pretend that the magic was tempting me to open the book... it was irresistable... I must open it! BUt NO. I put it away. My will was stronger than that!
le sigh. I never pretend like that anymore.
Ah the basement. Cool- musty- strange dead bugs in dusty corners. You can hang up a Sky Chair under the deck and trail your hand along the rough cement and absent-mindedly pet the dog. Find picture albums from Super Bowl Sunday of 89, that model plane I started making but never finished, the canvas that Carol and Katherine and I painted of a swamp just because everyone else was painting something happy and we wanted to be contrary, a framed drawing of a fish. Just messy enough to be interesting.
Comment! (0) | Recommend!
Saturday. 7.10.04 1:53 am
in an unrelated story, here is my geo prof, apparently very thirsty: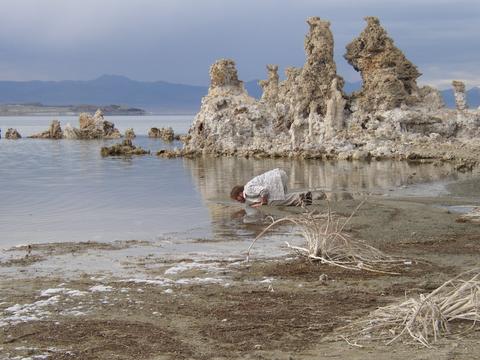 ;)
Comment! (1) | Recommend!
Saturday. 7.10.04 1:30 am
Wow, html can be extremely frustrating! Now all the words in my modules have turned black. aieieieie! Oh well, I'll just have to spend some more time on it when my leg doesn't need to be stretched so badly.
Warehouse quotes:
"We should get a delicious pizza for dinner... from McDonald's!"
-my sister
"I'm a little worried about you- you're going to become one of those women that don't even look like women...."
-Marka Stewart, who knows just what to say to make a girl feel special!
Marka: For you this is a summer job! I'm a year round worker!
Madame Fifi: Well, yer
round/...

random thought: if English was your second language, the phrase "Time is of the essence" wouldn't make sense to you at all.

This dude totally whacked the hell out of one of the trailers parked at our dock. I was in the middle of unloading it and thankfully I wasn't in the trailer at the time that it was hit because that would be a thrill I wouldn't be too keen on experiencing! The guy dropped the trailer, so when the other guy hit it the whole thing leaned to one side... here is the damage: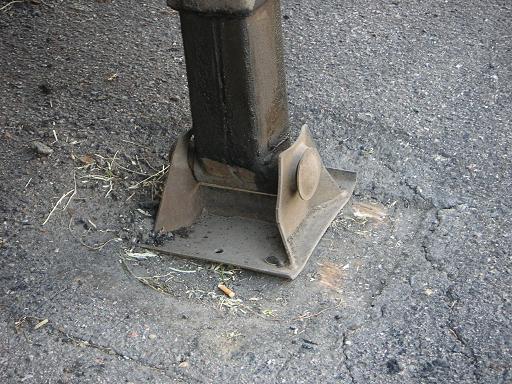 this is what a truck foot should basically look like, unharmed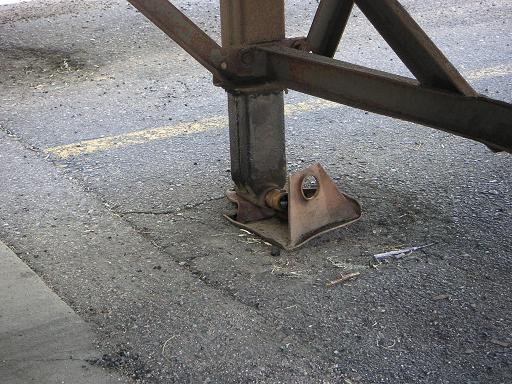 this is what the other truck foot looks like now...
Comment! (0) | Recommend!
He died to make men holy, let us live to make men
Monday. 7.5.04 1:56 pm
watching:
SPIDERMAN
listening to:
ballroom blitz
mood:
fiercely patriotic
I had a long day yesterday, I went to church in the morning and we sang a lot of fabulous hymns. I learned that "God Save the Queen" is in our hymnal, a fact that I think I should report to the appropriate authorities as evidence of my church's loyalist leanings. The sermon was about freedom and we learned that Jesus set us free from the bondage of sin and death. We said my favorite prayer, the prayer of St. Francis:
Lord, make me an instrument of Your peace.
Where there is hatred, let me sow love;
where there is injury, pardon;
where there is doubt, faith;
where there is despair, hope;
where there is darkness, light;
and where there is sadness, joy.
O, Divine Master,
grant that I may not so much seek
to be consoled as to console;
to be understood as to understand;
to be loved as to love;
for it is in giving that we receive;
it is in pardoning that we are pardoned;
and it is in dying that we are born to eternal life.
Especially the last bit.
Anyway, there weren't any doughnuts so I gave my quarters to the offering plate and went to King Soopers to buy one and it was only 39 cents! I got one with a star on it, it was so patriotic that I ate it immediately. Then I bought a lotto ticket, cause fresh outta church, I was feeling LUCKy.
Then I went home and made a grasshopper pie, into which I put a considerable amount of booze.
Finally, I went to the Rapid's game, which was awesome, the most exciting part being the halftime show where all the mascots from Colorado and Wyoming schools went at each other in a soccer game. Mostly it was just Cam the CSU Ram fighting with Chip the CU Buffalo without regard to where the soccer ball was and the Broncos mascot trying to push both of them over. The only serious soccer player seemed to the the Eagle, whose feet were too big for kicking, and the Wyoming University Cowboy, who was actually not too bad. His team won with a big goal against the Bronco. Most adorable mascots: The Colorado School of Mines Miner and the Colorado Mammoth. Aww. The Chick-fil-a cows were wailing on Ronald McDonald for a while, but how can you get mad at a clown? Seriously!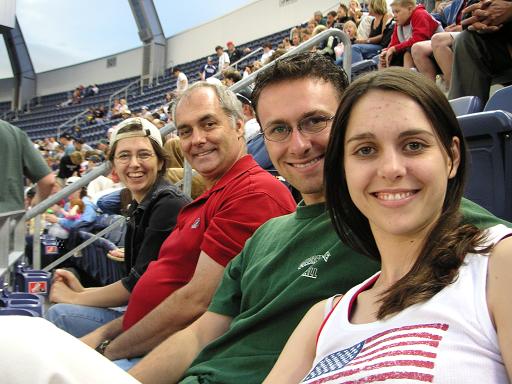 Yey for the 4th of July! Next big holiday: Bastille Day! Oh, that I were in France.
And HAPPY BIRTHDAY XTINA!
watching:
SPIDERMAN
listening to:
ballroom blitz
mood:
fiercely patriotic
Comment! (2) | Recommend!
Thursday. 7.1.04 11:48 pm
Je veux ecrire en francais, mais je ne peux pas parler le francais tres bien, et je n'ai pas des accents. Quelle dommage. euh, behn. Aujourd'hui j'avais une terrible, mauvaise jour. Tout un coup, la jour est devenue marveilleuse. Pourquoi? Je ne sais pas exactement, mais j'ai voulu utiliser la passe compose et l'imparfait, alors j'ai construit la phrase comme ca, avec "tout un coup" pour signaliser (pas un mot?) une action dans la passe.
Hier j'ai trouve un histoire que j'avais ecrit il y a longtemps. J'ai su beacoup plus francais que maintenant.
Ah, la nuit! Je veux ouvre la fenetre et entendre le vent qui court libre et les feuilles de l'arbre dogwood qui chuchote a les etoiles..........
Je vais dormir maintenant parce-que je suis fatigue. Et finissons-nous avec un des phrase que j'aime plus:
"C'etait un coup de foudre!"
Comment! (0) | Recommend!