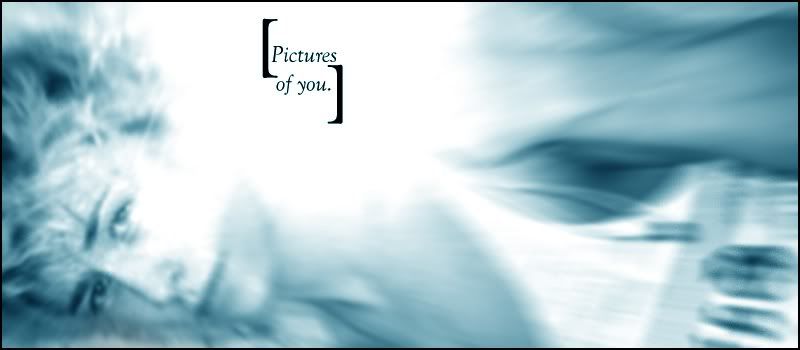 Spring Semester 2010:

* Teaching: Fundamentals of Microbiology - MW 12:00-2:40p
Medical Microbiology - TR 2:00-3:15p
Colloquium in Cell and Molecular Biology - R 3:30-4:30p
Thesis Research - Identification of T Cell Subsets and Immune Response in Colon Cancer Using Immunofluorescence - FOREVER AND EVER

Or rather, entries from the old journal, as it were...

-

An open letter to the College.

(August 27, 2006)

-

Untitled.

(July 16, 2006)

-

Haunted (Part One)

(May 29, 2006)

-

Are we growing up, or just going down?

(May 3, 2006)

-

I had a dream...

(March 19, 2006)

-

...

(March 14, 2006)

-

Enjoy it while it lasts.

(September 12, 2005)

-

Scene: 3:27 AM.

(September 3, 2005)

-

Untitled.

(July 26, 2005)

Psst... if you're looking for the academic writings I used to have here, head to my Reading Room.

Since June 2006...

- A Heartbreaking Work of Staggering Genius by Dave Eggers
- High Fidelity by Nick Hornby
- Travesties by Tom Stoppard
- The Way of the Shaman by Michael Harner
- The Tao of Pooh by Benjamin Hoff
- Nervous Conditions by Tsitsi Dangarembga
- The History Boys by Alan Bennett
- The Dark Child by Camara Laye
- Movie-Made America by Robert Sklar
- Diary by Chuck Palahniuk
- Rant: An Oral Biography of Buster Casey by Chuck Palahniuk
- Galapagos by Kurt Vonnegut
- The Dead Emcee Scrolls by Saul Williams [61.3%]
- Atonement by Ian McEwan
- Junk Science: An Overdue Indictment of Government, Industry, and Faith Groups that Twist Science for Their Own Gain by Dan Agin, Ph.D. [64.4%]
- So Yesterday by Scott Westerfield
- Lucky Wander Boy by D.B. Weiss
- The Things They Carried by Tim O'Brien
- Doctor Who: The Key to Time: A Year-by-Year Record by Peter Haining
- Why Buffy Matters: The Art of Buffy the Vampire Slayer by Rhonda Wilcox
- When You Are Engulfed in Flames by David Sedaris
- The Road by Cormac McCarthy
- 1984 by George Orwell [18.8%]
- Nick and Norah's Infinite Playlist by Rachel Cohn and David Levithan
- Intuition by Allegra Goodman
- V for Vendetta by Alan Moore and David Lloyd (Yes, I realize it's a graphic novel but it still fucking counts!)

Dedicated to Laura Esquivel.

Sunday, December 24, 2006 @ 12:07 am

Take 1 cup of sugar and place in a saucepan over low heat. Do not stir until the sugar has dissolved around the edges, and once it does, keep the sugar moving so as not to burn it, breaking up any clumps as best you can until fully melted. Upon melting, add 3 tablespoons of water and mix.

It is crucial to not burn the sugar. Overcooking the sugar will result in a hard, visually-unappealing shell with a bitter taste. Take caution and be vigilant: the boundary between perfect caramelization and a burnt disaster is thin and sharply defined. If you allow the transition to take place, you will have to start over again, lest your flan taste scorched.

Beginners at cooking may find this step the most difficult. Like many other things in life, making the perfect top-layer of caramelized sugar for your flan requires precision. How quickly things can spiral out of control! One minute you're perfectly unblemished by the harsh realities of the world--your tabula is most certainly rasa, and every atom of your being is free to explore the possibilities. Then the temperature starts to rise as you're told you have to find something to do, or worse yet, something to

be

. Suddenly everything seems a little less mobile. You're weighed down--and worse still not by another, but by yourself. The same free-flowing molecules that comprised your being have begun to melt together into a congealed mess. You begin to feel it change you, but what can you do? It's happening more and more quickly. This is unfamiliar. Something completely different. You question yourself--your wants, your needs, your hopes and dreams, what led you to this point and can you turn back? Too many questions, too little time. Stay the course or run away, back where the heat isn't on? Is that even possible? And then before you know it you're boiling. And you'll burn out soon enough if you keep going this way. Can you turn back? Do you want to turn back? Because with flan, it's easy. Rinse your saucepan, get yourself a new cup of sugar, and try again. But this is life--are there really any second chances?

Here's to hoping there are.

If you successfully caramelize the sugar, it should be a beautiful deep amber color. Pour the liquid into your lightly oiled mold. Allow it to sit while preparing the creme custard. By the time you are ready to add the custard, the sugar layer should be completely solidified.

Because at some point, you will surrender to fate.

Comment! (1) | Recommend!

It may be exhibitionism, but it's also quite human.

Saturday, December 23, 2006 @ 11:44 pm

Running the risk of certain familial relations stumbling across this page, why do I even bother posting at all? I guess it's liberating sounding my internal alarms from the digital rooftops with that shield of pseudo-anonymity that is a natural outgrowth of this shared informational medium we call the Internet. It's something I could never do in person--God no, because that would be SO improper--but something I feel I must do in order to remain sane. I'd rather blow steam out into the world than sterilize my insides by allowing the pressure and temperature to build within me like a walking-talking living-breathing bio-organic autoclave...

So yeah. They might find it. And I'll try to keep that from happening. But the concept of censorship is so reviled here in this new digital dimension--this electronic nation of equals--that I cannot kowtow to the proprietors of such a threat. I will give up my name and identity, but I will not give up my voice or my thoughts. The latter two make me more human than the former two; let the seeds to my discontent or my joy be sown and later reaped in order to make me feel less like an emotionless machine.

Comment! (5) | Recommend!

Hello again, cruel world.

Friday, December 22, 2006 @ 12:15 pm

So I decided I'd give this page another go, mostly because I had to friends-only my LJ because my family had somehow found it. I've erased my name from this page (hopefully) so maybe it won't come up if they decide to Google me. Or maybe it will. I don't know.

But there needs to be some major housekeeping done here. Two and a half years of abandonment means there are plenty of cobwebs and lots of dust to clean up. Starting with that background. Oh, where did you go? And I think I'm going to go ahead and transfer all my old entries elsewhere... start this place anew. Make it a nicer home than it was in the past.

As nice as a bitter old curmudgeon can make it, I guess. Expect to see cigarette butts and beer bottles strewn around the place in no time; get ready for the broken glass and the piling dishes; footprints on the walls and ceilings; unmade beds and unswept floors. And how can we even forget what we're really here for: the dirty laundry? All in due time. We'll shine this place up, good as new. And then...

...let the shitshow begin.

Comment! (1) | Recommend!