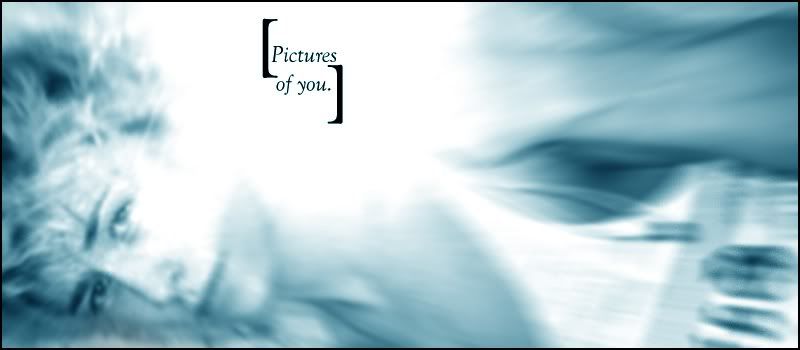 Spring Semester 2010:

* Teaching: Fundamentals of Microbiology - MW 12:00-2:40p
Medical Microbiology - TR 2:00-3:15p
Colloquium in Cell and Molecular Biology - R 3:30-4:30p
Thesis Research - Identification of T Cell Subsets and Immune Response in Colon Cancer Using Immunofluorescence - FOREVER AND EVER

Or rather, entries from the old journal, as it were...

-

An open letter to the College.

(August 27, 2006)

-

Untitled.

(July 16, 2006)

-

Haunted (Part One)

(May 29, 2006)

-

Are we growing up, or just going down?

(May 3, 2006)

-

I had a dream...

(March 19, 2006)

-

...

(March 14, 2006)

-

Enjoy it while it lasts.

(September 12, 2005)

-

Scene: 3:27 AM.

(September 3, 2005)

-

Untitled.

(July 26, 2005)

Psst... if you're looking for the academic writings I used to have here, head to my Reading Room.

Since June 2006...

- A Heartbreaking Work of Staggering Genius by Dave Eggers
- High Fidelity by Nick Hornby
- Travesties by Tom Stoppard
- The Way of the Shaman by Michael Harner
- The Tao of Pooh by Benjamin Hoff
- Nervous Conditions by Tsitsi Dangarembga
- The History Boys by Alan Bennett
- The Dark Child by Camara Laye
- Movie-Made America by Robert Sklar
- Diary by Chuck Palahniuk
- Rant: An Oral Biography of Buster Casey by Chuck Palahniuk
- Galapagos by Kurt Vonnegut
- The Dead Emcee Scrolls by Saul Williams [61.3%]
- Atonement by Ian McEwan
- Junk Science: An Overdue Indictment of Government, Industry, and Faith Groups that Twist Science for Their Own Gain by Dan Agin, Ph.D. [64.4%]
- So Yesterday by Scott Westerfield
- Lucky Wander Boy by D.B. Weiss
- The Things They Carried by Tim O'Brien
- Doctor Who: The Key to Time: A Year-by-Year Record by Peter Haining
- Why Buffy Matters: The Art of Buffy the Vampire Slayer by Rhonda Wilcox
- When You Are Engulfed in Flames by David Sedaris
- The Road by Cormac McCarthy
- 1984 by George Orwell [18.8%]
- Nick and Norah's Infinite Playlist by Rachel Cohn and David Levithan
- Intuition by Allegra Goodman
- V for Vendetta by Alan Moore and David Lloyd (Yes, I realize it's a graphic novel but it still fucking counts!)

Tuesday, March whatever-the-fuck @ I don\'t even c

Edited for sleep-deprivation-induced spelling errors.

Too many ups and downs today. Like any rollercoaster, it may be thrilling at first, but after the 8th or so time, the ride gets stale.

- What's up with the cold weather? It's fucking Spring you moron. I'm not supposed to be freezing my nuts off here.

- Woke up around 3:30 am to finish that goddamn project. 24 pages later, I celebrate by not showering and heading directly to school. Do not pass go. Do not collect $200.

- 10:00 and it's time for my anthro final. Whoops, guess who didn't read the last 8 or so chapters in the book. Good thing it's anthro, and therefore bullshittable. And bullshit I did. Partial credit, here we come.

- A hearty meal does not a stale croissant make.

- 6 hours of studying for my calc final. (Not like it would help.)

- Got a call from the internship people: I got the internship over at NASA. NASA: FUCK YEAH! Best news all day. Definitely the high point of these last godforsaken 18 or whatever the hell hours. I can't even fucking tell anymore. Maybe I should stop trying.

- Calc midterm at 6:00 pm. First half was as expected, which is to say: rapeage. Second half was not so bad, with "not so bad" meaning "I actually finished it all. As for those answers being correct..." The

instructure

INSTRUCTOR better fucking curve that exam. Sounded like pretty much no one finished the first part.

- Got to my car and noticed I didn't have my keys. They could have fallen out of my coat pocket in any one of the rooms I visited today. Had to call dad to drop off the spare key. Waited in the dark parking lot while cold wind stung my face. Again: it's Spring, you dickwad. Where's my mild evening? Nowhere to be found, I guess.

- And now we're caught up. Oh, wait. I got an e-mail from the internship office saying that I need to bring my Social Security card. One problem: it's lost. Why is it whenever you start a new job, they ask for that damn thing? Well, at Pomona, I got around it. I forget how exactly, but I did. Don't think I will this time, though. Have to get a new card. What's that--like, 4-6 weeks? Bullshit. What I don't understand is why they make you prove you have a fucking SS card every time you start a new job. Why can't they just, I don't know, have a national network where you can get that sort of information so that I don't have to do the same shit over and over again for the rest of my life. I'd rather get a fucking microchip with that information implanted in my middle finger than keep presenting the damn SS card for the rest of my life. Fucking lame.

Ugh, I'm done now. Tired of thinking. Must go to bed. Well, must print out my damn replacement card application first. (Yes. I'm still bitter about that.)

Goodnight, friends. And enemies? Go fuck yourselves.

Comment! (5) | Recommend!

Raw is war spelled backwards.

Monday, March 26, 2007 @ 2:59 pm

I can't listen to Yellowcard's "October Nights" without being taken back a few years to a time when I was more stressed out, but definitely happier (for the most part). I almost cry every time I hear it.

There are songs that make me feel younger. There are songs that make me want to smoke my fucking lungs out and scream from that high I only get when I'm so tired that I'm about to fall on my fucking face but I'm up anyway because I have to be. There are songs that make me want to hurt something or someone so bad because the original feeling behind the memory--I can't quite get it back.

I fucking hate that.

Comment! (7) | Recommend!

Well, isn't that just lovely?

Sunday, March 25, 2007 @ 1:55 pm

So I just remembered that Stanford is on spring break right now, which means that their library has altered hours.

[seconds later] I have just checked the hours for the library and it is closed today. (Just when I was actually getting motivated to do it. Poop.)

Well, this throws a wrench in the gears. I guess I could get it tomorrow early-like, and then put the final touches on the paper then, but to be most efficient, I should study some for my calc final tonight since I won't have that time tomorrow.

Ah, "The best-laid plans..."

Comment! (3) | Recommend!

Sunday, March 25, 2007 @ 9:20 am

Ever set your sights on something and decide that you just HAVE to do it, but when the time comes, you find you can't? Or won't? It's like being a cliffdiver, standing at the edge of a cliff in the middle of the rainforest and wanting to jump into the pool of crisp, clean water below, but not having the wherewithal to do so. If you think about it, it's not all that hard. All you have to do is trigger the cerebral mechanism that translates thought into action. And once the action occurs, you're golden--you're doing it. But sometimes--as with anything that would involve your brain and a trigger--that trigger is a lot harder to pull than it would seem.

Today I'm faced with the decision to drive to the Stanford library to photocopy some essays out of a book that aren't available anywhere else locally. (I miss having access to pretty much anything I want through the library at the Claremont Colleges.) I need--or is it want?--this book for my anthro research project, but I woke up this morning not wanting to do anything. I should get my ass in the car at 11:30 today, get to the library by opening time, photocopy the damn essays, and return ASAP, but I don't want to. I just want to sit here and do nothing. Well, maybe watch some TV. Kill some time online. Eat. You know, things that all require me not getting dressed for an excursion, things that don't require me to spend money on gas or food or photocopying, things that all require me to just stay right where I am.

I find this is an increasingly common occurrence. This may be a cause for concern.

Comment! (3) | Recommend!

Saturday, March 24, 2007 @ 8:09 pm

There are movies that I have no desire to watch. Sometimes, friends come up to me and say how X movie is "soooooo awesome, omigod, you HAVE to see it!" to which I reply, "I don't really want to." Then they stare at me, mouth slightly agap, piercing into my psyche, trying to deconstruct how I could possibly

NOT

want to see that movie. At. Fucking. All.

You'd think I said something completely unfathomable, quite like "You know guys? I have absolutely no desire to have sexual intercourse. EVER. I don't think I have a libido!"

But no.

It happened recently when I was talking to a friend. She brought up the movie

300

and I confided in her that I really don't care about the movie at all. And it wasn't really a subjective judgment of her taste in movies--God knows I like some very critically questionable flicks--nor was it a judgment about the movie itself. I don't know--it could be the best fucking movie in the history of cinema, with respect to photography and special effects and acting and plot and character development--but it's just not a movie I care to see.

At that point, people start defending the movie they brought up in conversation, as though appealing to logic would change my mind about wanting to see it. Sorry, but no. It doesn't work that way. In fact, I think it works against people when they start doing that because inside my head, the more someone tries to get me to do something I don't want to do, I tend to become more adamantly against it:

"Come on! How can you not want to do it--orgasms are the fucking BEST!" "I DON'T WANT TO STICK MY PENIS FUCKING ANYWHERE!!!"

I don't know. That sort of situation just aggravates me. I suppose it's the feeling of objectivity that they try to inject into the whole situation: if you like it, you are right; if you don't like it, you are wrong; and if you don't even want to see it in the first place, you are a fucking closed-minded cockbag tosser. (And we all know that being closed-minded is the greatest crime you can commit in these modern, politically-correct times.)

The whole thing is just stupid. I wish I could just avoid all talk of movies in the first place so I never have to walk down that path again, but there are so many that I actually want to see. The difference is that if I know someone else doesn't want to see it, I don't make a big stink of it. Because that's just lame.

*shrug*

Okay, I'm sure half of you out there (of those who haven't already just bailed on my page yet) are rolling your eyes, thinking I'm making mountains out of molehills, and maybe I am. But I just needed something to rail against to make me feel like I'm in control, especially in these academically stressful times. I hope you can understand. :)

EDIT: I find the same to be true for books. There are some people who are totally defensive about someone not wanting to read a book. An example germane to my life: the

Harry Potter

series. I don't want to read them. Apparently, that makes me evil.

Also, I'm glad others understand what I'm saying. Stay strong, my People--we shall overcome.

Comment! (6) | Recommend!

Friday, March 23, 2007 @ 9:46 pm

My sister signed up for the volleyball team at her school. Today, I found out she was moved to the 4th grade level (she's in 5th grade), which means that she was separated from all of her friends that are on the 5th grade team. She isn't even a bad player--in fact, she's one of the better ones. Maybe not the best, but definitely in the top quartile. So why the move?

The athletic department claims that the 4th grade team didn't have enough players. Well, fine. Let's say they didn't. Why my sister? Why separate her from the teammates she knows and trusts and has bonded with and stick her with kids who are all new to the sport entirely? Why not move her and someone else also, so that things would be less awkward?

But we know for a fact that the 4th grade DOES have enough players. Why else would there be TWO 4th graders on the 5th grade team? Granted, they may not be beginners at the sport, but why let them play on the 5th grade team while my sister gets sent back?

"Well, uh... well, your sister can help out the 4th graders who don't know how to play." Yeah? Well, if those TWO 4th graders you moved up are good enough to play for the 5th grade team, why not stick them back where they belong because surely they can help their newbie teammates (slash classmates) out as well. Could this be a bullshit move on the part of the athletic department to inflate the 4th grade team's win percentage this year by sticking a veteran on the team? I think so.

Reasons why this is completely shitty for both my sister and for the 4th grade team:

1) My sister will not get any better by attending practices that teach basic skills to a bunch of kids who've never played volleyball before in their lives. She sure as hell won't learn to play better volleyball playing against kids who can barely hit the ball over the net.

2) My sister feels isolated and doesn't understand why she was singled out to be sent back to the 4th grade team. Even if it means she'll be the star player on the team, being singled out--especially for kids going through puberty--is a fucking awkward experience. (She even told my mom that it feels awkward.)

3) What do new players gain from having their wins handed to them on silver platters anyway? If they keep winning while they technically suck, that does not force them to play better volleyball, so the team ends up suffering if they no longer have my sister on their team.

Possible reasons why the 4th grade girls got moved up to the 5th grade team:

1) One of the 4th graders is the daughter of the athletic director's common-law wife. (Oh wait, that's a true story.)

2) I don't even fucking know why the other girl's there. She's not even as good as my sister, or so they say.

I don't know. It reeks of complete bullshit and if the situation is not rectified, I

will

take action and I will pull no punches. I will go with my parents to see the director and to see the principal if need be, and I will fucking eviscerate them with the combined powers of logic and passion until they are nothing but hollowed out bags of flesh.

Comment! (3) | Recommend!

Thursday, March 22, 2007 @ 9:wheneverthefuck pm

I really hate planning because it reminds you of how much crap you have to do. Then you have a constant nagging in the back of your mind that eats away at your brainpower which you need to commit to getting crap on your to-do list done anyway. If there were a more comforting and stress-free way to organize life, I'd do that. Then again, stress-free organization is very much an oxymoron, and going into battle without a strategy is just moronic. Damn, trapped again!

So next week is finals week. In addition to exams, I've got that project that I've been bugging people on here about. All my respondants are women, which is poor form on the sampling front, so

if you've got a Y chromosome and you are feeling particularly generous, please consider helping me out.

(I know that in the last entry I said that would be the last time. Oops, I lied. Sue me.) I'm not at all worried about the grade I'll receive in that class. As long as I turn the project in, I'm sure he'll give me an A in the course. I have never taken an exam in his classes where I've scored lower than a 100%, so I'm not going to waste too much time studying for the final for that class.

Calculus, however, will be a bit of a pain in the ass. I just found out I bombed a quiz I thought I did fantastically well on. It seems that I am just not careful when I do problems. It's like either I make a stupid mistake or I supply an answer that is technically correct but it isn't exactly what they were asking for. I need to read directions more carefully, I guess, but come the fuck on--I do good work so I should be getting more partial credit than I've been given. Given the instructor's track record I can't count on partial credit to carry me through the exam so hardcore studying--here I come.

I can put off studying for my social psych final until after Tuesday, which when the other two exams are. Fuck, it seems like this next week's going to suck balls. Bad timing, too, since I need to step up studying for the biochem GRE which is fast approaching. Ugh, worst scheduling, EVER.

Maybe I shouldn't have sat down to think about all of this. The scary part is that like a mountain in the distance, you know that the thing is freaking HUUUUUUGE. But the closer you get to it, it just keeps getting larger and larger until you're standing at the base thinking to yourself that you don't have the balls to climb the damn thing after all.

Except, that would be bad. Man, I need to grow a pair. And quickly.

Comment! (6) | Recommend!

How incredibly... counter-craptastic?

Wednesday, March 21, 2007 @ 9:whogivesashit pm

So I had my interview today and I think it went well. The PI originally was looking for someone to work on a lower-level project but after looking through my resume, he started talking about the possibility that I could work on one of the more technically difficult projects, assuming he chooses me. He also has some grant proposals floating out there to fund new projects that he thinks I'd be great for... if he, you know, ever gets the funding. (Which is hard to come by these days, thank you very much federal government. *insert long polemical rant about how the administration doesn't give a shit about scientific research*)

I should hear back within the next week about whether or not I got this internship, so cross your fingers and hope for the best!

Oh, I also talked to the internship coordinator after meeting with my prospective PI and she said that there were two more internships opening up that I might be interested in, and that she'd give me a call in the next week if they want me to interview. It's nice to have options and I'm happy that things are looking up.

One last thing: This will be the last time I'll ask so please consider

helping me out with my project

? Thanks!

Comment! (6) | Recommend!