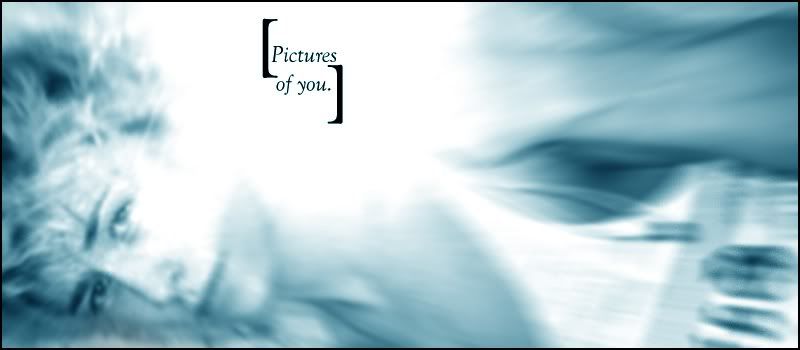 Spring Semester 2010:

* Teaching: Fundamentals of Microbiology - MW 12:00-2:40p
Medical Microbiology - TR 2:00-3:15p
Colloquium in Cell and Molecular Biology - R 3:30-4:30p
Thesis Research - Identification of T Cell Subsets and Immune Response in Colon Cancer Using Immunofluorescence - FOREVER AND EVER

Or rather, entries from the old journal, as it were...

-

An open letter to the College.

(August 27, 2006)

-

Untitled.

(July 16, 2006)

-

Haunted (Part One)

(May 29, 2006)

-

Are we growing up, or just going down?

(May 3, 2006)

-

I had a dream...

(March 19, 2006)

-

...

(March 14, 2006)

-

Enjoy it while it lasts.

(September 12, 2005)

-

Scene: 3:27 AM.

(September 3, 2005)

-

Untitled.

(July 26, 2005)

Psst... if you're looking for the academic writings I used to have here, head to my Reading Room.

Since June 2006...

- A Heartbreaking Work of Staggering Genius by Dave Eggers
- High Fidelity by Nick Hornby
- Travesties by Tom Stoppard
- The Way of the Shaman by Michael Harner
- The Tao of Pooh by Benjamin Hoff
- Nervous Conditions by Tsitsi Dangarembga
- The History Boys by Alan Bennett
- The Dark Child by Camara Laye
- Movie-Made America by Robert Sklar
- Diary by Chuck Palahniuk
- Rant: An Oral Biography of Buster Casey by Chuck Palahniuk
- Galapagos by Kurt Vonnegut
- The Dead Emcee Scrolls by Saul Williams [61.3%]
- Atonement by Ian McEwan
- Junk Science: An Overdue Indictment of Government, Industry, and Faith Groups that Twist Science for Their Own Gain by Dan Agin, Ph.D. [64.4%]
- So Yesterday by Scott Westerfield
- Lucky Wander Boy by D.B. Weiss
- The Things They Carried by Tim O'Brien
- Doctor Who: The Key to Time: A Year-by-Year Record by Peter Haining
- Why Buffy Matters: The Art of Buffy the Vampire Slayer by Rhonda Wilcox
- When You Are Engulfed in Flames by David Sedaris
- The Road by Cormac McCarthy
- 1984 by George Orwell [18.8%]
- Nick and Norah's Infinite Playlist by Rachel Cohn and David Levithan
- Intuition by Allegra Goodman
- V for Vendetta by Alan Moore and David Lloyd (Yes, I realize it's a graphic novel but it still fucking counts!)

Super happy caffeine funtime hour! NOW, with EDIT!

Monday, April 2, 2007 @ too early

If you love coffee and you have access to a stove, you may want to consider buying a macchineta. What is a macchineta, you may ask? Well, this wonderful little invention is a stove-top espresso-maker. Ah, yes--espresso. You don't need a big, honkin', expensive-ass machine to make yourself a decent cappucino--you just need yourself a little macchineta, some milk, and some coffee (obviously), and you're good to go.

Ah, yes. This is how I shall survive the night. Caffeine, I love you.

EDIT:

Dear Caffeine,

Sometimes, I hate you. You are a fucking tease. You play it hot and just when things are going well, you pull away from me and leave me high and dry. Or low and dry, as it were.

I feel like I can do anything when you are inside me, but that never seems to last long enough. Where do you go? Why can't you stick around longer? Don't you love me? Don't you need me like I need you?

Tentatively yours,

Me

Comment! (2) | Recommend!

Sunday, April 1, 2007 @ 8:41 pm

I just need to get through Monday and then I can finally relax for a few days respite before all of my classes/my internship start up. Tonight, it looks like I'll be pulling an all-nighter (if I can bring myself to do physically do it), but I'm keeping the light at the end of the tunnel in sight and will continue to steadily march towards it until I can step outside and breathe the fresh air.

Comment! (6) | Recommend!

Sunday, April 1, 2007 @ 10:32 am

I was so frustrated over the internet situation this morning that I neglected to mention the nice things that happened yesterday.

Despite the fact that I woke up at 6:00 am to get online and take the traffic school course that I have been neglecting to take for the last three months, the day wasn't a total loss. I went to lunch with a couple of high school friends, one of whom I haven't seen since... god when was that? Probably when she brought a whole bunch of friends (i.e. party crashers--one of whom actually went to MY college in SoCal) to a little party my other friend was throwing up in Berkeley. Apparently, that was deemed "uncool" by the organizers of said gathering, although for parties my philosophy is generally "the more, the merrier." That must have been about four years ago now. She's been up in Walla-Walla doing undergrad at Whitman, and next year she'll be going to law school in Penn, so things are really going well for her right now. The other friend at lunch went to UC Davis and is working for a state senator in Sacramento. While it's always hard when you realize that your friends are further along than you are in terms of achieving their professional, academic, or financial goals, you always remember that you're happy for them in the end. Even if you can't help but feel a little twinge of jealousy.

We met up at an Italian restaurant in downtown Mountain View, where we ate our lunch al fresco. It was a really beautiful day and we carried on our conversation for probably an hour after we paid our bill. At that point it was getting late so I had to return home. Too bad, because our original plans included hitting up the gelato place a few doors down. (Best ice cream in the south bay by far.)

That evening, we celebrated my dad's 50th birthday at our family's favorite Chinese restaurant (like, REAL Chinese, not fake-ass Chinese). Most of the family was there, including my sick grandmother. It was really nice to be surrounded by them. All my cousins on my dad's side were there save two of them, which was really thrilling. I'm the third oldest (and as of right now the only college graduate, though that is changing soon); my oldest cousin is in his late 20s, and my youngest cousins are 11 months old. The entire cousin-unit went out to get ice cream after dinner was over (well, except for the babies, of course) and we spent pretty much the entire time laughing. (And my godson--my oldest cousin's son--sang "Peanut Butter Jelly Time!" for us. Fucking HILARIOUS. My cousin said he's going to get him a banana suit for Halloween expressly for that purpose.)

So yeah, yesterday was a good day. Except for the fact that I got none of my work done. Oh well. We all need a break every once in a while, right?

Comment! (2) | Recommend!

Sunday, April 1, 2007 @ 8:30 am

Unfortunately, they have the fastest connection speeds in my area, so we can't go with anyone else.

It's fucking lame and frustrating when they do maintenance on the network and they don't fucking NOTIFY anyone as a fucking COURTESY when they intend to do it?! Isn't that the LEAST they could do for their paying customers?! Just send out an e-mail or a letter about a week before saying "Oh yeah, btw, we'll be down for a few hours Sunday morning. kthxbye!!!1" But no. Not even that. Instead, I now have to complete about an hour of online traffic school (fucking ticket) OVER AGAIN because of their complete disregard for the fact that people may actually depend on their internet service to get shit done.

Unacfuckingceptible. That's one hour of complete boredom I'll NEVER FUCKING GET BACK. EVER. Ugh, if there's one thing I can't stand in life, it's incompetence.

Comment! (3) | Recommend!

Friday, March 30, 2007 @ 3:23 pm

I went to orientation today for the NASA internship. It wasn't too bad, just a bit boring. At least I met someone there. Yes, I actually talked to someone. Several people actually, while waiting in line. Two kids working for Red Bull and one interning like me. Didn't catch the Red Bull kids' names but we had a pleasant conversation on the merits of Batman vs. Superman. The other guy who was in the internship program is a second semester senior at a local high school. I gave him a ride through the base to get to our orientation. Nice kid.

My old ballroom team is going to be in SF for the SF Open ballroom competition. I would go see them tonight but I have a final to take tonight and am fucked time-wise until Tuesday. I figure I'm going back down to Claremont for alumni weekend anyway so I'll be able to see their formation team routine then. I can wait.

Lily Allen's coming on Monday, but I don't know if I'd be able to see her show at the Fillmore. Maybe if I get all my shit together, I can go. Hopefully the tickets won't be hard to come by in that instance. I don't want to commit to buying tickets now, when the chances that I'd be able to use them seem slim. Then again, in the event that I do everything that needs to be done, I'd really like to be able to see her.

Oh, but now I've written too much. I need to get back to studying so I can get this damn thing overwith and move on. Can anyone spare me some motivation? I'm running a little short.

Comment! (12) | Recommend!

Thursday, March 29, 2007 @ 12:44 pm

Sometimes I wish I still had the energy to devote my life entirely to the pursuit of a romantic interest. Like before. But your heart starts to grow calloused after things never go your way and I suppose that is what causes your devotion to flag.

I am going to be single for the rest of my life.

But hey, at the very least, I still have my science...

Comment! (4) | Recommend!

You can't catch me... oh what a catch!

Wednesday, March 28, 2007 @ 6:32 pm



More offbeat comics @ the Perry Bible Fellowship

Comment! (4) | Recommend!

Wednesday, March 28, 2007 @ 7:02 am

Every time I re-read an old blog and find a spelling mistake, a little part inside me dies.

"Instructure"? God, what an idiot. I guess that's why we invented the edit tool, no?

Feh, maybe I should go back to sleep. Still feeling the effects of yesterday. Boo. But I will edit first. I can't deal with that evil thing marring my blog.

Comment! (4) | Recommend!