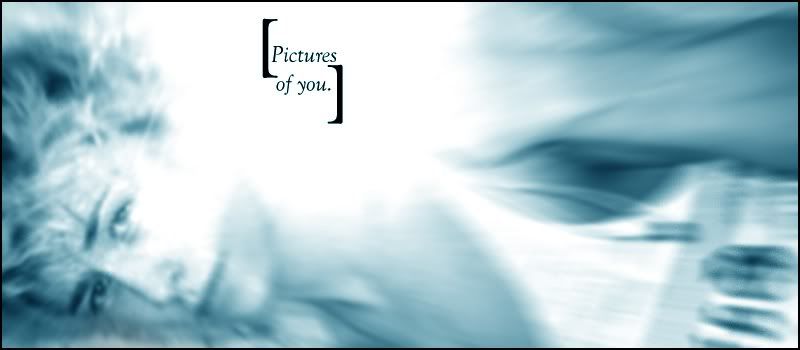 Spring Semester 2010:

* Teaching: Fundamentals of Microbiology - MW 12:00-2:40p
Medical Microbiology - TR 2:00-3:15p
Colloquium in Cell and Molecular Biology - R 3:30-4:30p
Thesis Research - Identification of T Cell Subsets and Immune Response in Colon Cancer Using Immunofluorescence - FOREVER AND EVER

Or rather, entries from the old journal, as it were...

-

An open letter to the College.

(August 27, 2006)

-

Untitled.

(July 16, 2006)

-

Haunted (Part One)

(May 29, 2006)

-

Are we growing up, or just going down?

(May 3, 2006)

-

I had a dream...

(March 19, 2006)

-

...

(March 14, 2006)

-

Enjoy it while it lasts.

(September 12, 2005)

-

Scene: 3:27 AM.

(September 3, 2005)

-

Untitled.

(July 26, 2005)

Psst... if you're looking for the academic writings I used to have here, head to my Reading Room.

Since June 2006...

- A Heartbreaking Work of Staggering Genius by Dave Eggers
- High Fidelity by Nick Hornby
- Travesties by Tom Stoppard
- The Way of the Shaman by Michael Harner
- The Tao of Pooh by Benjamin Hoff
- Nervous Conditions by Tsitsi Dangarembga
- The History Boys by Alan Bennett
- The Dark Child by Camara Laye
- Movie-Made America by Robert Sklar
- Diary by Chuck Palahniuk
- Rant: An Oral Biography of Buster Casey by Chuck Palahniuk
- Galapagos by Kurt Vonnegut
- The Dead Emcee Scrolls by Saul Williams [61.3%]
- Atonement by Ian McEwan
- Junk Science: An Overdue Indictment of Government, Industry, and Faith Groups that Twist Science for Their Own Gain by Dan Agin, Ph.D. [64.4%]
- So Yesterday by Scott Westerfield
- Lucky Wander Boy by D.B. Weiss
- The Things They Carried by Tim O'Brien
- Doctor Who: The Key to Time: A Year-by-Year Record by Peter Haining
- Why Buffy Matters: The Art of Buffy the Vampire Slayer by Rhonda Wilcox
- When You Are Engulfed in Flames by David Sedaris
- The Road by Cormac McCarthy
- 1984 by George Orwell [18.8%]
- Nick and Norah's Infinite Playlist by Rachel Cohn and David Levithan
- Intuition by Allegra Goodman
- V for Vendetta by Alan Moore and David Lloyd (Yes, I realize it's a graphic novel but it still fucking counts!)

Wednesday, May 16, 2007 @ 8:52 am

It just so happens that a friend is coming into town this weekend on his way back home to Seattle, so that means more

possibly-

drunken (and non-covalent) bonding with him.

At the same time, I have a paper, a quiz, and a midterm exam to turn in online by Sunday, and a research paper in microbiology due on Tuesday.

The guy ALWAYS picks the wrong time to come around. Bastard.

Comment! (1) | Recommend!

Conflicted. [password protected]

Monday, May 14, 2007 @ 10:55 pm

And why is spanking a child looked down upon?

Monday, May 14, 2007 @ 6:08 pm

I'm at the library right now trying to study. The operative word is "trying," because I am so annoyed at this point by screaming children that there really isn't much studying being done.

Oh, if only we lived in a society in which disciplining other peoples' children were acceptable. Like, if we lived in a tribe or something like that where one child is EVERYONE'S child. Ugh. If fucking only.

Honestly. If you're going to a goddamned library, you better be prepared to keep your child quiet. If you can't do that, stay the fuck at home.

I have the child in my sights right now. My mind is wandering to a dreamland where I might be able to get some justice for this crime...

Comment! (4) | Recommend!

Sunday, May 13, 2007 @ 11:44 pm

I'm counting on the fact that the syllabus from my film studies class does NOT have a typo, and that it does indeed only take 200 points (out of a total of 320 possible) to attain an "A". Today, I just decided to sleep, eat, and watch

Shaun of the Dead

for shits and giggles, and do I regret it? No, I don't think so. So that meant that those two 10-point film studies assignments due (*checks clock*) one minute ago never got done. Whatever, whatever. I do what I want. What a fucking joke, and I'd totally disrespect the instructor of that class if she weren't (a) so awesome, and (b) actually good at stirring up intelligent discussions in an online class (which is remarkably hard to do, in my experience).

What else, what else...?

My grad seminar tomorrow got postponed to a later date because my professor needs more time to prepare the presentation he was going to give us on the T cell receptor signaling system. Fine by me--less reading to do for tomorrow. It's actually refreshing being on the other end of that line of communication that I use so very often--you know, the extension request e-mail? If he wants to take more time to do his presentation because he didn't have time from grading all those final lab exams in his undergrad course, that's cool. Tit for tat, I guess: I asked him for something, and now he asks us. Don't know if this will impact our final presentations on Friday, but I've already requested time off of work to work on that, so I should be ready by then...

...right?

Right.

Right...

RIGHT.

Definitely.

Comment! (4) | Recommend!

Saturday, May 12, 2007 @ 1:36 pm

I don't want to go into the specifics for fear of my blood boiling all over again, but I hate when I feel like other people are wasting my fucking time.

Comment! (3) | Recommend!

Friday, May 11, 2007 @ 9:00 pm

I can only work 20 hours a week per the terms of my internship. This week, I have already worked 17 hours, which means that tomorrow I will only go in for three. Good news, ordinarily--that means I can start an hour late and leave 2.5 hours early, which is nice. Unfortunately, my dad is asking me to drop off my mom and my sister tomorrow, which means I'll have to wake up at 6:30, drive about 20 miles in rush hour traffic...and then I can't go into work until 11:00 because of an earthquake drill.

I know I won't be able to get back to sleep, but I'll be tired. You know how utterly miserable that feels--when you're tired but completely and agonizingly awake. God, tomorrow will be fucking miserable. Godfuckingdammit. Leave it to my family to ruin something awesome like that.

Unfortunately, I can't refuse to help. Maybe your families don't operate like that, but I can't say no. I mean, I physically am able to do so, but it wouldn't be right. So now I'm trapped by the way I was enculturated and... yeah. It sucks ass.

Comment! (6) | Recommend!

The hills of Los Angeles are burning...

Tuesday, May 8, 2007 @ 11:02 pm

Palm trees are candles in the murder wind
So many lives are on the breeze
Even the stars are ill at ease
And Los Angeles is burning

An errant ember. A dry wind. The parched vegetation.

Sometimes, the universe conspires to destroy and there is nothing you can do to stop it. A grim equation optimized by an evil and subversive calculus, solved to bring us certain tragedy.

Comment! (3) | Recommend!

Tuesday, May 8, 2007 @ 7:33 pm

On the drive from work to my lab exam in microbiology, my nose started to leak blood. I had to drive for 10 miles with my nose tilted slightly upwards with one hand on the wheel and the other applying pressure on my nasal cavity. I would have pulled over, but I was running late as it was, and I didn't want to miss out on a few minutes of the test.

Turns out I could have. The test was over and done so quickly that I could have taken time to tend to my nose properly. In all honesty, I should drop this class because it is far too easy for me, but then again, only a fool complains that he's getting an easy "A" and then drops the class.

Work ethic be damned--if I can get away with studying for only 20-30 minutes per test and STILL get a grade 25% above the average score, I'll take it. We'll just say that it's academic karma for all those times I studied for o-chem (or mo-bio, or cell bio, or...etc.) and was relieved if my scores landed me in the middle of the pack.

This frees up more time for more important things, like not being a hazard on the road. Or stopping the flow of blood without having to worry about crashing into a street lamp. Or sleeping off a long, hot, uncomfortable, not-at-all-gorgeous-thank-you-very-much-weatherlady day...

Comment! (8) | Recommend!