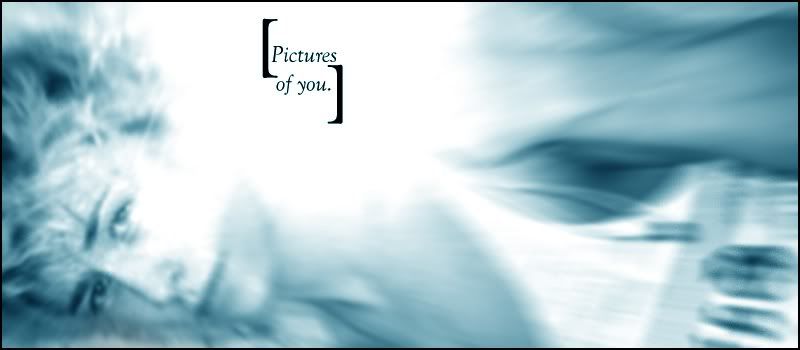 Spring Semester 2010:

* Teaching: Fundamentals of Microbiology - MW 12:00-2:40p
Medical Microbiology - TR 2:00-3:15p
Colloquium in Cell and Molecular Biology - R 3:30-4:30p
Thesis Research - Identification of T Cell Subsets and Immune Response in Colon Cancer Using Immunofluorescence - FOREVER AND EVER

Or rather, entries from the old journal, as it were...

-

An open letter to the College.

(August 27, 2006)

-

Untitled.

(July 16, 2006)

-

Haunted (Part One)

(May 29, 2006)

-

Are we growing up, or just going down?

(May 3, 2006)

-

I had a dream...

(March 19, 2006)

-

...

(March 14, 2006)

-

Enjoy it while it lasts.

(September 12, 2005)

-

Scene: 3:27 AM.

(September 3, 2005)

-

Untitled.

(July 26, 2005)

Psst... if you're looking for the academic writings I used to have here, head to my Reading Room.

Since June 2006...

- A Heartbreaking Work of Staggering Genius by Dave Eggers
- High Fidelity by Nick Hornby
- Travesties by Tom Stoppard
- The Way of the Shaman by Michael Harner
- The Tao of Pooh by Benjamin Hoff
- Nervous Conditions by Tsitsi Dangarembga
- The History Boys by Alan Bennett
- The Dark Child by Camara Laye
- Movie-Made America by Robert Sklar
- Diary by Chuck Palahniuk
- Rant: An Oral Biography of Buster Casey by Chuck Palahniuk
- Galapagos by Kurt Vonnegut
- The Dead Emcee Scrolls by Saul Williams [61.3%]
- Atonement by Ian McEwan
- Junk Science: An Overdue Indictment of Government, Industry, and Faith Groups that Twist Science for Their Own Gain by Dan Agin, Ph.D. [64.4%]
- So Yesterday by Scott Westerfield
- Lucky Wander Boy by D.B. Weiss
- The Things They Carried by Tim O'Brien
- Doctor Who: The Key to Time: A Year-by-Year Record by Peter Haining
- Why Buffy Matters: The Art of Buffy the Vampire Slayer by Rhonda Wilcox
- When You Are Engulfed in Flames by David Sedaris
- The Road by Cormac McCarthy
- 1984 by George Orwell [18.8%]
- Nick and Norah's Infinite Playlist by Rachel Cohn and David Levithan
- Intuition by Allegra Goodman
- V for Vendetta by Alan Moore and David Lloyd (Yes, I realize it's a graphic novel but it still fucking counts!)

Wednesday, June 6, 2007 @ 8:46 pm

I will admit that you know more about draining bedpans, hooking up IVs, and discharging patients than I, but do not for one millisecond think you know more about the actual

science

behind illness in general than I do.

Sometimes,

my mom's such a bitch.

Comment! (4) | Recommend!

Wednesday, June 6, 2007 @ 8:02 pm

My annoying know-it-all nurse-mother has barred the one family member that spends substantial time with me (and thus keeps me sane) from entering my room until we can determine the etiology of the rash. Scabies? Honestly--scabies? I'll admit it's a possibility--based on the intensity of the itch and how the rash looks--but who could I have gotten it from?

Scabies?

Really?

Ugh, whatever.

So I'm alone in my room, boring myself to death watching the television all alone, without my sister to keep me company.

This sucks.

Comment! (1) | Recommend!

The Day Nothing Got Done.

Tuesday, June 5, 2007 @ 7:36 pm

I casually strolled into work an hour and a half late and discovered I had absolutely nothing to do until the person who's training me gets in. She supposedly has the same hours I do on Tuesdays and Thursdays, but guess who didn't show up at all?

This is not even the first time. Okay, to be fair, last time, she went to the hospital because her tonsils were swollen and crap. OR DID SHE? I don't want to doubt her, but come the fuck on, wouldn't a quick e-mail or call either right before she went to the hospital or sometime in the days following be so hard to send? Apparently so. So my PI and I both didn't know where the fuck she was for several days until

I

e-mailed her to say "Hey, what's up?" and she replied "Nothing much. BTW, I went to the hospital and I probably won't be in next week either."

Fucking, ARG.

So pretty much all I did today was fuck around with Melissa (another intern who's working as an administrative assistant for the exobiology branch), drawing pictures and talking about her boy-drama. Alright, I did do one thing today--I took the glassware out of the oven--but that's fucking it.

Such a waste of time. If I weren't getting paid for this, I'd have peaced out after lunch. But I stayed until 4:00 anyway. Mmm. Money.

Hopefully tomorrow I'll have something to do. A boy can only rearrange his binder so many times before wanting to staple himself.

Comment! (7) | Recommend!

I WANT TO CUT MY FUCKING ARMS OFF...

Monday, June 4, 2007 @ 10:45 pm

THEY ITCH LIKE FUCKING HELL AND NOTHING I DO SEEMS TO WORK. THE HYDROCORTISONE I HAVE IS TOO FUCKING WEAK, THERE IS NO FUCKING BENADRYL IN THE HOUSE (WHICH I AM WEARY OF ANYWAY BECAUSE I DOUBT THIS IS AT ALL ALLERGIC IN NATURE), AND EVEN THOUGH I CUT MY NAILS AS MUCH AS I COULD WITHOUT MAKING THEM BLEED, I STILL END UP SCRATCHING MY ARMS. I AM LOSING SLEEP, I AM LOSING MY PATIENCE, AND I'M SURE THAT THE EMOTIONS I'M CURRENTLY FIGHTING THROUGH ARE NOT HELPING MATTERS EITHER.

CUT. THEM. THE. FUCK. OFF.

FUUUUUUUUUUUUUUUUUUUUUCK FUCKFUCKFUCKFUCK FUUUUUUUUUUUUUUUUUCK!!!!!!!!!!!

Comment! (6) | Recommend!

Monday, June 4, 2007 @ 10:04 am

So my grandmother's looking a lot better. Yesterday, my family gathered together to discuss her treatment plan. My grandma ultimately decided to try to get stronger first,

then

try chemo if it's still viable. I think she made a wise choice there: if she tries it now, it would be disastrous, plus she would feel like complete and total shit for the rest of her life. At least she'll be working towards feeling a lot better, then attempting to extend her life a little longer when the therapy would have a better chance of working.

The drama comes in because when my dad and uncle and auntie were discussing the plans that needed to be made, my mom felt that our family has adopted an unfair burden compared to the others, especially my auntie's family--considering that she got the bulk of my grandparent's inheritance through buying the house from them for 30% of what it would have been sold at on the housing market in the mid-1990s. And that would have been a lot--we DO live in the Bay Area, after all.

She's also unemployed, yet she had the gall to say that we did something wrong when we promised my grandmother we'd come to visit when we didn't because our own business got in the way. You see, my grandfather's been pretty stressed out recently over having to take care of my grandma, because he can't leave the house to do errands or anything like that. So we said we would come and relieve him of his duties for a little while, but we couldn't because we had our own errands to run and that was the only time we could do it. Why my auntie didn't come over--since she lives 5 minutes away and doesn't even fucking work--is beyond me, especially since she took away the only thing my grandparents had that was of any value. Why are WE the ones who have to drive 20 miles to get there--when we are immensely busy during the week, when we already do so much that it's disrupting our own lives to the point where my family doesn't get home until 8:00 and my sister can't do her homework efficiently because she doesn't have a solid block of time to do so. Wasn't my dad the one to spend the most time in the hospital with my grandmother? Wasn't

I

the one who had to drop a class because of all the time I spent in that hospital over the weekend, making sure that my grandpa had time to eat, take a shower, get stuff from the house? Wasn't my mom the only one who changes my grandmother's fentanyl patch whenever it needs a change--every three days? Don't we already see them almost every single day?

It's frustrating, the incongruity of expectations. It pisses me off to know that I'm the one being depended on--and I have a job, I go to school, I am preparing for my biochem GRE to enter grad school. Why can't one of my other cousins--especially the unemployed one--go over to relieve my grandfather from his duties every once in a while. Does he not live within walking distance?

So at this point, my mom feels like everyone expects more from us. I feel like everyone expects more from me, personally. And we're still stuck with an equal share of the bill for the hospice care--the ONLY thing that the families share equally.

Whatever. I'm better than all of them. I'll do whatever I need to do, and when I'm on top, they can all beg me for help and kiss my ass. And I'll give it to them, because I'm like that, but I'll make sure they know who's in charge.

Comment! (4) | Recommend!

Friday, June 1, 2007 @ 9:17 pm

Friday, June 1, 2007 @ 9:57 am

Remember that graduate seminar I kept stressing out about? I thought for sure I would get a "C" (or lower), but apparently, I got a B-fucking-plus!!!

HOLY FUCKING SHIT, THIS TOTALLY MAKES MY MONTH (and it has barely even started)!!!

Comment! (6) | Recommend!

Tuesday, May 29, 2007 @ 11:36 pm

It flares up when I'm stressed.

When it flares up, it makes me itchy.

When I am itchy, I become irritable.

When I am irritable, I become more stressed out.

Repeat until all skin cells have been scratched off...

Comment! (4) | Recommend!