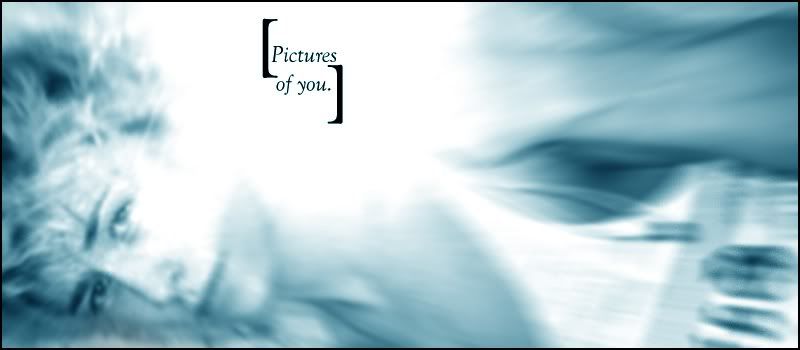 Spring Semester 2010:

* Teaching: Fundamentals of Microbiology - MW 12:00-2:40p
Medical Microbiology - TR 2:00-3:15p
Colloquium in Cell and Molecular Biology - R 3:30-4:30p
Thesis Research - Identification of T Cell Subsets and Immune Response in Colon Cancer Using Immunofluorescence - FOREVER AND EVER

Or rather, entries from the old journal, as it were...

-

An open letter to the College.

(August 27, 2006)

-

Untitled.

(July 16, 2006)

-

Haunted (Part One)

(May 29, 2006)

-

Are we growing up, or just going down?

(May 3, 2006)

-

I had a dream...

(March 19, 2006)

-

...

(March 14, 2006)

-

Enjoy it while it lasts.

(September 12, 2005)

-

Scene: 3:27 AM.

(September 3, 2005)

-

Untitled.

(July 26, 2005)

Psst... if you're looking for the academic writings I used to have here, head to my Reading Room.

Since June 2006...

- A Heartbreaking Work of Staggering Genius by Dave Eggers
- High Fidelity by Nick Hornby
- Travesties by Tom Stoppard
- The Way of the Shaman by Michael Harner
- The Tao of Pooh by Benjamin Hoff
- Nervous Conditions by Tsitsi Dangarembga
- The History Boys by Alan Bennett
- The Dark Child by Camara Laye
- Movie-Made America by Robert Sklar
- Diary by Chuck Palahniuk
- Rant: An Oral Biography of Buster Casey by Chuck Palahniuk
- Galapagos by Kurt Vonnegut
- The Dead Emcee Scrolls by Saul Williams [61.3%]
- Atonement by Ian McEwan
- Junk Science: An Overdue Indictment of Government, Industry, and Faith Groups that Twist Science for Their Own Gain by Dan Agin, Ph.D. [64.4%]
- So Yesterday by Scott Westerfield
- Lucky Wander Boy by D.B. Weiss
- The Things They Carried by Tim O'Brien
- Doctor Who: The Key to Time: A Year-by-Year Record by Peter Haining
- Why Buffy Matters: The Art of Buffy the Vampire Slayer by Rhonda Wilcox
- When You Are Engulfed in Flames by David Sedaris
- The Road by Cormac McCarthy
- 1984 by George Orwell [18.8%]
- Nick and Norah's Infinite Playlist by Rachel Cohn and David Levithan
- Intuition by Allegra Goodman
- V for Vendetta by Alan Moore and David Lloyd (Yes, I realize it's a graphic novel but it still fucking counts!)

Saturday, February 27, 2010 @ 10:37 am

That lying fuck-face bitch that married my grandfather is going to get what she deserves.

Good thing, too. I thought I was going to have to kill her.

Comment! (6) | Recommend!

Sunday, February 21, 2010 @ 4:15 pm

Sometimes your best isn't good enough and you just have to give into the feeling that no matter how much it breaks your heart to admit you're powerless to save someone you really care about, you can't.

But at least you loved enough to try.

Comment! (0) | Recommend!

Friday, February 19, 2010 @ 11:27 pm

I know it's only been a week but...

...I really missed Alex, my best friend.

Although... kinda getting tired of the fact that people keep asking me (and maybe him--though I hope not) if we are together.

Doesn't really help when Jenny introduced us as basically a couple. Cut to an awkward conversation where I had to explain to her friend that we are not romantically linked...

Comment! (2) | Recommend!

Thursday, February 18, 2010 @ 8:53 am

We went to Ash Wednesday mass at the Mission last night, then proceeded to get wasted.

If last night was any indication, I am not going to be giving up booze or weed for Lent.

Had to sneak out of the pool house again this morning; slept over because I could not drive home. Got out to the front yard and Poochie came running and wouldn't let me go. I kept telling Poochie, "Poochie, I need to leave. I can't let your owners [Nick's parents] see me this early in the morning." Right. Like the dog understands English. Or logic.

Made it out without incident though.

Today's going to be a long day.

Comment! (0) | Recommend!

Wednesday, February 17, 2010 @ 8:29 am

Me: Do I fail as a best friend or something? He just sent me this message that said "How's life?"... as if life radically changed since I last talked to him... TWO DAYS AGO. I don't get it. In those two days, were we so incredibly out of touch that he has to ask how my LIFE is right now? It's not like we've not seen each other in months; it's not like we haven't spoken in years... I don't get it.

Kathie (my advisor): [abruptly stopping her work and popping her head out of her office] Who is this? Is this Nick?

[Angelique and Vince start laughing their asses off]

Me: No...

Kathie: Oh, I just assumed. He hasn't come around lately and he's usually

always

in here looking for you!

Me: Yeah, Kathie. I mean, that was a good guess... [pause] But no, it's uhh... it's his twin brother.

Kathie:

Oh...

I see.

[Angelique and Vince laugh their asses off again, while I facepalm]

Comment! (2) | Recommend!

Tuesday, February 16, 2010 @ 11:33 pm

I am not obligated to help my sister with her schoolwork in any fucking way. Please remember that when I do you a fucking favor by agreeing to your request to make suggestions for any stupid writing assignment she has, mom. Yes, that's right: I AM FUCKING DOING YOU GUYS A FAVOR. IT IS NOT MY RESPONSIBILITY THAT SHE DOES WELL IN SCHOOL, IT IS NOT MY DUTY TO MAKE SURE THAT SHE DOES WELL ON HER ASSIGNMENTS, AND IT IS NOT MY JOB TO MAKE SURE THAT EVERYTHING SHE DOES IS PERFECT. So please stop calling me like it's my sacred duty to do so. I have my own life, my own fucking problems to deal with, and I can't keep bending over backwards to make sure that she dots her fucking I's and crosses her fucking T's--ESPECIALLY not when I can't always be sure that I'm doing it myself when I'm so fucking tired from everything I contend with in my own life.

Leave me the fuck alone.

Comment! (3) | Recommend!

Tuesday, February 16, 2010 @ 8:06 am

First exam today.

I'm hoping that my ability to assimilate information quickly and my nearly photographic memory more than make up for my complete lack of study skills...

Otherwise I'm so incredibly fucked.

EDIT:

It kinda worked out in the end. I'm not saying I aced the test (I was shaky on a few of those questions), but really, for the time investment I put in (especially in comparison to everyone else in that class), I'm pretty sure I got the highest returns.

Usually works that way. :)

Comment! (2) | Recommend!

Saturday, February 13, 2010 @ 9:47 pm

The worst part is I don't know if he did that because he knows I'd totally move in with his brother, and if that room were still available by the time my lease was up, he'd be out of a potential roommate.

I hate doubting my friends. But lately (as in, in the last few months), he's given me reasons to doubt his motivations. Jealousy's an ugly color on him.

So why the hell is he still so attractive?

Ugh, so over it. I'm just drunk.

Comment! (1) | Recommend!