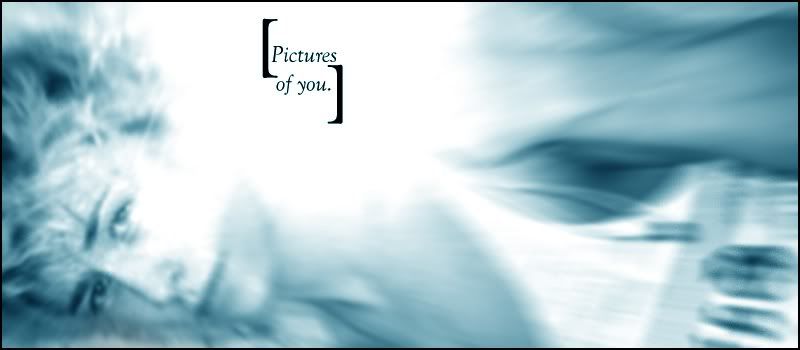 Spring Semester 2010:

* Teaching: Fundamentals of Microbiology - MW 12:00-2:40p
Medical Microbiology - TR 2:00-3:15p
Colloquium in Cell and Molecular Biology - R 3:30-4:30p
Thesis Research - Identification of T Cell Subsets and Immune Response in Colon Cancer Using Immunofluorescence - FOREVER AND EVER

Or rather, entries from the old journal, as it were...

-

An open letter to the College.

(August 27, 2006)

-

Untitled.

(July 16, 2006)

-

Haunted (Part One)

(May 29, 2006)

-

Are we growing up, or just going down?

(May 3, 2006)

-

I had a dream...

(March 19, 2006)

-

...

(March 14, 2006)

-

Enjoy it while it lasts.

(September 12, 2005)

-

Scene: 3:27 AM.

(September 3, 2005)

-

Untitled.

(July 26, 2005)

Psst... if you're looking for the academic writings I used to have here, head to my Reading Room.

Since June 2006...

- A Heartbreaking Work of Staggering Genius by Dave Eggers
- High Fidelity by Nick Hornby
- Travesties by Tom Stoppard
- The Way of the Shaman by Michael Harner
- The Tao of Pooh by Benjamin Hoff
- Nervous Conditions by Tsitsi Dangarembga
- The History Boys by Alan Bennett
- The Dark Child by Camara Laye
- Movie-Made America by Robert Sklar
- Diary by Chuck Palahniuk
- Rant: An Oral Biography of Buster Casey by Chuck Palahniuk
- Galapagos by Kurt Vonnegut
- The Dead Emcee Scrolls by Saul Williams [61.3%]
- Atonement by Ian McEwan
- Junk Science: An Overdue Indictment of Government, Industry, and Faith Groups that Twist Science for Their Own Gain by Dan Agin, Ph.D. [64.4%]
- So Yesterday by Scott Westerfield
- Lucky Wander Boy by D.B. Weiss
- The Things They Carried by Tim O'Brien
- Doctor Who: The Key to Time: A Year-by-Year Record by Peter Haining
- Why Buffy Matters: The Art of Buffy the Vampire Slayer by Rhonda Wilcox
- When You Are Engulfed in Flames by David Sedaris
- The Road by Cormac McCarthy
- 1984 by George Orwell [18.8%]
- Nick and Norah's Infinite Playlist by Rachel Cohn and David Levithan
- Intuition by Allegra Goodman
- V for Vendetta by Alan Moore and David Lloyd (Yes, I realize it's a graphic novel but it still fucking counts!)

Saturday, January 5, 2008 @ 12:53 am

Two by two, hands of blue.

Wednesday, January 2, 2008 @ 5:13 pm

Alright, so that subject line doesn't directly connect with the entry, but I feel as it is a new year, we can buck tradition, maybe just this once.

(The indirect connection, for all you

Firefly

fans, is that just as River is filled with abject fear at the thought of her captors, so am I at the thought of finally sitting down and finishing these personal statements.)

I'm sitting in an abnormally noisy Starbucks, surrounded by the din of espresso machines, blenders, and the thickly-accented voices of immigrant tech workers. There is an odd fellowship of middle-aged high-tech employees fresh out of work for the day and ever-younger-looking teenagers wasting away the last days of winter vacation. Though I am sandwiched between these two groups in age, I feel largely out of place: a stranger in a strange land; a shadow pressed between light and matter.

And what does it matter--the words on this screen, faithfully reproduced to fragile paper?

What does it matter?

It matters immensely. Every word--every inkblot hemorrhage on that sterile-white sheet--will be scrutinized, interpreted like a Rorschach test of my seriousness and commitment to advanced study.

It is so important to me that my statement be perfectly clear and accurately reflective of my intentions that out of the entire application and all it involves--the GRE scores, the grades, even the letters of recommendation--I am most petrified that my statement will let me down. Even with my somewhat lackluster at times undergraduate performance.

Sigh.

I hope this thing turns out well...

Comment! (1) | Recommend!

Resolutions are not my solution.

Monday, December 31, 2007 @ 12:35 am

I'm tired of my mother asking me what my resolutions are this year.

I don't believe in New Year's resolutions because I feel like I should be improving myself throughout the entire year. The minute you realize you need to do something to improve yourself, you should set out to find some time to do it. You shouldn't wait around for the new year to come in order to formally resolve to do something.

I think I'm going to tell her that the next time she asks...

Comment! (6) | Recommend!

Saturday, December 29, 2007 @ 8:58 am

The wiring in our house is shit. I think when they built this house, they never really expected--with all of their 1960s foresight--that bedrooms would have that many electrical appliances in the future. As a result, they placed my room, my sister's room, and the kitchen (?!) on the same circuit.

Recently, due to the cold weather, we've been running space heaters throughout the house and it has placed considerable strain on our circuitry. Every once in a while, the strain is so much that the electricity craps out in both my room and my sister's (as well as the kitchen). It's easily fixable with the flip of a switch, if not annoying. But the annoyance factor exponentially increases when my computer's on and it suddenly gets axed.

I've found, however, that with my computer off, I'm not so likely to sit at it and waste time. If I actually NEED to do something, I can always just turn it on. But since it isn't staring me in the face every time I come into my room, I'm apt not to surf online aimlessly for hours on end.

I've decided to turn off the computer when I don't need to use it for something. This will probably mean less time on NuTang (after it was put back online and everything!) but I think it will inspire me to write a lot less I'm-bored-and-posting-because-I-have-nothing-to-do-right now posts.

Alright, back to apps, then I'll pull the plug.

Comment! (5) | Recommend!

Thursday, December 27, 2007 @ 1:31 pm

Why is cash considered to be an inappropriate/tacky gift? Like gift cards are so much better: they're much more restrictive and are actually a very clever ploy on the part of retailers to basically ensure they get money for nothing.

Speaking only for myself, in most cases, I'd much rather get cash than a gift card or many other presents. That way, I can make sure I get what I really want as a gift. Or, you know, pay off some bills (which in itself is as great a gift as I can give myself).

Because, really... what the hell do I want with an article of clothing that may not be my style? Why would I want a gift card from some place I rarely shop at? I don't. Just stick some cash in that birthday/Christmas card and I'll be happy. I won't think it's tacky or inappropriate at all. On the contrary, it's the best present I could ever conceive of.

Comment! (3) | Recommend!

Wednesday, December 26, 2007 @ 8:04 am

Now that Christmas is over and done with, I can concentrate on using the rest of my vacation time to finally get all my apps sent out.

Ugh.

Poo.

Comment! (3) | Recommend!

I never expected to grow flowers in the desert.

Tuesday, December 25, 2007 @ 9:23 am

But I can live and breathe and see the sun in wintertime.

First off, Merry Christmas to all those that celebrate it, happy holidays to those that don't, and a very special happy birthday to...

me!

Yesterday, my family hosted the annual Christmas party (again) and it seemed like we could barely keep all the presents under the tree. I can't remember a time when the area under the tree was that full--probably some time back in the 90s when we were all prosperous and we didn't have such a crappy economy--but this year completely blew me away, especially considering that our extended family hasn't exactly had the best year financially, what with the death of my grandmother and all the expenses that went along with that.

But maybe that's why there were so many presents under the tree this year. Maybe we needed a little something to cheer us up in our first Christmas without our matriarch. It was a strange to be without her in this holiday season. There was a bittersweet atmosphere around the house for sure. You could tell everyone was thinking about it, even in a subconscious capacity, and while we all genuinely had fun in each other's company last night, you could feel that something was missing.

Regardless, all the kids were ecstatic with the presents they received. I wish we had toys like that when we were their age. Sometimes we'd get ill-fitting clothes instead and then we'd have to feign happiness. (I was never really good at that.) Without e-mail around, there was no way to mass communicate our Christmas wishlists so rarely were our wishes fulfilled. We had good times though, same as now, and isn't that the real meaning of the holiday season?

I'm so glad I have a family I can always return to, no matter where life ultimately will take me, and it will feel like home.

Comment! (3) | Recommend!

Intolerance is intolerable.

Sunday, December 16, 2007 @ 11:24 pm / 9 more days

I'm going to be very frank. Blame it on my TMItis, but if you can't handle a case of too much information, then please, avert your eyes.

I've got the shits.

I've gone 3 times in the last 5 hours, and each time--explosions.

I shit (har, har) you not.

So now I'm thinking: Is it a legitimate case of viral or bacterial diarrhea, or is it just my lactose intolerance?

It's a real curse, because I love my dairy--how can I live without a bowl of Kashi in the morning, without my aged cheeses, without ice cream every once in a while? I can't. No, I won't.

Thinking back on the day, I think I've consumed more than usual. I ate plenty of cheese today, had a large bowl of cereal, even drank a glass of milk on top of everything. I can usually avoid blowing my insides out of my ass if I limit the amount of lactose I consume to that contained in a large glass of milk, but clearly I've eaten more than that...

You know, I always tell myself I should buy the lactase enzyme pills, but I never do. I guess it really isn't all that bad until a day like this--when nothing in the fridge will do except for a hunk of havarti melted between fresh baked French bread.

If I'm still gastointestinally impaired tomorrow, I'm going to stay home from work.

Nothing is less professional than a man in a lab coat waddling down the wall (because, remember, my ass cheeks would be clenched) towards the bathroom.

Fucking, ew.

P.S. I was seriously considering linking a picture of tubgirl in the blank space directly above this entry, but I thought that would be too uncouth, even for me.

And if you don't know what tubgirl is, then you, my friend, are one lucky bastard.

And now, a picture of something adorable for people who had the good sense not to read the entry above. You know, a way to prevent the ever-dangerous accidental TMI.

Comment! (2) | Recommend!