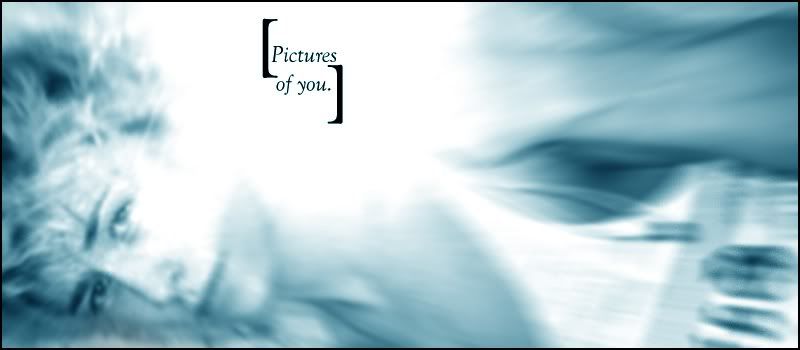 Spring Semester 2010:

* Teaching: Fundamentals of Microbiology - MW 12:00-2:40p
Medical Microbiology - TR 2:00-3:15p
Colloquium in Cell and Molecular Biology - R 3:30-4:30p
Thesis Research - Identification of T Cell Subsets and Immune Response in Colon Cancer Using Immunofluorescence - FOREVER AND EVER

Or rather, entries from the old journal, as it were...

-

An open letter to the College.

(August 27, 2006)

-

Untitled.

(July 16, 2006)

-

Haunted (Part One)

(May 29, 2006)

-

Are we growing up, or just going down?

(May 3, 2006)

-

I had a dream...

(March 19, 2006)

-

...

(March 14, 2006)

-

Enjoy it while it lasts.

(September 12, 2005)

-

Scene: 3:27 AM.

(September 3, 2005)

-

Untitled.

(July 26, 2005)

Psst... if you're looking for the academic writings I used to have here, head to my Reading Room.

Since June 2006...

- A Heartbreaking Work of Staggering Genius by Dave Eggers
- High Fidelity by Nick Hornby
- Travesties by Tom Stoppard
- The Way of the Shaman by Michael Harner
- The Tao of Pooh by Benjamin Hoff
- Nervous Conditions by Tsitsi Dangarembga
- The History Boys by Alan Bennett
- The Dark Child by Camara Laye
- Movie-Made America by Robert Sklar
- Diary by Chuck Palahniuk
- Rant: An Oral Biography of Buster Casey by Chuck Palahniuk
- Galapagos by Kurt Vonnegut
- The Dead Emcee Scrolls by Saul Williams [61.3%]
- Atonement by Ian McEwan
- Junk Science: An Overdue Indictment of Government, Industry, and Faith Groups that Twist Science for Their Own Gain by Dan Agin, Ph.D. [64.4%]
- So Yesterday by Scott Westerfield
- Lucky Wander Boy by D.B. Weiss
- The Things They Carried by Tim O'Brien
- Doctor Who: The Key to Time: A Year-by-Year Record by Peter Haining
- Why Buffy Matters: The Art of Buffy the Vampire Slayer by Rhonda Wilcox
- When You Are Engulfed in Flames by David Sedaris
- The Road by Cormac McCarthy
- 1984 by George Orwell [18.8%]
- Nick and Norah's Infinite Playlist by Rachel Cohn and David Levithan
- Intuition by Allegra Goodman
- V for Vendetta by Alan Moore and David Lloyd (Yes, I realize it's a graphic novel but it still fucking counts!)

Today's a good day. A very, very good day.

Saturday, May 10, 2008 @ 5:10 pm

And I couldn't have predicted it, since I woke up at 6:15 this morning.

I'm starting to do private tutoring in addition to the hours I work at the Tutorial Center to supplement my income. Today, I tutored two girls in organic and biochemistry. In addition to the $50 cash I got for only about 2.5 hours of work, they also said that I'd make a good teacher. At the end of the session, one of the girls remarked that she couldn't believe that she learned more in an hour with me than she learned in lecture all week long. In addition to the wonderful boost that gave me ego, I found myself feeling really proud, not only of myself, but of them because towards the end there, they started getting more and more of the problems completely correct and could explain the steps of how they arrived to those answers. The more I tutor, the more I come to realize that I want to share my love and knowledge of the sciences with people; I want to teach. Even if I become a researcher in industry, I'd still want to teach on the side--maybe night classes at a community college even. It's just completely rewarding to actually observe that moment when everything clicks in the brain of a student and it all started to make sense to them. I'm addicted. Tomorrow, I get another fix, this time with a different girl who needs help in microbiology. I know it takes a chunk out of my weekend to take the time to help these people, but I find myself looking forward to it.

When I got home today, there was another surprise. Remember my cousin: the ungrateful Bitchfacecuntbagslutwhorefuckertwat McAsshole? She moved out today. Good fucking riddence! Lately we've been hearing strange shuffling noises coming from her room and today, she was just suddenly gone. My mom is relieved, although she is also kinda pissed that my cousin just left without so much as an explanation for her behavior the last few months or whatever. Personally, I don't care what sort of axes she has to grind against my mother or my family; I'm just glad her stupid axe is GONE.

Comment! (4) | Recommend!

Thinking ahead to Fall Semester.

Wednesday, May 7, 2008 @ 5:54 pm

Well, a partial list of courses came out today at SDSU's WebPortal, and let me just say: choosing courses is going to be HARD. There are so many interesting classes related to what I want to do and I want to take them all! (But to do so would pretty much result in me being in this Master's program for three [or more!] years...)

One thing I am rather excited about is that since this will be my first semester in the M.S. program, I don't have a formalized Plan of Study yet, which means that at least for this semester, I can choose whatever crazy classes I want to take! However much free reign I have over my first semester of schooling, I will show restraint and actually choose courses that I will likely include on my Plan of Study so I won't have to backtrack and stay in the program any longer than I have to. But I think I will go ahead and take one course that I know for sure WON'T be on there (it sticks out like a sore thumb so you DEFINITELY will know it when you see it)...

So these are the possibilities (so far) I have to choose from:

BIOL 567:

Advanced Biochemistry, Cell, and Molecular Biology

BIOL 576:

Developmental Biology

BIOL 590:

Physiology of Human Systems

CHEM 711:

Chemical Thermodynamics

CHEM 764:

Membrane Biochemistry

FILIP 101:

Elementary Tagalog I

M BIO 601:

Colloquium in Molecular Biology

M BIO 610:

Advanced Topics in Molecular Biology

I'm leaning towards the following:

FILIP 101

(4 units) MW 2:00-3:50p

M BIO 610

(3 units) MW 4:30-5:45p

BIOL 567

(4 units) TR 9:30-10:45a F 9:00-9:50a

BIOL 590

(4 units) TR 2:00-3:50p

M BIO 601

(1 unit) R 4:00-4:50p

Of course, this could all change if I get a TA/GA appointment, in which case, I'll probably have to drop a class. I wish they'd tell me already. Geez. The suspense is killing me!

Oh, but now I'm getting ahead of myself. I haven't yet found a place to live, so until that gets squared away, thinking about what classes to take seems like the least of my problems.

Comment! (2) | Recommend!

Sunday, May 4, 2008 @ 3:52 pm

A few bad things:

- Snugglebum didn't have "unusual lung noises". Turned out the noises were actually a fucking heart murmur. The vet said it's more often than not a benign murmur--one which WILL impact what anesthesia they can use on him when he's neutered, but not one which will significantly shorten his lifespan. But they won't know for sure without chest x-rays and/or ultrasounds, which I somehow need to find money for. Luckily, my parents love the cats enough that they'll probably pay for them. They are, after all, going to keep them while I'm away at graduate school.

- While Bickle is recovering well from his surgery, I feel bad for having to isolate him indoors while he recovers. He gets more antsy every day and he really wants to go outside and play with Snugglebum, though I suspect that he is enjoying being a normal housecat as well. Snugglebum seems (and sounds) lonely outside, and so I have to keep arranging little supervised play sessions between them, which usually involves me having to separate them when they get the desire to wrestle.

A few good things:

- I sent in official word that I was accepting the offer from San Diego State University regarding admission to their M.S. program. A few days ago, the head of the department e-mailed me about their decision to award me a freaking SCHOLARSHIP "based on [my] scholastic achievements." That caught me off guard. Scholarship? Really? Granted, I'm not STUPID or anything, but I didn't think that my academic record screamed "Give me a scholarship, or give me death!" Though, fuck, I'm not complaining. I'm in no position to turn down free money, however odd I think the circumstances are surrounding it.

- I spent some time yesterday with my extended family for my twin cousins' 2nd birthday. It was nice being with them again, especially knowing that these sorts of interactions will only decrease from here on out.

Comment! (6) | Recommend!

I am NOT having children, part 2.

Thursday, May 1, 2008 @ 8:29 am

Today I had an appointment set up for my two cats at the low cost spay/neuter/vaccination clinic to get some essential vaccines and to get them fixed. I took them there and Bickle--the poor cat--shat in the carrier because he is not used to that at all.

Despite his accident, Bickle passed his pre-op checkup, so I have to pick him up this evening. Snugglebum, however, did not pass his checkup. The vet tech who brought him back out said that he had some unusual lung noises and that I had to take him to the vet to try to get that sorted out.

So I called the vet a few minutes ago and set up an appointment for tomorrow for Snugglebum. $54, that will cost me. But I want these cats healthy so I guess I'll have to pay for it. And when Snugglebum is all better, I have to repeat this whole lengthy process all over again.

I wonder if he'll willingly go into the carrier ever again...

Comment! (9) | Recommend! (1)

Sunday, April 27, 2008 @ 6:55 pm

Living on the equator would be so much simpler because when the sun rises, you know it's 6:00 am, and when it sets, you know it's 6:00 pm. It bothers me to hell that the sun is still up and trying to trick my brain into thinking that there's a lot of time left to do my work before bedtime when in reality, there really isn't. It's just the cruel tilt in the axis of the Earth teasing you with sunlight.

It was also hot today, which made sitting at this desk in a leather chair a very sticky experience.

Fuck this warm weather. If we could tone it down to "average", I'd be fine with that.

Comment! (7) | Recommend!

Faithless. [Password-Protected]

Friday, April 25, 2008 @ 7:48 pm

Thursday, April 24, 2008 @ 7:53 pm

Comment! (4) | Recommend!

Monday, April 21, 2008 @ 2:08 am

WARNING

: Long, arguably pointless entry ahead.

Aren't weekends supposed to be for resting?

On Saturday morning, on a whim, I decided to empty out my closet and begin paring down my assortment of clothing. I have had enough of the bottoms of my drawers dislodging from the volume of clothes I attempt to stuff into each one. Somehow I always end up with not enough space to store everything anyway. It's not like I actually wear every piece of clothing, either. I've just grown accustomed to having them; some of these things I've had since high school.

I systematically and unceremoniously dumped the contents of each dresser drawer--and of the closet as a whole--onto the floor of my room into two giant piles. By the time I was done doing the rough sort, there was barely enough room to walk through, despite my efforts to maintain a tiny pass between the mountains. I probably would have failed as a pioneer, although to be fair, landslides were not an uncommon occurrence.

Midway through folding the unwanted clothes and putting them into a box, my dad enlisted my help in loading cargo boxes into the car to ship to the Philippines. On the way to the drop-off point, we bought a bright green umbrella from Kohl's for the patio set in the backyard (it looks stunning set against the green of the trees!). We also stopped by my grandfather's house to pick up what I was led to believe was "a few plants" that he had dug up from the backyard to give to us. I guess estimation is not one of my family's fortes, because it took us a good half hour to relocated all the plants into the back of the SUV. We even didn't have space for my deceased grandmother's nearly 40-year-old long-stem rose bushes (which we definitely will have to return for later), although somehow we managed to dig up and cram a few 8-foot-tall bamboos into the car length-wise. The ride home was interesting.

Of course, what goes in must come out, so we spent another half hour moving all the plants around again. By this time, it was getting late, and I hadn't yet purchased my baking supplies. On Sunday, my friend held a fundraiser for her dad who's running for the county board of supervisors, and she had asked me to bake something for a bake sale. I bought everything I needed and started preparing to bake around 10:30. I wasn't completely done until around midnight. I fell asleep on the couch waiting for the hazelnut brownies to cool down. I woke up at 3:00 in the morning to cut the brownies to size and to clean up after myself, which was a soul-crushing experience. There is nothing more depressing than waking up at 3:00 am and seeing a pile of chocolate-covered bowls and saucepans and miscellaneous utensils staring you in the face.

I eventually made it back to my room, where I tripped several times on the way to the bed. I slept for only a few hours before waking up to take care of Sunday stuff, which included cooking breakfast, picking up my cousin's car from his apartment while he's on a trip, and quickly doing some homework. I also managed to stuff more things into boxes, but the task is still far from over and as I type, clothes and other odds and ends are still strewn across the floor.

At around 1:00 this afternoon, I dropped off the baked goods at the fundraiser and stayed to catch up with my friends and help out a little bit. I ended up staying for around six hours, most of which I spent standing which is a hard thing to do when your back, legs, and feet hurt like hell. I don't think it's any surprise that, when I got home, I plopped down on my bed and passed out. I promised myself that it would only be a short nap, and that I'd get up and finish the spring cleaning that I already started, but I completely broke that promise. It will have to wait until probably this evening, although I will be at school/work from 8:00 am-7:00 pm tomorrow, which means I won't get home until 7:30ish. I think it would be safer to say that everything won't be picked up off the floor and organized into my closet/dresser until at LEAST Tuesday night. That's a lot of tripping and slipping and--my least favorite part--falling to look forward to. As for now...

...back to sleep.

OH.

Update on my kitty. I called the vet and told her what I thought happened. I visually confirmed it as a bite and she didn't feel it was completely necessary to bring him in, so rather than spend the money for the vet visit, I'm just saving up for more vaccines and licensing. Because apparently, you have to license any cat or dog over the age of four months. Oops. Things I didn't know.

Comment! (3) | Recommend!