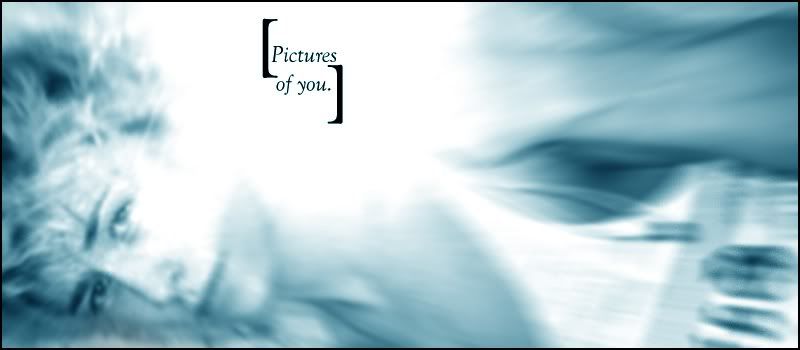 Spring Semester 2010:

* Teaching: Fundamentals of Microbiology - MW 12:00-2:40p
Medical Microbiology - TR 2:00-3:15p
Colloquium in Cell and Molecular Biology - R 3:30-4:30p
Thesis Research - Identification of T Cell Subsets and Immune Response in Colon Cancer Using Immunofluorescence - FOREVER AND EVER

Or rather, entries from the old journal, as it were...

-

An open letter to the College.

(August 27, 2006)

-

Untitled.

(July 16, 2006)

-

Haunted (Part One)

(May 29, 2006)

-

Are we growing up, or just going down?

(May 3, 2006)

-

I had a dream...

(March 19, 2006)

-

...

(March 14, 2006)

-

Enjoy it while it lasts.

(September 12, 2005)

-

Scene: 3:27 AM.

(September 3, 2005)

-

Untitled.

(July 26, 2005)

Psst... if you're looking for the academic writings I used to have here, head to my Reading Room.

Since June 2006...

- A Heartbreaking Work of Staggering Genius by Dave Eggers
- High Fidelity by Nick Hornby
- Travesties by Tom Stoppard
- The Way of the Shaman by Michael Harner
- The Tao of Pooh by Benjamin Hoff
- Nervous Conditions by Tsitsi Dangarembga
- The History Boys by Alan Bennett
- The Dark Child by Camara Laye
- Movie-Made America by Robert Sklar
- Diary by Chuck Palahniuk
- Rant: An Oral Biography of Buster Casey by Chuck Palahniuk
- Galapagos by Kurt Vonnegut
- The Dead Emcee Scrolls by Saul Williams [61.3%]
- Atonement by Ian McEwan
- Junk Science: An Overdue Indictment of Government, Industry, and Faith Groups that Twist Science for Their Own Gain by Dan Agin, Ph.D. [64.4%]
- So Yesterday by Scott Westerfield
- Lucky Wander Boy by D.B. Weiss
- The Things They Carried by Tim O'Brien
- Doctor Who: The Key to Time: A Year-by-Year Record by Peter Haining
- Why Buffy Matters: The Art of Buffy the Vampire Slayer by Rhonda Wilcox
- When You Are Engulfed in Flames by David Sedaris
- The Road by Cormac McCarthy
- 1984 by George Orwell [18.8%]
- Nick and Norah's Infinite Playlist by Rachel Cohn and David Levithan
- Intuition by Allegra Goodman
- V for Vendetta by Alan Moore and David Lloyd (Yes, I realize it's a graphic novel but it still fucking counts!)

Thursday, October 2, 2008 @ 11:20 am

As right now I am completely unable to feel anything in the complex continuum of emotions between the extremes associated with either failing or acing the test, I'm going to have to go with the subject line.

Now if you'll excuse me, I've got

a nap to take a presentation to create Harold and Kumar

to watch.

Why yes, I do believe I've earned it.

Comment! (2) | Recommend!

Thursday, October 2, 2008 @ 9:52 pm

I'm doing that thing where you drink lots of water so you have to pee a lot so you can't sleep. I'm also using the 45 minutes of studying/15 minutes of whatever-the-fuck formula to make it through the night.

I don't think the exam will be too difficult, but I thought that way about the physiology exam and I did worse than I thought I would. It was lucky that I still got an A.

Where's that water, dammit!?

Comment! (6) | Recommend!

Wednesday, October 1, 2008 @ 2:44 pm

Well, at least weather-wise...


SPECIAL WEATHER STATEMENT
NATIONAL WEATHER SERVICE SAN DIEGO CA
222 PM PDT WED OCT 1 2008
CAZ042-043-048-050-055>058-060>062-022130-
ORANGE COUNTY COASTAL AREAS-SAN DIEGO COUNTY COASTAL AREAS-
SAN BERNARDINO AND RIVERSIDE COUNTY VALLEYS-THE INLAND EMPIRE-
SAN DIEGO COUNTY VALLEYS-SAN BERNARDINO COUNTY MOUNTAINS-
RIVERSIDE COUNTY MOUNTAINS-SANTA ANA MOUNTAINS AND FOOTHILLS-
SAN DIEGO COUNTY MOUNTAINS-APPLE AND LUCERNE VALLEYS-
COACHELLA VALLEY-SAN DIEGO COUNTY DESERTS-
222 PM PDT WED OCT 1 2008
...SIGNIFICANT WEATHER CHANGE COMING TO SOUTHWEST CALIFORNIA
BY THIS WEEKEND...

AFTER A SECOND VERY WARM DAY WITH NEAR RECORD HIGH
TEMPERATURES...RELIEF IS IN SIGHT. A SIGNIFICANT COOLING TREND
WILL BEGIN THURSDAY AND CONTINUE INTO SUNDAY.

A SERIES OF COLD FRONTS MOVING INLAND TO THE NORTH WILL BEAT DOWN
THE STRONG HIGH PRESSURE RIDGE RESPONSIBLE FOR THIS NEAR RECORD
HEAT.

TEMPERATURES ON THURSDAY ARE EXPECTED TO AT BE LEAST 10 DEGREES
COOLER AT COASTAL AND VALLEYS LOCATIONS AND AROUND 5 DEGREES
COOLER OVER THE MOUNTAINS AND DESERTS.

ANOTHER 5 TO 10 DEGREES OF COOLING IS EXPECTED BOTH FRIDAY AND
SATURDAY.

SO BY THE WEEKEND TEMPERATURES ARE EXPECTED TO BE 15 TO 30 DEGREES
COOLER THAN TODAY...WEDNESDAY.

IT WILL ALSO BE WINDIER...ESPECIALLY OVER THE DESERTS WHERE WINDS
MAY BE GUSTING OVER 50 MPH.

AND IT SHOULD BE MUCH CLOUDIER. THE MARINE LAYER IS EXPECTED TO
DEEPEN TO THE COASTAL SLOPES OF THE MOUNTAINS THIS WEEKEND.

AND BY SATURDAY NIGHT...THERE IS A CHANCE OF LIGHT RAIN.

Hooray for the cooldown! Dare I say I might be able to wear a sweater (finally) this weekend?

Comment! (0) | Recommend!

Wednesday, October 1, 2008 @ 8:29 am

I think today might be the day I buy a grande quad anything.

Well, no. That day's probably going to be tomorrow. Today might just be a double day.

I need to wake the fuck up.

I just remembered I have some Kona I brought from home! I hope the milk hasn't gone bad yet, because I want a cappucino...

It's going to be an inordinately long next-two-days.

Comment! (2) | Recommend!

Tuesday, September 30, 2008 @ 1:35 pm

I feel like I've been sliding by lately, but it seems to be time to kick it into a higher gear. I've been spoiled by how much I've been able to sleep lately and I think that, as long as I don't accumulate another massive sleep debt (the likes of which nearly ruined my college career), I should retrain my body and mind to operate efficiently on less sleep than I've been getting.

The tricky part is not knowing where that breaking point is. How much sleep can I get without going into the danger zone? Is it even possible to gauge at this point?

This is dangerous territory I'm about to enter, but things are already getting a little hectic. I don't want history to repeat itself because that would suggest I haven't learned anything from past mistakes, but I don't want to risk nothing only to gain nothing either.

I also want to see how much of this I can accomplish without resorting to caffeine or nicotine. I've been excellent on that front so far, but I might give into the temptation of the former... hopefully not the latter.

Comment! (6) | Recommend!

Monday, September 29, 2008 @ 6:37 pm

So there's this chick who's a first year grad student along with me. She's a little older than I am--maybe 27, 28?--and she is doing her thesis research at the place she worked at before coming to SDSU. She makes sure to tell everyone all the time: "I'm doing my research at the

Scripps Research Institute

" (in such a tone that implies that since her research is being done at a rather large, private institution, it will be much,

much

better than everyone else's, who has to do research here at an under-budgeted state university).

I do not like her one bit.

She dominates conversations, thinks she's

always

right about

everything

, and--did I mention she's snooty?

Right.

So anyway, today before class, we're all talking about the little writing assignment we all had where we had to describe the discovery and function of a drug called

Gleevec

, which is a treatment for a very specific type of leukemia. The professor had expressed that he would appreciate it if what we wrote were on the shorter side, so everyone tried to keep their writing to a minimum.

So another girl comes in and she didn't know we had an assignment. Scripps chick interjects and goes, "Do you want to look at mine?" before shoving the paper in her face. So no-homework girl takes a look at it and hands it back. Then the girl sitting in front of Scripps chick asks if she could read it, too. Of course she obliges.

"Wow, that's really good--and short!"

So Scripps girl replies, "I know. I want to teach, so it's good practice because I have to

dumb things down.

"

And at that point I lose whatever little respect I have left for her.

It really bothers me when teachers think they have to dumb something down to make it intelligible. My belief is that you just have to present the material better and more understandably, but not necessarily strip the material down into a mere skeleton of what it was to make it understandable.

If you have to resort to that, that just means you're an uncreative teacher.

I will be the first to admit that sometimes you might get a student (or a handful of students... or a classful of students...) that you think is more than a little

"mildly retarded."

But that just means you have to work harder to present all of the material in all of its complex glory.

If you don't do that, that just means you're a horrible and lazy teacher.

I hope this girl never gets to teach a class because she might turn off an entire generation of students from the sciences. Like we need any more of that.

And I hope she stops toting that sanctimonious attitude around class, though I really do not think that's gonna happen.

Comment! (1) | Recommend!

Monday, September 29, 2008 @ 9:10 am

One of the best things in the world is when it's raining and sunny at the same time.

Comment! (1) | Recommend!

Sunday, September 28, 2008 @ 10:11 am

I've filled out an application for an advanced certificate program here at SDSU: the Certificate in Community College Teaching. This certificate only requires 4 classes to complete, so it won't interfere too much with my pursuit of the M.S. These courses will expose me to teaching strategies specifically geared towards post-secondary students, and it includes an internship teaching an actual community college course for an entire semester!

Like I'm sure I mentioned before, I'm not sure whether I am going to apply for a Ph.D. program directly after I graduate or if I'm going to take a year or two off to work before applying. On the one hand, if I take time off, I will likely work at a biotech company, but I also want to be able to teach a course at a community college in molecular biology or something like that. Having taken community college classes before, I have experienced first-hand how important it is for community colleges to have excellent instructors who are able to adapt themselves to whatever type of student they have in their classes. I like sharing my knowledge of my field with other people--I think it's fun!--and I would love the opportunity to teach people to at least have an understanding of molecular biology, even if they aren't going to use that knowledge or those skills professionally. Earning this Certificate provides an excellent opportunity for me to hone my teaching skills and to gain practical experience teaching in community college.

On the other hand, even if I apply to a Ph.D. program straight away, the experience in teaching post-secondary classes will undoubtedly be beneficial. If I were to ultimately become a professor, knowing how to teach effectively would definitely be a plus. Even if I abandoned academia for industry, I'd still want to teach part time, so really it's a win-win situation.

I think I'm going to go for it. I need to check when the courses are offered so I can try to plan out when to take them, but I definitely want to try for it. Even if I take a class or two but ultimately don't complete the certificate requirements, I think I'll still be better for it...

Comment! (5) | Recommend!