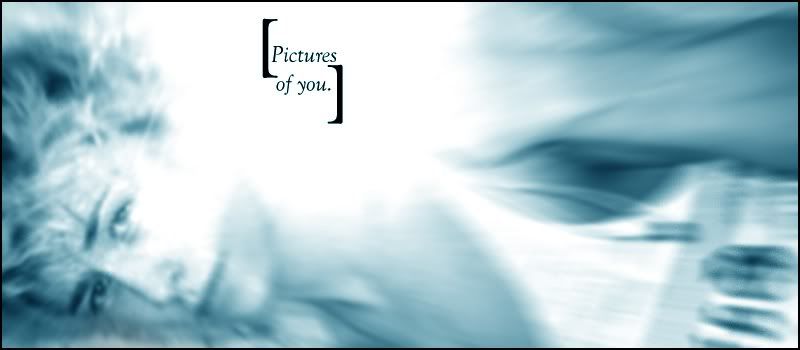 Spring Semester 2010:

* Teaching: Fundamentals of Microbiology - MW 12:00-2:40p
Medical Microbiology - TR 2:00-3:15p
Colloquium in Cell and Molecular Biology - R 3:30-4:30p
Thesis Research - Identification of T Cell Subsets and Immune Response in Colon Cancer Using Immunofluorescence - FOREVER AND EVER

Or rather, entries from the old journal, as it were...

-

An open letter to the College.

(August 27, 2006)

-

Untitled.

(July 16, 2006)

-

Haunted (Part One)

(May 29, 2006)

-

Are we growing up, or just going down?

(May 3, 2006)

-

I had a dream...

(March 19, 2006)

-

...

(March 14, 2006)

-

Enjoy it while it lasts.

(September 12, 2005)

-

Scene: 3:27 AM.

(September 3, 2005)

-

Untitled.

(July 26, 2005)

Psst... if you're looking for the academic writings I used to have here, head to my Reading Room.

Since June 2006...

- A Heartbreaking Work of Staggering Genius by Dave Eggers
- High Fidelity by Nick Hornby
- Travesties by Tom Stoppard
- The Way of the Shaman by Michael Harner
- The Tao of Pooh by Benjamin Hoff
- Nervous Conditions by Tsitsi Dangarembga
- The History Boys by Alan Bennett
- The Dark Child by Camara Laye
- Movie-Made America by Robert Sklar
- Diary by Chuck Palahniuk
- Rant: An Oral Biography of Buster Casey by Chuck Palahniuk
- Galapagos by Kurt Vonnegut
- The Dead Emcee Scrolls by Saul Williams [61.3%]
- Atonement by Ian McEwan
- Junk Science: An Overdue Indictment of Government, Industry, and Faith Groups that Twist Science for Their Own Gain by Dan Agin, Ph.D. [64.4%]
- So Yesterday by Scott Westerfield
- Lucky Wander Boy by D.B. Weiss
- The Things They Carried by Tim O'Brien
- Doctor Who: The Key to Time: A Year-by-Year Record by Peter Haining
- Why Buffy Matters: The Art of Buffy the Vampire Slayer by Rhonda Wilcox
- When You Are Engulfed in Flames by David Sedaris
- The Road by Cormac McCarthy
- 1984 by George Orwell [18.8%]
- Nick and Norah's Infinite Playlist by Rachel Cohn and David Levithan
- Intuition by Allegra Goodman
- V for Vendetta by Alan Moore and David Lloyd (Yes, I realize it's a graphic novel but it still fucking counts!)

Friday, October 17, 2008 @ 1:52 pm

In no particular order:

- Second physiology exam = a rousing success! Suck on that, academic powers-that-be!

- Looks like I'm eligible for an upgrade on my phone, but not until around Thanksgiving. I'll just wait until I go home to get it.

- I need a haircut. Badly.

- Bought vegetables for pinakbet at the Filipino store. Also bought Ilocano longanisa, even though it was kinda expensive. Longanisa is this Filipino sausage (insert immature snickers here) and depending on where you are in the Philippines, there are variations. The one that most people know is the one that has red food coloring and is slightly sweet and perhaps a little spicy. That would be the (inferior) Tagalog version. The Ilocano one is vinegar-y and SO much better than the red stuff. (Though I can't stomach either kind if it contains MSG because I'm allergic to it.)

- Side note: Monosodium glutamate is a flavor enhancer not because it contains sodium (like salt), but because the glutamate is a ligand for a type of taste receptor called the umami receptor. Binding of glutamate to the umami receptor stimulates the release of a neurotransmitter, which ultimately stimulates the post-synaptic nerve to fire an action potential. This mechanism is shared by all taste receptors on your tongue, and the nerve signal can be interpreted by your brain as the different "tastes" that everyone learned growing up, like salty, sweet, sour, bitter, etc. The umami receptor's signal is interpreted as "deliciousness."

- Still no word on the fellowship. I take it as a good sign that I have a hold on my financial aid record because they are requesting my financial aid history information from the... I forget what it's called, but it's like a federal repository for those records. That might mean that they are reviewing my fellowship application and may be making a decision soon!

- I ordered some clothes online and they came in the mail yesterday. Finally, some new clothes! I love the sweater I bought. It's a zip-up quilted hoodie with faux fur lining the hood. Soooooooo fuzzy and warm. Not like I anticipate needing to use it anytime soon, but it's nice to have it and to know it's mine.

- A clip from that awesome late-80's early-90's British sketch comedy show,

A Bit of Fry and Laurie

:

- That's it. I'm off to cook/nap/read/watch TV/whatever it is I do on Fridays...

Comment! (3) | Recommend!

Tuesday, October 14, 2008 @ 7:33 am

The landscaper is outside with his leafblower that is both obnoxiously loud and has that

lovely

smell of combusted gas.

What a way to bid everyone a good morning...

Honestly, why why WHY did we invent leafblowers? What, a broom or a rake isn't good enough for you? Oh, boo fucking hoo, my back hurts from using such primitive implements, wah wah wah. Fuck off. It's called an occupational hazard. Deal with it. Get over yourself, take a fucking Advil, and bitch about your bad back to your friends and family like everyone else.

I was going to launch into a diatribe about how much leafblowers SUCK, but

this website

already did it for me. And in a more civil tone, too!

Comment! (1) | Recommend!

We got so much work done! [EDITED]

Tuesday, October 14, 2008 @ 12:00 am

And by "work done," I of course mean, "booze drunk."

So I met up with (most of) my presentation group at Bennigan's tonight to go over what we're going to say in our short presentation tomorrow. We didn't look at the paper until 3 hours (or 6 drinks) in, and when we finally did, we got through it in, oh, about 20 minutes (or 1 shot).

All in all, a very productive evening. (Productive in the sense that we peed a whole lot. Not even joking.)

Well, it was worth it to bond with people I only very vaguely knew before this. I am willing to give these people a stamp of my approval. (That's a big step.)

This is the abrupt end of this entry.

EDIT:

One of the guys in my group is a lab tech in the lab of a PI that I am interested in talking to about the possibility of doing my thesis research in her lab. She's the head of the BioScience Center here at SDSU, she is an MD from Johns Hopkins, and she has a FUCKLOAD of funding. So much so that she actually has to legally turn down grants because you're limited in how much you can get from the funding institutions at one time. She does work on cardioprotection, but the project I'm most interested in is the signaling pathways/regulation of autophagy--a process where a cell will somehow degrade its own components like organelles if they are somehow defective, or if the cell needs nutrients and other metabolic building blocks to be diverted to another system during stress or starvation.

Anyway, the guy told me to come in an talk to the woman about her work. He said that she is very results-driven, and that sometimes I will have to step in and tell her if she is trying to rush things that cannot (for one reason or another) be rushed. But I can deal with that. It seems like a good opportunity. I'm trying to get the tech to butter her up first so she hears only good things about me before I see her. (Hey, I have to learn how to play the political game in science sooner or later.)

EDIT #2:

A guy from my Advanced Topics class--Wesley (who is a solid 7.5 out of 10, maybe higher the drunker I am)--stopped by about an hour before we left. He kinda has an academic crush on me because according to him, I'm "really smart" and I "know all the answers to every question" that the different professors ask in our class. I was flattered, but I didn't know quite how to respond to that without sounding like an ass. So I just smiled and resumed reading the paper we were all there to discuss in the first place.

In the sea of thoughts inside my mind, the awkward turtle clumsily swam by...

Comment! (0) | Recommend!

Monday, October 13, 2008 @ 7:19 am

Monday mornings are everything that is wrong with the world.

EDIT:

Well, one thing went right so far this Monday... We got our scores back from our Advanced Biochemistry, Cell, and Molecular Biology exams on the first module, and I totally aced it. Suck on that, cytoskeleton/motor proteins/extracellular matrix! I fucking OWN you!

Comment! (4) | Recommend!

I don't know if I posted this before, but...

Sunday, October 12, 2008 @ 9:20 pm

Being a poor grad student has its advantages.

Sunday, October 12, 2008 @ 2:56 pm

I got a notice yesterday that I qualified for the gas and electric company's low-income program. Hello, 20% discount on my electric bill!

Comment! (2) | Recommend!

Saturday, October 11, 2008 @ 11:08 pm

Saturday, October 11, 2008 @ 8:10 am

My phone and I have had a long and fulfilling life together. It has nearly been two years and in that time, I have managed to keep my phone's lustrous outer surface scratch-free, which is more than I can say about a lot of other people who own this particular model. (Who particularly comes to mind is a girl I worked with at the tutorial center. Her phone was scratched and cracked and all sorts of ugly. And she got hers after I did.) I loved this phone, and I even got it before it was officially released in the US--thanks to the Vietnamese mobile place near my house, which got a hold of the phone from Singapore. It was the best phone I have ever had.

The problems started about 2 months ago. My beautiful phone would register a signal from the network, but could not place outgoing calls. Sometimes these spells would last up to an hour, much to my chagrin. It got progressively worse: the no-call periods got longer, and calls that I successfully placed had a habit of dropping in the middle of the call. First it averaged around 20 minutes before the call dropped. Now it is down to about three.

I am by no means an obsessive phone user. I don't send out 50 texts a day (I

hate

texting and only resort to it when I can't actually place a call for one reason or another). I am not constantly calling people (like some kids I see around campus these days), and they are not constantly calling me. But I still feel disconnected, set adrift in a sea of isolation. I am afraid to place outgoing calls when I

really

want to talk to one of my friends living hundreds or thousands of miles away, for fear that we will be cut off and I will have no way of calling back or otherwise letting them know that my phone has come between us. I haven't received many incoming calls, and I don't know if that's because my phone wasn't working and didn't pick up on the signal, or if my lack of outgoing calls has diminished my social status

that

much.

I'm being overdramatic. But when you don't have many local friends and you're not constantly at a computer for one reason or another, then the mobile phone is the only link you've got. How will I find out if someone local wants to grab a quick bite and perhaps a pint? How will I find out the latest gossip happening on the other end of California, or the other coast of the USA? It's maddening to be driven into further isolation by a malfunctioning piece of technology. Maybe this is psychological warfare--the first phase of Skynet's plan to take over the world and terminate the human race. (Where's John Connor when you need him?)

Comment! (2) | Recommend!