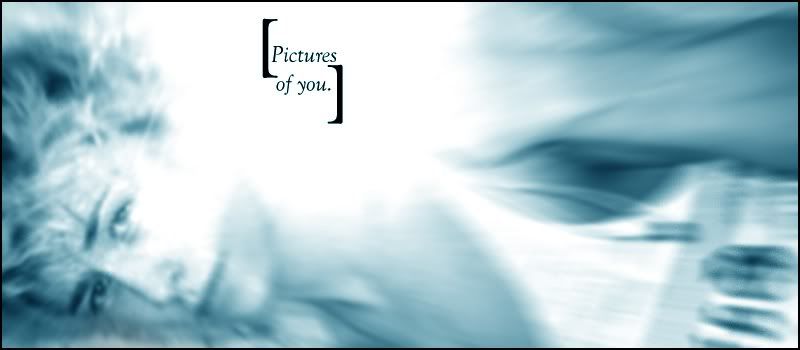 Spring Semester 2010:

* Teaching: Fundamentals of Microbiology - MW 12:00-2:40p
Medical Microbiology - TR 2:00-3:15p
Colloquium in Cell and Molecular Biology - R 3:30-4:30p
Thesis Research - Identification of T Cell Subsets and Immune Response in Colon Cancer Using Immunofluorescence - FOREVER AND EVER

Or rather, entries from the old journal, as it were...

-

An open letter to the College.

(August 27, 2006)

-

Untitled.

(July 16, 2006)

-

Haunted (Part One)

(May 29, 2006)

-

Are we growing up, or just going down?

(May 3, 2006)

-

I had a dream...

(March 19, 2006)

-

...

(March 14, 2006)

-

Enjoy it while it lasts.

(September 12, 2005)

-

Scene: 3:27 AM.

(September 3, 2005)

-

Untitled.

(July 26, 2005)

Psst... if you're looking for the academic writings I used to have here, head to my Reading Room.

Since June 2006...

- A Heartbreaking Work of Staggering Genius by Dave Eggers
- High Fidelity by Nick Hornby
- Travesties by Tom Stoppard
- The Way of the Shaman by Michael Harner
- The Tao of Pooh by Benjamin Hoff
- Nervous Conditions by Tsitsi Dangarembga
- The History Boys by Alan Bennett
- The Dark Child by Camara Laye
- Movie-Made America by Robert Sklar
- Diary by Chuck Palahniuk
- Rant: An Oral Biography of Buster Casey by Chuck Palahniuk
- Galapagos by Kurt Vonnegut
- The Dead Emcee Scrolls by Saul Williams [61.3%]
- Atonement by Ian McEwan
- Junk Science: An Overdue Indictment of Government, Industry, and Faith Groups that Twist Science for Their Own Gain by Dan Agin, Ph.D. [64.4%]
- So Yesterday by Scott Westerfield
- Lucky Wander Boy by D.B. Weiss
- The Things They Carried by Tim O'Brien
- Doctor Who: The Key to Time: A Year-by-Year Record by Peter Haining
- Why Buffy Matters: The Art of Buffy the Vampire Slayer by Rhonda Wilcox
- When You Are Engulfed in Flames by David Sedaris
- The Road by Cormac McCarthy
- 1984 by George Orwell [18.8%]
- Nick and Norah's Infinite Playlist by Rachel Cohn and David Levithan
- Intuition by Allegra Goodman
- V for Vendetta by Alan Moore and David Lloyd (Yes, I realize it's a graphic novel but it still fucking counts!)

Thursday, November 6, 2008 @ 7:11 am

So I've got a test today in Advanced BCMB. I didn't study for very long (about 3 hours so far?) because I was busy writing another paper (and also I fell asleep...oops!). The exam covers a full 1/3 of the course--that's like 8 chapters--but I'm not terribly worried about it. I saw some sample questions and if the test is anything like that--which I'm sure it will be--it won't be bad at all.

Still. I'm frickin' tired and that will probably be the toughest thing about the exam: trying to concentrate on the test...and hopefully not passing out on top of it. You'd think that wouldn't be a problem, what with all of the adrenaline that's supposed to keep you alert in stressful situations. But trust me--it can happen. (I managed to fall asleep during the AP English Literature exam senior year of high school... and during one of my SAT IIs...)

I just need to make it through the test, then I'm coming home and taking a delicious nap... mmmm... nap.

Comment! (0) | Recommend!

Wednesday, November 5, 2008 @ 2:48 pm

Rather than recapitulate my disappointment in the California electorate at this very moment (though the plus side is that it was awfully close, and that should give us hope!), I will share with you what I spent a good portion of the night (and into the early morning) doing. It took me much longer than I expected because I was super tired, too distracted with election coverage, and too busy pressing refresh on my browser to check on the latest Prop. 8 results. Still, the important thing is that it got done, and I am very happy with the result (although I would have liked to have a better-written figure legend, but when you're on the verge of passing out, you take what you get).

Basically, I finished writing my mock News and Reviews article on the new paradigm shift in the world of cancer metastasis. The assignment also included the creation of a figure to augment the article, much like they have in scientific journals. This is what I came up with (click to enlarge):

I think it's time for a quick nap. I met my aunt today for breakfast and we ended up walking all throughout downtown, making me even MORE tired. Also, I should have worn more comfortable shoes...

Comment! (1) | Recommend!

Obligatory election post. [EDIT #4]

Tuesday, November 4, 2008 @ 8:05 pm

While I am by no means a completely rabid Obama-phile (which may make me a traitor to the liberal youth cause), I am certainly astonished that he just clinched the presidency. Now, I'm not one of those people who thinks that his victory means instant change. I think it's certainly very naive to think so, and by extension, I think that most of my peers are extremely naive for believing that this victory alone will change the world. It won't. Not right away, and not with any certainty. If anything, the expectations and hopes that the American public have heaped upon his lanky shoulders can only serve to hurt the legacy of his presidency. The work is just beginning, people. Don't count your chickens before they hatch.

Moving away from the presidential election, I'm now going to turn my attention to California Proposition 8...

EDIT: At the time of this edit (9:18 pm Pacific), Proposition 8 is losing by 300,000 votes (9 percentage points) with 12% of precincts reporting...

[10:14 pm Pacific] The Yes on Prop. 8 lead is shrinking to about 230,000 votes (6 percentage points) with about a quarter of precincts reporting. The good news is that San Francisco and San Jose--both No on 8 strongholds--are currently underreporting. There is hope yet.

[1:24 am Pacific] With every passing hour, I grow more despondent. I am trying to remain optimistic that in the end, equality will prevail. But every time I check on the latest poll results, it looks like Church is going to go ahead and exert itself on State in a most exclusionary way. The latest figures put No down by 4 percentage points with 71% of precincts reporting. Proponents of Prop. 8 are already declaring victory, but I must have confidence that even if this proposition passes, things will change eventually. That glimmer of hope that my love for another man--hypothetical though it is at this juncture of my life--won't be regarded as second-class in the eyes of the law is all that keeps me from going insane by anger and frustration and paralyzing sadness.

[3:32 am Pacific] The cautious optimism is slowly giving way to abject terror as more and more precincts in California report in and we see no real change in the fight for marriage equality. Yes on Prop. 8 still holds a 4 percentage point lead over No with 87% of precincts reporting. There are approximately 1,250,000 votes left to count, and Yes is leading by (I think) about 330,000, so the chances now are pretty slim.

Way to go, California. You fucked up bad.

I'm tired. I need to sleep. I am having breakfast downtown with my aunt tomorrow who is visiting from the Bay Area. She voted No on 8, as did the majority of my family. This actually surprised me a little. At least I know that, when I do choose to take that step, they will support me. Hopefully. Maybe that's the good that's come out of this. We didn't win (this time around), but the seeds have been sown. And younger people are more accepting about these sorts of things, and it's a good sign when older people--who you didn't expect would be--are as well. Maybe there's hope for the next time around. Maybe when I'm ready, my beloved home state will be, too.

Comment! (5) | Recommend! (2)

Oh, look out, you rock 'n rollers!

Monday, November 3, 2008 @ 10:47 am

I'd like to think that lately I've been going through some

ch-ch-changes.

Not like, life-shattering, earth-shaking, Kuhnian paradigm shift-like changes, but like, little things that no one would really notice except for me. Like: remembering to take my vitamins. Or: respecting deadlines. Or: saying "Thank you!" to the bus driver, despite his shitty attitude. You know--tiny changes, lower case deltas, that seem insignificant until you integrate them over the course of your life. Those changes--they add up. They add up to someone who is happier and healthier, more successful and more satisfied with life.

That may be the biggest change of them all.

Comment! (2) | Recommend!

Information should be free!

Sunday, November 2, 2008 @ 7:57 pm

Access to scientific journals should be cheap or free. There is no reason why any educational or research institution should have to choose not to subscribe to a journal because of budget issues. This hampers the dissemination of new scholarship and impedes the process of science. Not to mention, it makes a student's task very difficult when he needs an article from an inaccessible journal in order to write a paper...

Comment! (2) | Recommend!

Sunday, November 12, 2008 @ 6:26 am

Of course, my body thinks it's 7:26 am. You know, time to wake up.

Well, you know what, circadian rhythm? Fuck you. I'm going back to sleep.

Comment! (1) | Recommend!

Friday, October 31, 2008 @ 1:06 pm

Dr. Tsoukas' grant applications received good scores, but unfortunately with NIH funding being harder and harder to come by these days (thanks, budget cuts!), his scores were not good enough to merit funding this year.

This means that I'm still looking for a thesis advisor... and I've got six weeks to do it.

Fuck. Here we go again.

Comment! (3) | Recommend!

Thursday, October 30, 2008 @ 5:45 pm

It's the end of the month and I am dying to find out if Dr. Tsoukas got his funding and, furthermore, if he is going to agree to take me on as a student in his lab. Oh please oh please oh please--I just want this uncertainty to be over!

Comment! (0) | Recommend!