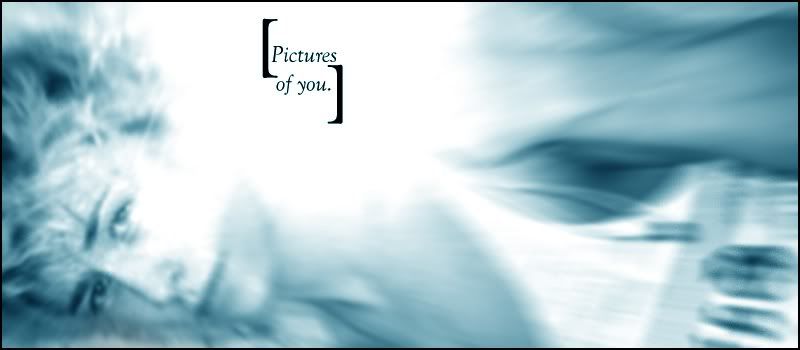 Spring Semester 2010:

* Teaching: Fundamentals of Microbiology - MW 12:00-2:40p
Medical Microbiology - TR 2:00-3:15p
Colloquium in Cell and Molecular Biology - R 3:30-4:30p
Thesis Research - Identification of T Cell Subsets and Immune Response in Colon Cancer Using Immunofluorescence - FOREVER AND EVER

Or rather, entries from the old journal, as it were...

-

An open letter to the College.

(August 27, 2006)

-

Untitled.

(July 16, 2006)

-

Haunted (Part One)

(May 29, 2006)

-

Are we growing up, or just going down?

(May 3, 2006)

-

I had a dream...

(March 19, 2006)

-

...

(March 14, 2006)

-

Enjoy it while it lasts.

(September 12, 2005)

-

Scene: 3:27 AM.

(September 3, 2005)

-

Untitled.

(July 26, 2005)

Psst... if you're looking for the academic writings I used to have here, head to my Reading Room.

Since June 2006...

- A Heartbreaking Work of Staggering Genius by Dave Eggers
- High Fidelity by Nick Hornby
- Travesties by Tom Stoppard
- The Way of the Shaman by Michael Harner
- The Tao of Pooh by Benjamin Hoff
- Nervous Conditions by Tsitsi Dangarembga
- The History Boys by Alan Bennett
- The Dark Child by Camara Laye
- Movie-Made America by Robert Sklar
- Diary by Chuck Palahniuk
- Rant: An Oral Biography of Buster Casey by Chuck Palahniuk
- Galapagos by Kurt Vonnegut
- The Dead Emcee Scrolls by Saul Williams [61.3%]
- Atonement by Ian McEwan
- Junk Science: An Overdue Indictment of Government, Industry, and Faith Groups that Twist Science for Their Own Gain by Dan Agin, Ph.D. [64.4%]
- So Yesterday by Scott Westerfield
- Lucky Wander Boy by D.B. Weiss
- The Things They Carried by Tim O'Brien
- Doctor Who: The Key to Time: A Year-by-Year Record by Peter Haining
- Why Buffy Matters: The Art of Buffy the Vampire Slayer by Rhonda Wilcox
- When You Are Engulfed in Flames by David Sedaris
- The Road by Cormac McCarthy
- 1984 by George Orwell [18.8%]
- Nick and Norah's Infinite Playlist by Rachel Cohn and David Levithan
- Intuition by Allegra Goodman
- V for Vendetta by Alan Moore and David Lloyd (Yes, I realize it's a graphic novel but it still fucking counts!)

Sunday, December 14, 2008 @ 9:37 pm

Ever get that feeling you're all ready to do something and you're thinking: "FUCK YEAH, I will get this done and be awesome!"? And then a little while later, all of a sudden you're completely demotivated and you kinda feel like your head is tightening up and you're restless and you want to throw up? (Okay, maybe not

all

of those things together at once, but you get the idea.)

Someone motivate me to study for physiology!

Comment! (0) | Recommend!

Sunday, December 14, 2008 @ 3:37 pm

For the first time, I'm feeling cold enough to turn on the heater a little bit. It's been kinda dark the last few days, and there's been some rain. Good studying weather, if you ask me.

I'm so far ahead on my study schedule that it's bordering on ridiculous. I don't want to jinx myself, but I think I'm going to do really well. So suck it, grad school.

I think I'm going to reward myself with a little video game time. I'm replaying

FF7

right now and it is definitely bringing me back to a simpler time.

I think that's all I want to say right now. Nothing really exciting has happened lately. Just a bunch of school stuff, that's all.

Comment! (4) | Recommend!

Now old cassettes and cigarettes will be the ones that save you.

Friday, December 12, 2008 @ 10:40 am

No more classes until next year! Two final exams and one final assignment stands in the way of me and freedom!

(And by freedom, I of course mean a thorough colorectal cancer literature review over winter break.)

Comment! (5) | Recommend!

Thursday, December 11, 2008 @ 7:51 am

That's ONE WEEK until my last final for the semester.

So I spent the bulk of yesterday napping, drinking tea, drinking orange juice, eating soup,

shamelessly flirting with Ryan-the-barista

... and let me tell you, I'm glad I did.

I think what I experienced two nights ago--waking up on the verge of illness--was a warning sign from my body saying that yes, I was infected with something, but it was doing its best to fight it off. This common cold has not gotten worse, though I'm only cautiously optimistic that it won't in the next few days. All that rest and soup and juice

and flirting

was just what I needed to help my body catch up and try to subdue the infection further.

Right now, I've got a slightly stuffy nose, but nothing else. Need to hold out for just a few more days and then I can get sick! Well... as long as I'm not sick for Christmas/my birthday. That, too, would blow.

Comment! (2) | Recommend!

Wednesday, December 10, 2008 @ 2:54 am

Fuck. Fuck fuck fuck. Fuck fuck fucking fuck, fucking fuck fucker fuck FUCK. I make it an entire semester avoiding letting undergrads get me sick (because let's face it, they seem to get sick a LOT) and now less than a week before finals, I'm all of a sudden sniffling and sneezing and fuck fuck fuck I'm so angry I can't fucking sleep. I hope to fucking god this is just, I don't know, allergies? Or something? GAH, I'm so fucking frustrated right now, I want to punch someone in the fucking face. (Preferably an ill undergrad.)

Fuck.

Comment! (4) | Recommend!

Monday, December 8, 2008 @ 8:21 am

...so it will.

It's the last week of school before finals. (That's 11 days for all the countdown-y folks.) I've got a presentation I'm working on and for some odd reason I am confident I will actually finish the Powerpoint--dare I say it?--early. Which is good because there's so much more to do that it can only accurately be termed overwhelming. There's this presentation on micro RNA-mediated translational silencing, then catch-up reading in human physio (7 chapters of dense science gobbledygook), a paper analysis for Advanced BCMB, a final paper for research ethics, some Photoshop stuff for Advanced Topics (alright, at least that one will be easy!)--and that's all

before

finals. So let's add studying for finals on top of that, and since I'm in the mood, let's also add Christmas shopping to that list (though in all honestly that will probably be put off until after everything is over)...

These next two(ish) weeks are going to be FUN!

It's alright. Deep, cleansing breaths. New mantra.

If I will it so, so it will.

Fuck.

Comment! (1) | Recommend!

Sunday, December 7, 2008 @ 12:44 am

Tuesday, December 2, 2008 @ 4:46 pm

Let the countdown continue.

Work to be done. Antisocial behavior to engage in. New place, same old shit.

Be over already, dammit!

Comment! (2) | Recommend!