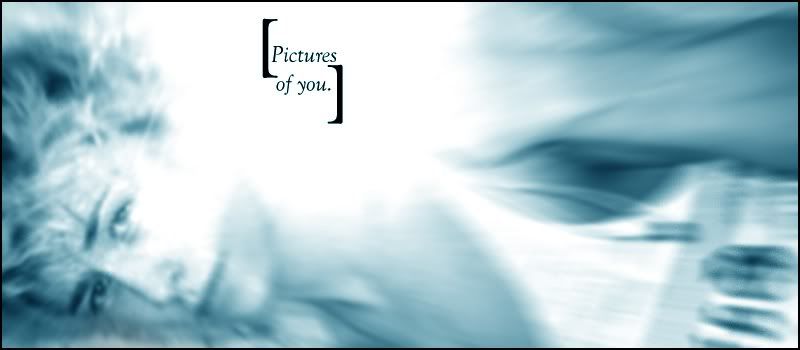 Spring Semester 2010:

* Teaching: Fundamentals of Microbiology - MW 12:00-2:40p
Medical Microbiology - TR 2:00-3:15p
Colloquium in Cell and Molecular Biology - R 3:30-4:30p
Thesis Research - Identification of T Cell Subsets and Immune Response in Colon Cancer Using Immunofluorescence - FOREVER AND EVER

Or rather, entries from the old journal, as it were...

-

An open letter to the College.

(August 27, 2006)

-

Untitled.

(July 16, 2006)

-

Haunted (Part One)

(May 29, 2006)

-

Are we growing up, or just going down?

(May 3, 2006)

-

I had a dream...

(March 19, 2006)

-

...

(March 14, 2006)

-

Enjoy it while it lasts.

(September 12, 2005)

-

Scene: 3:27 AM.

(September 3, 2005)

-

Untitled.

(July 26, 2005)

Psst... if you're looking for the academic writings I used to have here, head to my Reading Room.

Since June 2006...

- A Heartbreaking Work of Staggering Genius by Dave Eggers
- High Fidelity by Nick Hornby
- Travesties by Tom Stoppard
- The Way of the Shaman by Michael Harner
- The Tao of Pooh by Benjamin Hoff
- Nervous Conditions by Tsitsi Dangarembga
- The History Boys by Alan Bennett
- The Dark Child by Camara Laye
- Movie-Made America by Robert Sklar
- Diary by Chuck Palahniuk
- Rant: An Oral Biography of Buster Casey by Chuck Palahniuk
- Galapagos by Kurt Vonnegut
- The Dead Emcee Scrolls by Saul Williams [61.3%]
- Atonement by Ian McEwan
- Junk Science: An Overdue Indictment of Government, Industry, and Faith Groups that Twist Science for Their Own Gain by Dan Agin, Ph.D. [64.4%]
- So Yesterday by Scott Westerfield
- Lucky Wander Boy by D.B. Weiss
- The Things They Carried by Tim O'Brien
- Doctor Who: The Key to Time: A Year-by-Year Record by Peter Haining
- Why Buffy Matters: The Art of Buffy the Vampire Slayer by Rhonda Wilcox
- When You Are Engulfed in Flames by David Sedaris
- The Road by Cormac McCarthy
- 1984 by George Orwell [18.8%]
- Nick and Norah's Infinite Playlist by Rachel Cohn and David Levithan
- Intuition by Allegra Goodman
- V for Vendetta by Alan Moore and David Lloyd (Yes, I realize it's a graphic novel but it still fucking counts!)

Tuesday, April 19, 2011 @ 12:14 pm

A quick update:

1) Andrew is still as cute as ever.


I made this. :)

2) Thesis. It's... going slowly, but going nonetheless.

3) I feel fucking old because I'm going to my five year college reunion (with

this bitch

).

4) I feel like I've finally found a medication regimen that keeps my bipolarity in check. My moods feel much more stable and I'm not afflicted with too little energy from the depression or making stupid choices by the mania. Thank God. Right now is not the time for that shit to be happening.

5) I'm super tired, so if my mood is like this:

...don't take it personally.

And that's it!

Comment! (2) | Recommend!

Friday, February 4, 2011 @ 6:21 pm

So there's this boy named Andrew. And he is pretty much a keeper.

Except he is all the way in Virginia.

Thank God for video chat.

But still.

Major sad-face.


OMG, Andrew is so cute.

Comment! (4) | Recommend!

Friday, December 10, 2010

- COLON CANCER.

- COLON CANCER.

- COLON CANCER.

- CYTOTOXIC T-LYMPHOCYTES IN COLON CANCER.

- NATURAL KILLER CELLS IN COLON CANCER.

- UNIVARIATE AND MULTIVARIATE STATISTICS ON CTL/NK CELL DATA.

- THE ROLE OF INFLAMMATION IN COLON CANCER.

- ACUTE INFLAMMATION VS. CHRONIC INFLAMMATION IN COLON CANCER.

- CHRONIC INFLAMMATORY BOWEL DISEASES AND POSSIBLE EFFECTS ON IMMUNOSUPPRESSION OF IMMUNE RESPONSES TO COLON CANCER.

- INFLAMMATION AND SENESCENCE: A POSSIBLE LINK, AND ITS IMPLICATIONS FOR IMMUNE RESPONSE AND PROGNOSIS IN COLON CANCER.

- COLON CANCER.

- COLON CANCER.

- COLON CANCER.

- COLON CANCER.

- COLON CANCER.

- COLON CANCER.

- COLON CANCER.

- COLON MOTHERFUCKING CANCER.

- JENSEN ACKLES.

Comment! (1) | Recommend!

VI-XII-MMX/XXI:XLII

Tengo hambre de tu boca, de tu voz, de tu pelo
y por las calles voy sin nutrirme, callado,
no me sostiene el pan, el alba me desquicia,
busco el sonido líquido de tus pies en el día.

Estoy hambriento de tu risa resbalada,
de tus manos color de furioso granero,
tengo hambre de la pálida piedra de tus uñas,
quiero comer tu piel como una intacta almendra.

Quiero comer el rayo quemado en tu hermosura,
la nariz soberana del arrogante rostro,
quiero comer la sombra fugaz de tus pestañas

y hambriento vengo y voy olfateando el crepúsculo
buscándote, buscando tu corazón caliente
como un puma en la soledad de Quitratúe.

Comment! (3) | Recommend!

LOVE, PEACE, AND HARMONY... MAYBE IN THE NEXT WORLD.

334th day of 2010

324th day of 2010

"So I was thinking maybe we would walk around Balboa Park together? I know it's raining, but a little rain never hurt anyone."

Mmmhmm. You're straight alright.

Because straight boys LOOOOOOVE walking in a park that's likely devoid of people due to the weather, with another boy... IN THE RAIN.

Really, if you wanted to have a wet-t-shirt contest, all you had to do was ask and we could jump fully-clothed in my shower. Honestly.

Comment! (4) | Recommend!

they fucking burn.