What is this site and why am I on it? :0
I can't build up or down, it seems
What am I staring at now?
What a horrible dream... and then a weird one
Drive pantless, it'll fix the A/C problem
Muffy is going to have to read this sometime
I'm keeping a record of this conversation.
Comment! (5) | Recommend!
Today was, again, a nothing-happened-that-would-interest-you day. :|
Um.... I ate some chocolate chip banana bread for breakfast... I warmed it up and the chocolate was all melty. :D
You know that feeling when you've lost a tooth and there's the empty space and the gum there feels all funny and like... tender? Yeah... it feels kinda like that in the back of my mouth where that damn wisdom tooth is ripping its way out of my gums. Except it hurts and kinda tastes like blood sometimes. :/
The sub in Lit. kept saying "Scantron" as "scranton". I couldn't stop laughing... And it's weird, because if you think about it, it's not actually that funny. But I still couldn't stop laughing whenever he said "In a minute I'm going to pass out the scrantons..."
Cthulhu in a jar. Convenient. :P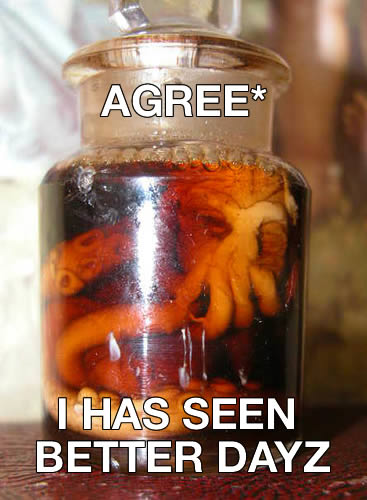 You should click this
Comment! (4) | Recommend!